Want to use 301 redirects in a way that maximizes SEO impact? Learn how!
My name is Scott, a Sr. SEO Specialist at Exclusive Concepts and today I'd like to follow up to Becca's post earlier this week on 301 redirects (https://www.exclusiveconcepts.com/blog/301-redirects-in-yahoo-stores-seo-monday.html) and discuss how to determine which pages to redirect on your site when you are deleting them.
Redirect Manager in Yahoo! Stores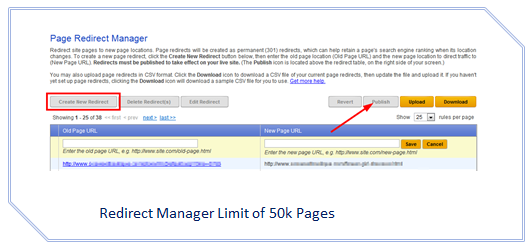 Becca's post discussed a newer tool released to Yahoo! Stores called the redirect manager, which allows site owners to easily redirect old pages that are deleted to new URLs. Shortly after the post, a client had asked a great question on whether or not to redirect all deleted pages on the site and also which pages to redirect them to.
While the redirect manager does allow up to 50,000 pages to be redirected, which should be more than enough for most Yahoo stores, it can sometimes be time consuming to redirect all pages and can also add up over time for larger stores. In addition, redirects can be difficult to manage as the list continues to grow over time and you wouldn't want to create multiple redirects for a single URL as you delete more pages on the site. If you don't have a Yahoo! store and you pay someone else to manage the web maintenance on your site, it can also get much more expensive each time you need a redirect created.
301 Page Selection for Any Website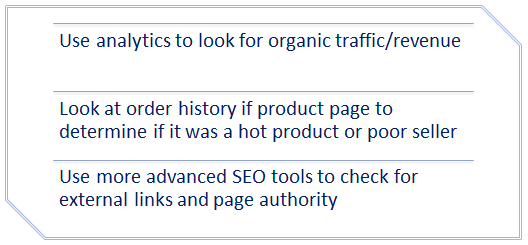 Because of this, I'd like to make a few recommendations when determining which pages to redirect. Depending on the amount of time you want to spend on it can determine how many of these steps to take.
Looking at the past 1-2 years of traffic, does the page potentially being redirected have any organic traffic coming into it? If so, there is a chance it has some organic value and possibly links going into the page which means you would want to redirect it.
Was the page you're deleting one of the more popular products that is no longer carried on your site or is it being removed because it is a product that didn't sell at all? If it was a hot seller and is being discontinued or the page is being deleted for another similar reason, I'd recommend redirecting it just in case it possesses any organic value again.
Finally, if you have access to more advanced tools, you can always manually check each URL you'd like to delete to see things like it's Page Authority or if it has any external links which can be transferred through a redirect. Again, since time is a scarcity, I'd recommend doing at least step 1 to determine whether or not to redirect a URL.
Choosing What Page to Redirect To
The other question posed was how to determine which page to redirect to. Many people make a quick assumption it's best just to redirect back to the home when deleting a page, but I'd actually recommend trying to find the most relevant page on the site to the one you are deleting. If you think about it, there may be links from other sources going to your old page and it would be much better to have them land on a relevant page rather than the homepage, where it may take time to find what they are looking for.
Announcement: We're seeking Magento and BigCommerce stores to beta test our conversion improvement software. Details…