Video SEO, often abbreviated as vSEO, is when SEO strategies are implemented to improve the search engine position of a video. You've probably come across a video at some point without even realizing whether it's been SEO optimized or not. For example, the Google query "how to use a fishing rod" (because who doesn't love fishing) presents a video in the top SERP position.
Google thinks this video best answers the query "how to use a fishing rod," and therefore puts it at the top of the search results. There are a few things that the Google algorithm likes to look at when determining what video to display, which we'll discuss a bit later.
Video optimization isn't only relevant for Google, either. YouTube hosts millions of videos and generates upwards of 1.8 billion users a month[1]! Showing up at the top of YouTube results for a query can drive valuable traffic. A lot of times, YouTube videos are also served in the Google SERPs.
An interesting observation
Google's ranking algorithm is different from YouTube's algorithm. Each one prioritizes certain factors, which can lead to different videos showing up at the top of the results for each search engine. If the query "how to use a fishing rod" is searched on YouTube, an entirely different video is displayed at the top of the rankings than on Google.
If you try to find the following videos on each respective search engine, the top spot on Google shows up as the 49th result on YouTube, and the top result on YouTube shows up in the number 9 slot on Google's video carousel.
So, what are the similarities and differences between optimizing for YouTube versus optimizing for Google?
Similarities
Although YouTube and Google use different algorithms, they do have some similarities when it comes to optimizing for video results. One of the most important similarities between YouTube and Google is the importance of using your primary target keyword(s) in the title and description of your video. Google and YouTube need to understand what a video is about, and having the target query in both the title and description will help these search engines understand it much better than if you left those queries out.
Another factor that will help both search engines rank your video is having adequately sized content in the video description. The longer the content in your description, the better Google and YouTube can understand what your video is about, and the better your ranking performance could be. The description shouldn't be stuffed with keywords and should provide value to the viewer. In addition, you're limited to 5,000 characters on YouTube but there's no limit if the video is hosted on your website.
A third similarity is that YouTube and Google care about how effectively a video answers a query. If a video about fishing is trying to be optimized for the query "how to bake a cake," that video will never hit the first page because it doesn't answer the query. Understanding the intent of a query is important when trying to figure out what keyword to optimize for. You can optimize for multiple queries in a single video if those queries are related. For example, "how to use a fishing rod" and "how to use a casting rod" are two slightly different queries a single video can rank for.
Differences
There are several differences you should be aware of when trying to improve your search rankings for Google and YouTube.
For example, if you're hosting videos on your website, you'll need to submit a sitemap to Google. Although you may have a sitemap already generated for your website, you'll need a separate sitemap for your videos if you want to increase the likelihood that your videos get indexed by Google. The video sitemap allows Google to efficiently find every video on your website as well as providing important information such as the title, description and duration of the video. A unique sitemap for just videos can be created, or the video sitemap can be incorporated into your existing sitemap.
Back in 2012, YouTube adjusted their algorithm to value the amount of time spent a viewer watches a video. The longer a video was, the more likely someone was to watch more of it, thus improving the rankings. That's why longer videos will often perform better in the YouTube search results. Google, on the other hand, doesn't seem to care as much about the length. If we look at the two fishing videos, we can see how true this is. The video that showed up on Google was a little over one minute long, whereas the video on YouTube was more than seven minutes long.
The optimization process for YouTube is also a bit different from Google. Sure, having the proper title and description for your video is important, but YouTube values factors such as video tags and end screens. The fishing rod video, "How to Cast a Spinning Reel/Rod – For Beginners" does a great job of optimizing for topically relevant keywords in their tags.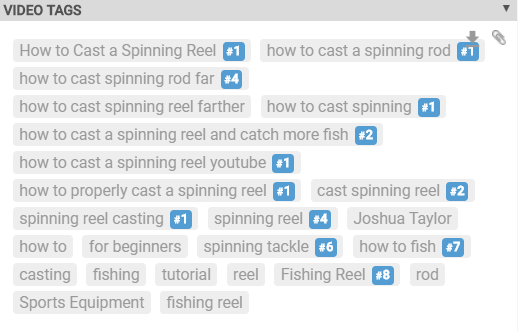 The numbers next to the tags indicate the position of the video when you search that query on YouTube. That's why using the maximum limit of tags gives you the best possible chance of ranking for those queries. However, the number of tags on the top video on Google for the query "how to use a fishing rod" isn't maxed-out, which goes to show that you don't need to necessarily use every allotted tag in order to rank.
Another difference is that the videos that appear on Google often don't start at the beginning. Google uses video transcriptions to understand what a video is about and often start the video at a timestamp that seems to best answer someone's query. To make it even more streamlined, Google plays the video on the search page, so you won't be redirected to YouTube instead.
To review, here are the similarities and differences between optimizing for video on YouTube and Google:
---
| | |
| --- | --- |
| Similarities | Differences |
| Title and description should contain the target query. | Submitting a video sitemap to Google is recommended to make your video easier to find. You don't need a sitemap with YouTube. |
| Having a description that offers value to the viewer. | YouTube puts more weight on the length of a video than Google does. |
| The video should answer the target query effectively. | Optimization process is different. Having video tags and end screens are important when optimizing for YouTube. |
---
At the end of the day, vSEO is important if you want to get your video in the #1 position in the search results regardless of whether you use YouTube or Google. Ideally, your video would be ranking on both. Implementing the proper SEO techniques, either by doing it yourself or with the help of an agency, will give you the best possible chance of landing a video at the top of these SERPs.