Update: Google is renaming Google My Business to Google Business Profile in an effort to integrate business profile management directly into Google Search, Google Maps, and other Google apps. Learn more about the name change at Google My Business Now Known as Google Business Profile as Google Migrates Features to Maps and Search.
What Is Google My Business (Now Called Google Business Profile)?
Google My Business is a free, easy-to-use tool that allows brands and businesses to manage their presence on Google's search results and maps. If you're a business owner, properly setting up your GMB listing will allow you to maximize local searches. 
Those who are already familiar with organic search and search engine optimization (SEO) know how important showing up on Google search is for driving sales. The numbers speak for themselves: A whopping 76% of people who do a mobile search for nearby businesses and services visit that business on the same day!
Essentially, a Google My Business listing tells Google that your business exists. From there, Google verifies your listing to ensure that you are who (and where) you say you are so that it can recommend you to users who conduct local searches. 
It's a great way to get a lot of qualified leads, website traffic, and even foot traffic. Needless to say, these things eventually lead to conversions, so the sooner you set up your listing, the better. 
To give you an example, let's try searching Google for "Charter bus rentals in Massachusetts."
Here's what results look like on Google Search: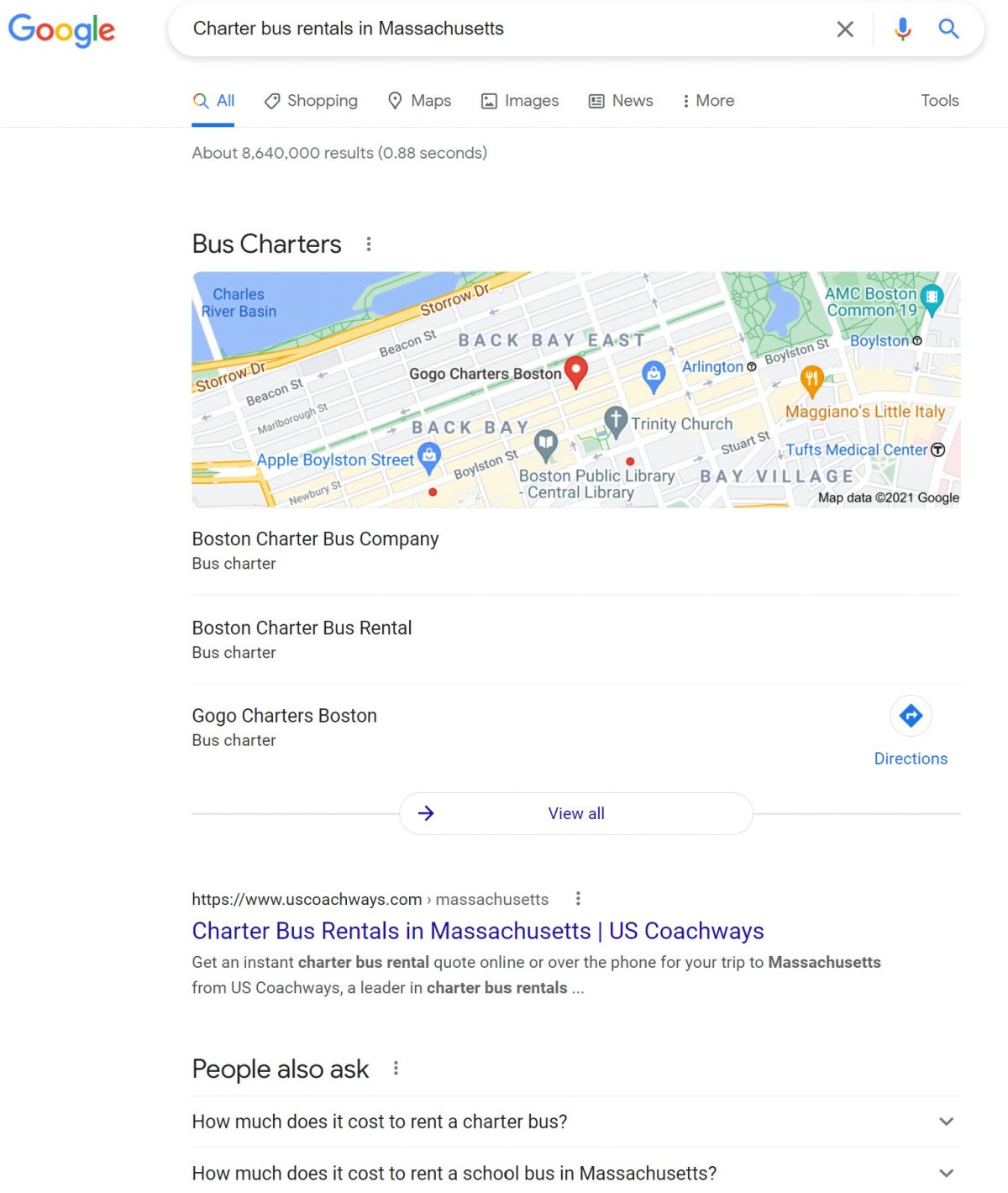 And here's how results appear on Google Maps: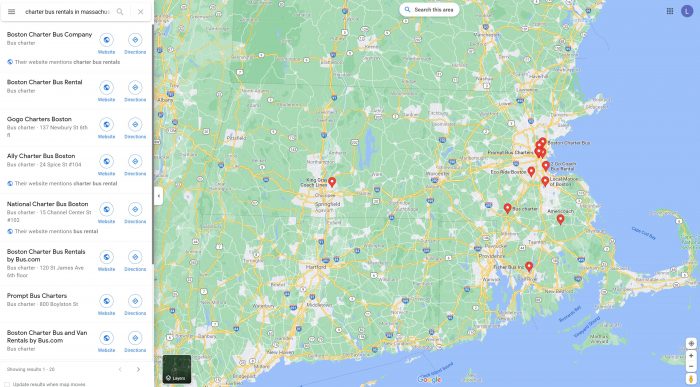 Now click a result see a GMB listing for "Boston Charter Bus Company." It will look like this: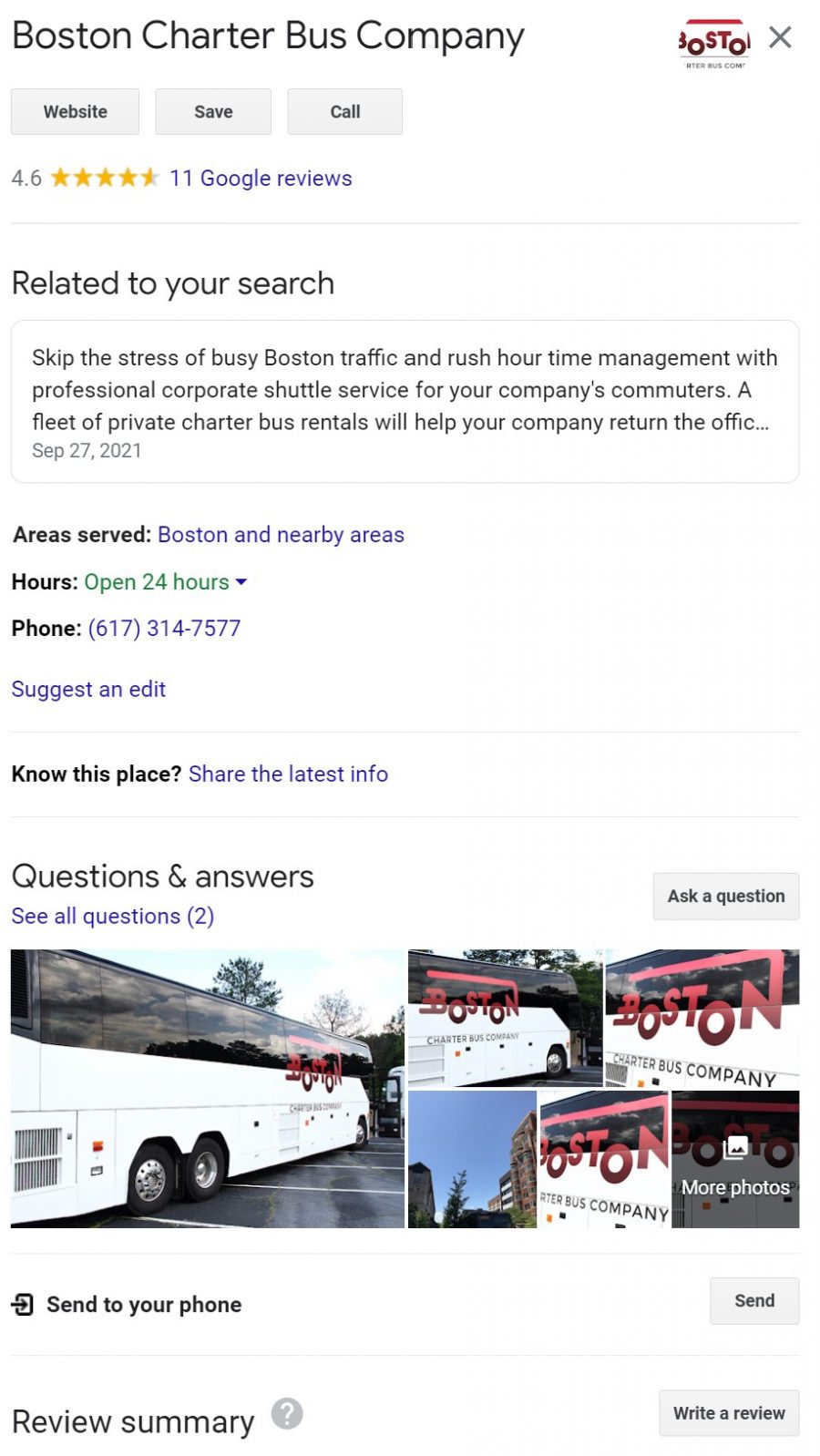 Through its listing, we'll be able to see the company's customer ratings, website URL, phone number, photos, updates, and many more. Interested consumers can also instantly save the listing on their browsers, save to their phones, or share it.
Why Does GMB Matter?
Simply put, Google My Business is another way to claim your online presence. It allows you to update and communicate crucial information about your business. 
You can customize, manage, highlight, and update your page with content, videos, and photos to ensure that users looking for a product or service similar to yours can find you on Google. You can also manage spam and negative reviews through your Business Profile. 
Other benefits of setting up your business listing are:
Better Visibility on Google Search

: Potential clients can see legitimate information about your business all in one place, like an address book. It's an organic search (unpaid) bonus.

Google Map Discovery

: Searches on Google Maps can also lead to your business, giving you many opportunities to gather leads and get more conversions.

Increased Website and Foot Traffic:

Searchers looking for nearby businesses can peruse your website and purchase from your eCommerce store or visit your business to buy a product of yours or enlist your services.

Ratings and Reviews

: High ratings can establish your brand or business as an authority in your field and establish customer trust.

Customer Interaction and Assistance

: GMB is also a customer-service tool. It's also a great way to interact with potential and existing customers since you can post updates regularly. You can also answer their questions and connect with them through the messaging feature.
How to Set Up a Google My Business Page
If you want to create and set up a listing on GMB, here's how: 
Sign in to Google My Business: Go to Google My Business and log in using your Google credentials. You can use your email address or Gmail account. Then, conduct a search on Google for your business name. You can either take ownership of an existing listing or create a new one.
Fill out Important Details: Creating a listing will prompt you to enter the following details. Make sure to fill them out correctly to ensure that your profile is SEO-friendly:
Business Name:

Pay attention to correct capitalization. Make sure your business name is accurate and the same as your registered business name and office or store signage. 

Business Address

: As much as possible, format your business address the same way across all online platforms. This means using the same abbreviations such as St. for street, Rd. for road, and the like. It's important to keep your naming convention uniform so that Google does not flag inconsistencies.

Contact Details:

You can input your telephone number, email address, and details for other communication platforms. The more thorough you are, the better.

Business Hours:

Indicate your regular opening and closing hours, as well as your operation hours during holidays.
Select Your Business Category: You can choose more than one category if your business falls under multiple ones. However, if there's no specific category for your particular niche, try to choose a broader term that encompasses your business category.
Add Your Location: We recommend adding your location details, especially if you want to encourage foot traffic. However, you have the choice to add or not add your exact business location depending on whether you want it to show up on Google Maps.
To find your location on the map, simply enter the following information:

Address

City

Province

Zip Code
Verification: The final step is verification, which you can do through a variety of channels. The most common mode of verification is via postcard, as Google will want to confirm if the office address that you encoded in its system is correct.
Depending on your line of business, Google may also ask you to verify through the following (instead of the postcard method):

Phone

Email

Video Chat

Instant Verification

Bulk Verification
Next Steps for Using Google My Business to Reach More Shoppers and Sell More
Now that you understand the benefits and basics of Google My Business, go ahead and update or start your listing.
For help with Google My Business and ways to leverage the power of GMB, our Organic Search Team would love to help. Contact us for your FREE eCommerce analysis and growth plan.