57% of marketers say inbound is the best source of high-quality leads and SEO is the best driver. 44% of SEO practitioners say it's more difficult to achieve desired SEO results today than it was five years ago.
As SEO experts who are committed to a holistic digital marketing approach that also includes paid search, conversion testing, email, and social marketing, everything else your business needs to in order to sell more online, our experts see the big picture. They know SEO and how to integrate best practices and innovative strategies with complementary solutions so that EXCLUSIVE clients consistently perform better than their competition and far above the industry averages.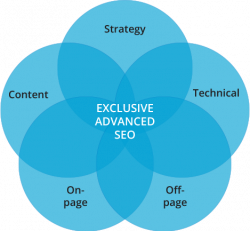 Nothing takes the place of working with an SEO expert (Contact us for your free eCommerce analysis), but there are things you can do on your own to better understand the art and science of SEO and to improve your Google ranking and website traffic. Here are helpful free SEO resources to get you started.
Check Your Website with Our Content Scorecard for SEO
Get the Content Scorecard for SEO to see whether you're sending all the right signals to search engines. This baseline knowledge is crucial and it will enable you to put the subsequent resources to best use. We'll grade you on thin content, duplicate content, and orphaned content. These key factors directly affect your Google ranking, your shopper findability, and of course your traffic and sales. Learn more at "Is Your Website Content Helping or Hurting Your SEO? Here's How to Find Out."
The Ultimate in Free SEO Resources: Our No-BS eBook
Get the Breaking Down SEO in 4 Easy Steps guide so you can unleash the power of SEO and leverage quality content that Google loves. Once you know how to do it, you can drive more traffic, stronger leads, and increased conversions. This is the place to start when you're ready to optimize your website for both search engines and consumers. We've broken SEO down into four easy-to-understand steps that when executed correctly, drive success.
Don't stop there. Go all in and take advantage of these additional free SEO resources and tools!
Read These Articles to Help You Understand and Improve SEO
The 3 Most Overlooked SEO Basics: Sometimes it's the basics on which we most easily trip. You'll find a solid foundation here. Great for people new to SEO or those who could use a refresher.
How Long Does an SEO Strategy Take to Produce Results? Business owners understandably want to know how fast they'll get results from a new SEO strategy. The bottom line, however, is that there is no guaranteed timeframe. Like all things eCommerce, the answer is "it depends." SEO is not a one-size-fits-all proposition. SEO results are not guaranteed on a one-for-one production scale. However, you can usually expect 4-6 months for full results. This article will help you set your expectations and track your progress.
15 Reasons Your SEO Rank Is Slipping (and How to Stop the Downward Slide) Webinar on Demand: SEO is the art and science of signaling to search engines that your site matches a user's query. To the winner of this pursuit goes the top spot in search results. But the road to #1 ranking is complex. Many businesses believe their SEO strategies are assets, but in truth, those strategies are liabilities that hurt ranking. Here, we've collected the 15 most-common SEO mistakes eCommerce brands make and provided solutions for each.
How to Create an Effective Keyword Strategy for 2021: In this article, we explore the impact of machine learning and natural language processing on search engine optimization. Specifically, how core Google algorithm updates and changes in consumer behavior have transformed SEO keyword strategies. We also examine emerging trends in SEO that could help you reach your optimization goals.
SEO Statistics and What They Mean for Your SEO Strategy: Nearly 70% of online experiences start on search engines and 53% of all website traffic can be traced back to organic search. That's how strong the connection is between a user's query, search results, and organic traffic. This article delivers the info you can use to improve your SEO strategy by making data-driven decisions.
Thinking with SEO: Planning and Strategy: If you don't have a sound search engine optimization strategy, then your SEO approach is little more than guesswork. Even if you hit your performance goals, you might not have any idea how to quantify or reproduce your results. This article will help you create a plan for SEO success.
What's the Difference Between Google and Bing from an SEO Perspective? SEO is a complicated process. If your optimization strategies have focused solely on Google's algorithm, you're not alone. But that singular focus could be limiting your potential for search engine results page (SERP) rankings on another search engine many online retailers have forgotten about: Bing.
And Check Out These Case Studies to See EXCLUSIVE's SEO Strategies in Action and Driving Success
Local SEO Strategies Drive +600% Store Traffic Increase: A top furniture retailer came to Exclusive Concepts to grow its store traffic with an improved local SEO strategy. Our SEO experts developed an effective strategy focusing on optimized content, store pages, and improvements to the brand's business listings. Improved performance soon followed.
How Eckert's Gained 140% More Keywords on Page 1 with EXCLUSIVE: Eckert's came to EXCLUSIVE for SEO management in February 2018 to capitalize on its peak busy season and to increase overall organic performance. Since February, Eckert's has more than doubled its overall number of ranking keywords and keywords appearing on Page 1.
How Fit Turf Improved Organic Traffic by 106% with EXCLUSIVE's Local SEO Program: Fit Turf, a business operating in the home and garden space, came to EXCLUSIVE with hopes of improving its organic presence in two local markets: Michigan and Colorado. Set up as a long-term growth project, the merchant experienced huge spikes in traffic and search visibility.
Cutting-Edge SEO Split Testing Drives & Proves ROI for Apparel Brand and Split Testing Shows the Best Place for Content on Category Pages tell the story of how Unique Vintage, Exclusive Concepts, and SEMrush collaborated to run two split tests (also known as A/B tests) using the sophisticated SplitSignal testing technology. Results? Data-driven proof about:
How a small meta-tag addition massively boosted organic traffic and revenue
Where category-page content should be placed for optimal results
Winning with SEO
As I wrote, nothing takes the place of working with an SEO expert (Contact us for your free eCommerce analysis), but you can start setting yourself up for SEO success so that expert can help you grow ranking and revenue even more. Don't be overwhelmed by all of the free SEO resources listed above. Start with the Content Scorecard for SEO so you know where you currently stand, where you want to be, and how to get there.