When it comes to running a website, it's often hard enough to get users just to come to your website, let alone convert them for a sale. You have to balance a multitude of factors, like ranking for keywords, backlinks, local listings and many other factors just to draw people to your website.
It's enough to make your head spin. 
But how about when a user actually gets to your website? When they click on your search result, what does the customer see? Do the users land on your home page, one of your category pages or maybe even one of your specific product pages?
If you know anything about humans, then you know that we have very short attention spans. If we don't see what we want within a few seconds, we lose interest as fast as a cat who finally discovers the moving dot on the floor is coming from that laser pointer in your hand.
So what the customer sees first on your website matters greatly, and that is why creating great landing pages is so incredibly important.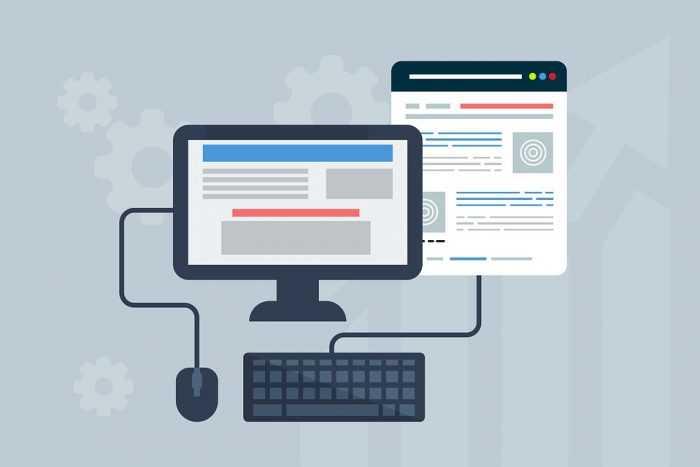 What is a landing page and how does it work? 
Great question. Landing pages are the first page that users see when they click through to your website, whether that be from an organic search result, a Google paid ad, a social media post, an email or any other channel. 
Landing pages are the user's first impression of your website, possibly even the user's first impression of your brand. It's essentially like opening the door to a store and walking in for the first time. 
What would you think if you walked into a store and all of the inventory was strewn across the floor with some guy picking his teeth behind the counter? Would you stay for very long? Heck no. 
How about if you walked into a beautiful, modern store and had a cleanly-dressed person greet you, ask if you need anything and point you in the right direction? You might stick around for a while and check some of their products out.
The feel of the beautiful, modern store with the well-dressed salesperson is something that can be replicated on your website by creating eye-catching, enticing landing page. A good landing page is one that grabs the user's attention and efficiently funnels the user towards the end goal — whether that be a sale, signing up for a service or anything else your company considers a valuable metric. 
So without further ado, here are some of my top tips for how to create an effective landing page for your own website: 
1.) Have a focus of the page
The most effective landing pages are those with a specific focus or intent. One of the biggest factors that makes focused landing pages so effective is how relevant they are for the users that land on them.
In order to create a focused landing page, consider what you want the page to accomplish for you before creating it. Landing pages become great tools when used in specific situations like signing up for a service, a holiday gift guide or getting someone to download a how-to guide from your website. 
Searching for a Christmas gift? Boom, here's a page that just shows you our store's Christmas gifts. Wanting to find a new email service? Shazam, here's a page dedicated to showing you how great our email service is. And, oh look! There's a sign-up button right in front of your face. 
Check out UGG's gift guide page below as a great example of a focused landing page: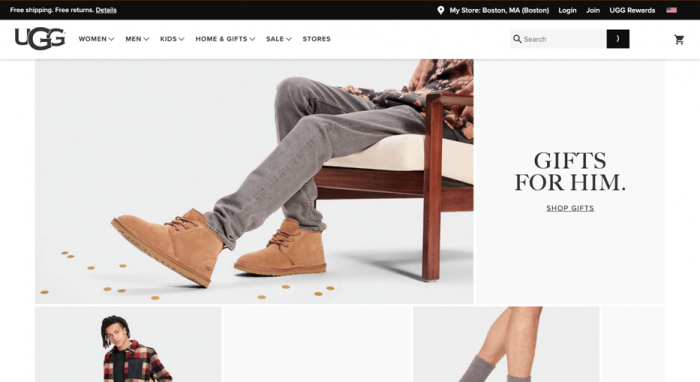 You can see that this page is dedicated to directing users to the best gifts to buy for whoever they are shopping for, making this a very effective landing page for users arriving here after searching for gifts on Google. There are no distractions with other offerings or categories, and there is very minimal text. There are just a few categories to pick from. Simple, easy, effective.
One other way to set your landing page up for success is to carefully consider the keywords that will be attached to this page. It's best to select keywords that are as relevant to the topic of your page as possible so that the users who click through to your page will instantly connect with the content on the page.
Some examples of keywords that are relevant to UGG's gift guide page would be: gifts for men, gifts for women, stylish Christmas gifts. You get the idea.  
2.) Have an attention-grabbing headline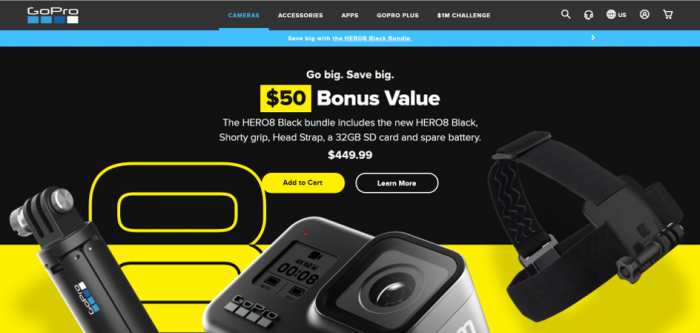 Since you only have a few seconds to capture the attention of a user, you need to make sure you have something that really catches their eye. Having a bold header will do the trick, and it needs to be memorable so that the customer almost does a double-take when they see it. 
GoPro's brand is all about doing extreme, adventurous things with their products — snowboarding, snorkeling, skydiving, you name it. The headline of "Go big. Save big." from GoPro's Cameras page works very well for their thrill-seeking audience. Combine that with the mention of saving money in big, bold letters and they are sure to have their audience hooked to dig a little deeper through their products.
3.) Have large, beautiful (and relevant) images
They say a picture is worth 1,000 words, so what better thing to include alongside your double-take-inducing headline than a beautiful picture? High-quality pictures or graphics are very pleasing to the eye and a great way to hook a customer.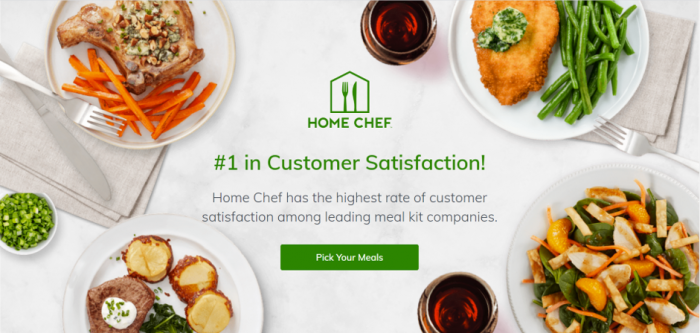 HomeChef's landing page for their delivery meal plan signup (seen above) does just that: grabs attention. What better way to get users to sign up for your meal plan than making their mouth water with a beautiful picture of food?
When choosing images for your landing page, make sure it matches the tone of both your audience and your brand. While the very home-y picture of food above matches the Home Chef brand well, a company like MailChimp can get away with a brightly colored page and a quirky animated GIF on their landing page since they are a hip and cool tech company: 
Whichever type of picture you choose, make sure it is something that can capture the attention of your users right away and resonate with them. 
4.) Create copy that hooks the user
Alongside an attention-grabbing header and a beautiful image, make sure you have some convincing copy to really close the users on your landing page. Check out Fabletic's example below on their landing page that is trying to get people to sign up to be a host for their clothing service: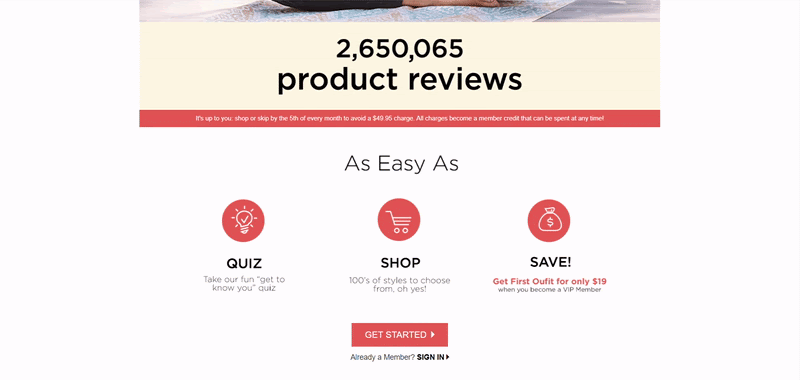 In all, the page is light on copy and heavy on beautiful images. However, the copy that is there is short, sweet and to the point. On top of providing some great statistics on how successful their service is, the page provides three easy steps for users to start with: Quiz, Shop, Save. This gives their users an easy path towards signing up for the Fabletics service.
Just like on the Fitletics page above, it is best to not include too much copy on your landing page. For one, seeing a large block of text tends to make many users squeamish, especially when they are still towards the top of the sales funnel. Give the customer just enough information to lead them forward to the next step in the process, whether that be a sign-up page, a product page or whatever your goal for them may be. 
Above all, don't forget to include Call to Action (CTA) phrases to encourage movement from the customer once they are done reading the copy on your page. Try phrases like Get Started, Pick a Plan, Shop Gifts, etc. 
If you are interested in more ways to convert your potential customers at a higher rate, check out our webinar on tips for preventing cart abandonment. And if you're ready to review a holistic marketing plan, contact us for a free e-commerce analysis for a comprehensive plan to grow your business online.