Just under one year after the Senate passed the 2020 CARES Act providing economic support in reaction to COVID-19, round three of pandemic stimulus funds made its way to Americans. The first funds hit bank accounts around mid-March and promptly exited, being "reinvested" in consumer goods. 
The impact was immediate. A Bloomberg article from March 17 covered it under the headline of "Americans Have Trillions to Burn in Revenge-Spending Binge: After a year of pandemic restrictions, a wave of consumer demand is coming for everything from apparel to eating out."
That's not exactly true but the gist is correct. The third stimulus actually put about $410 billion in consumer's accounts and much of it is being used to pay off debt.
You will find more infographics at Statista.
"This round of stimulus is coming at the same time that the economy is properly reopening . . . If you have a lot in your bank account already, you don't have very much debt to pay off, you probably do feel more comfortable spending the stimulus check," said Michelle Meyer, head of U.S. economics at Bank of America Corp.
The eCommerce Surge Is Here to Stay and It's Very Good for the Digital Advertising That Drives Sales
As people get vaccinated and certain physical gathering spaces open up, more consumers are venturing out. However, the number of COVID cases is once again on the rise due to new strains of the disease and cities that may have lifted restrictions too early. Americans are torn between feeling ready to venture out again while also remaining fearful. One thing we are not torn about is our continued reliance on eCommerce. Americans have come to love, appreciate, and depend upon the online shopping experience even more so in the last year, and there is no sign of that abating.
At EXCLUSIVE, we feel certain that the eCommerce wave that began in early 2020 will not recede even as the non-digital world reopens. We say this confidently and based on data.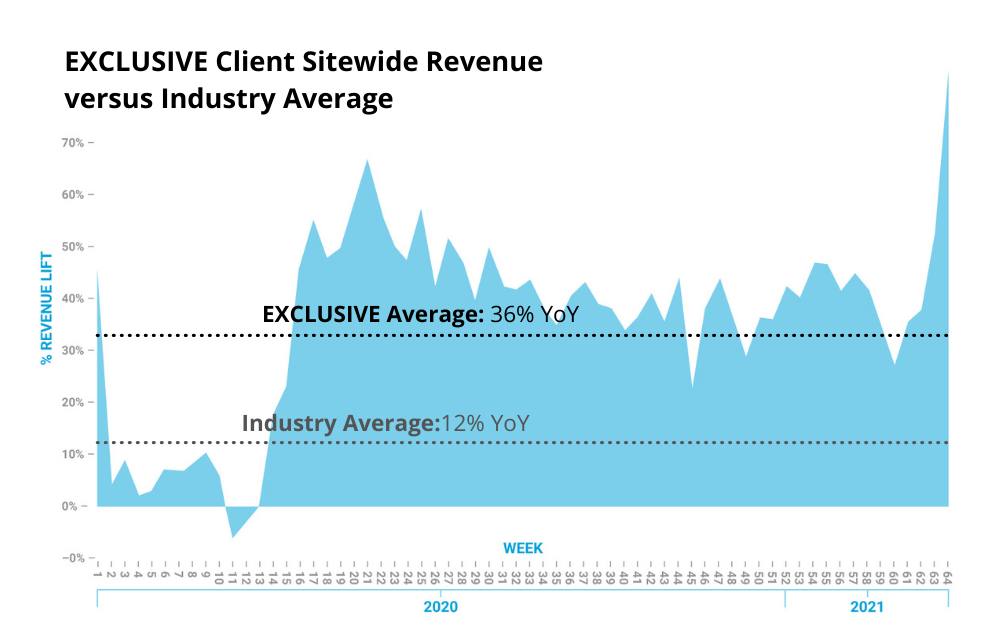 According to the newly released "IAB Internet Advertising Revenue Report," conducted by PwC, digital advertising revenues increased by 12.2% in 2020 compared to 2019. That revenue hike translates to an increase of $139.8 billion. The report went on to describe this massive growth as "a sign of resilience as marketers coped with the negative effects of the pandemic on their media plans. Digital video saw the highest growth at 21% to $26.2 billion, expanding its share of total internet ad revenue by 1.3% to almost 19%."
As devastating as the pandemic has been, it has been a boon for both digital marketing and eCommerce. While 12.2% revenue year-over is astonishing, this double-digit growth was magnified for our clients. Companies using EXCLUSIVE to manage their digital marketing achieved a 36% increase, tripling the average.
Pandemic Stimulus Drives Spending — But Not Always in the Same Ways
As we review weekly total revenues across all our client spectrum (a base of more than 500 retail accounts, we see that this third stimulus round (spring 2021) was even more impactful than last year's spring stimulus checks, which were received between April and June 2020. 
Sentiment shapes consumer behavior. Here's some seasonal context on how the pandemic was shaping consumer sentiment. It will give some context on how and why calculating year-over-year performance must be done delicately and with explanation.
Winter 2019/2020:
The sentiment: No one understands much of anything but something bad is brewing.

On the ground: We are all using a lot of hand sanitizer.
Spring 2020:
The sentiment: Yikes, this is bigger than imagined and we still don't understand how it works. Tell us more, Dr. Fauci.

On the ground: Confusion over transmission, severity, duration. Layoffs begin. People are unsure how to spend or save money and how long they will be reliant on benefits such as unemployment. Consumers begin pantry loading (non-perishables, toilet paper, etc.) Counterfeits and price gouging abound. First stimulus checks for individuals in the amount of $1,200 begin arriving.

See the infographic below for how Americans used their first stimulus checks. Keep in mind that at the time of receipt, Americans did not know how long this pandemic would last or if there would be further stimulus funds. Thus, it is no surprise to see that funds were primarily spent on necessities such as food and shelter. In the same vein, according to the chart, only 23% of this first stimulus spending was done on retail products.
Winter 2020/2021:
The sentiment: This pandemic, like the presidential transition, is going on longer and it is more uncertain than imagined. We are a country divided over elections and masks.

On the ground: Round two of stimulus checks in the amount of $600 arrive. The smaller checks, along with a spread-out holiday shopping season, result in less stimulus-driven spending.
Spring 2021: 
The sentiment: The new administration has made fighting COVID its number-one priority. First signs of hope and optimism begin to arise with increasing vaccine availability and warmer weather.

On the ground: Vaccinations are underway and there is hope that the pandemic will be under control by mid-summer. The third round of stimulus checks, this time in the amount of $1,400, begins arriving in mid-March of 2021, just three months after a second stimulus payment of $600 in mid-January 2021. A year into the pandemic, Americans are still squeezed but many are working remotely and have adjusted their budgets.
3 Is the Magic Number: Third Pandemic Stimulus Payment Makes the Biggest Impact
The charts below are a linear review, by week, of the aggregate volume of revenue beginning December 27, 2019, through the week of April 3, 2021. This sum of revenue includes any orders or sales that are placed on a retailer's direct website. This would not include revenue from offline (in-store or called-in purchases) or marketplaces (Amazon, eBay, Walmart, Target, etc).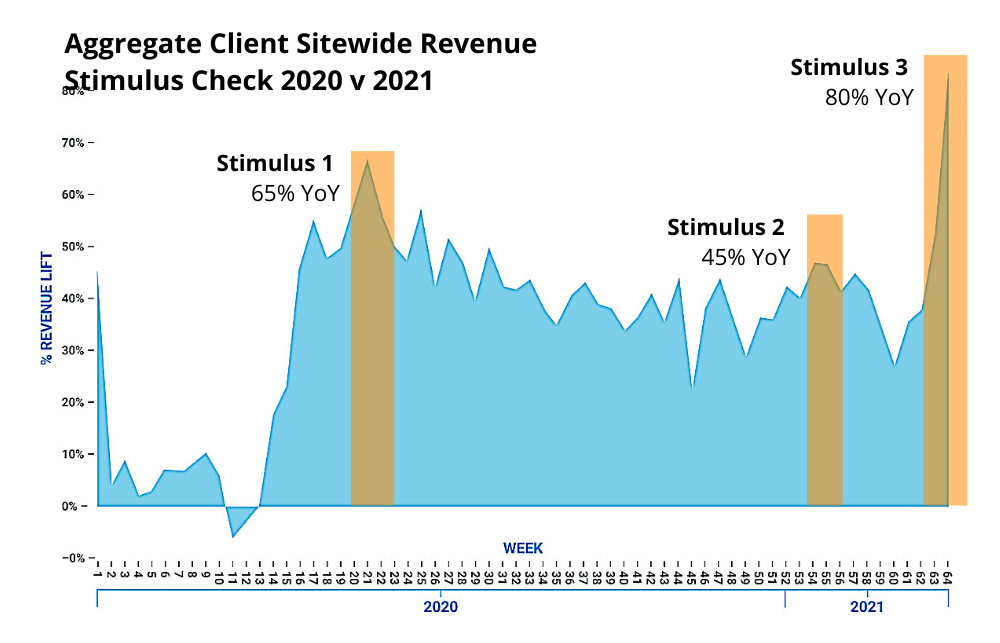 Given that we have now crossed the one-year mark of the government-issued stay-at-home and quarantine-if-at-risk orders, we felt that this was an important milestone to pause at and reflect on the trends we have seen.  The overall impact of the 2021 stimulus check is larger than anticipated. The week of March 14's median growth rate is higher than the peak last April/May when Americans received their first stimulus checks. Recall the shock-and-uncertainty factors at that time.
eCommerce merchants able to nimbly adapt to increased demand, supply chain strain, shipping delays, and other challenges were rewarded in the form of booming online business. Businesses that were willing to boldly try new advertising strategies, accept additional forms of payment, reconfigure their product offerings, and embrace curbside pickup prospered even more.
Overall, we're thrilled to see continued growth for our clients' eCommerce sitewide revenue hovering at a 40% YoY lift versus a pre-pandemic (January/Feb 2019) stat closer to 10%. 
The Stimulus Check Effect Touches More Industries in 2021
This year, in comparison to last, we are seeing strong year-over-year (YoY) lifts in revenue across some of the same industries, but some new industries are benefiting as well, including some that were hurting in 2020.  
Our Data Science team predicts that the coming 8-10 weeks (April and May 2021) will see continued lifts from the stimulus push, but the majority of the spend — as we saw last year as well — took place in the week that the funds were received.   
"Last year, we saw apparel, automotive, jewelry, and home and garden jump when the first stimulus checks were received. They are also seeing a strong performance with the 2021 stimulus. It seems that Americans spend this year's money on car projects, jewelry, clothes, home improvement, or spring planting and gardening projects." — Chris Charczuk, EXCLUSIVE Senior Director of Data Science
Industry Categories in Growth and Decline 
Here is a summary of industries that have seen a jump in weekly 2021 performance (indicating it is not due to comparing to last year's poor performance). Note that when looking at the 15 months prior, five of these six industries achieved record highs the week of March 14 when the third stimulus began being deposited into accounts.
Industry
EXCLUSIVE-Managed Clients' Year-Over-Year (YoY) Lift Week of March 14
Notes

Apparel & Accessories

140%

Record high,

2021 pre-3/14 lift 50%

Automotive & Parts

130%
Record high,

2021 pre-3/14 lift 40%

Furniture
250%
Record high,

2021 pre-3/14 lift 125%

Home & Garden

170%
Record high,

2021 pre-3/14 lift 110%

Jewelry & Accessories

210%
Record high,

2021 pre-3/14 lift 60%

Sporting Goods

135%

2021 highs achieved in first 3 weeks of Jan. (averaging 160%)

Industries that are up year-over-year but don't seem to be impacted by the pandemic stimulus funds:
Electronics 

Hardware 

Health & Beauty
Industries that are seemingly underperforming YoY (seemingly), but this is likely due to 2020 pantry loading:
Business & Industrial 

Health & Wellness 

Food & Beverage
The notion of the above-three industries underperforming is deceptive. Although health & wellness and food & beverage may be down year-over-year, we cannot bucket them into the same performance category. When we dove deeper into each industry's YoY trends, we saw two very different patterns.  
Food & Beverage is still seeing significant growth year-over-year, but the gap between last year's spend levels and this years' is closing.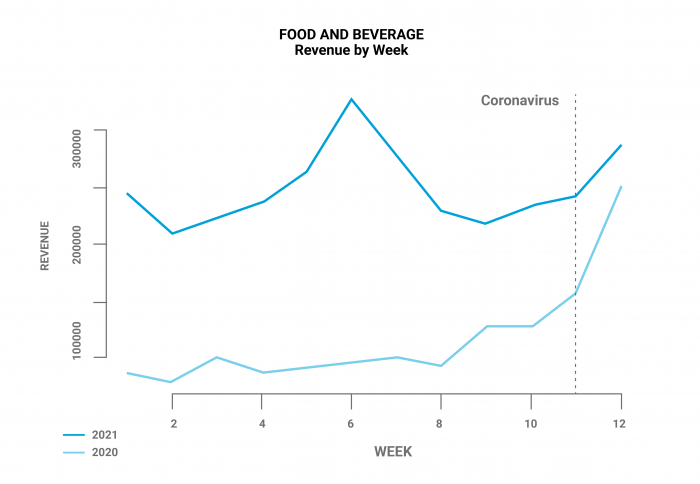 On the other hand, Health & Wellness has seen a steeper decline since January. This industry includes supplements, vitamins, medical supplies, and of course, the all-precious hand sanitizer. This industry's lifts last year were not likely to be maintained given the progress made in stopping the pandemic's spread.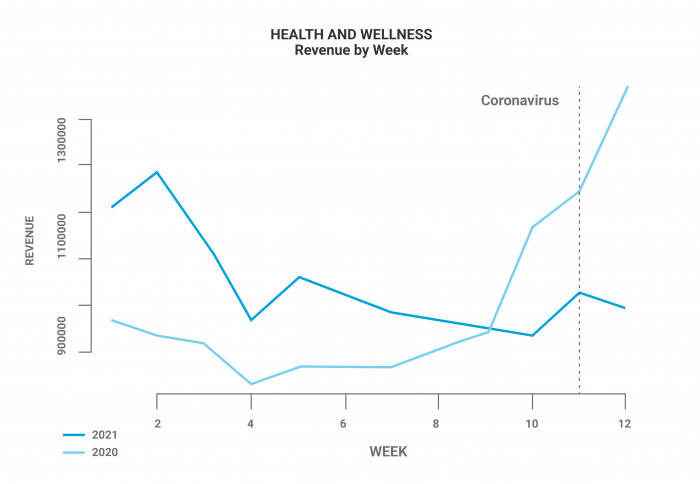 Wrapping Up the Effects of Pandemic Stimulus Funds on Consumer Spending and Digital Marketing
We're thrilled that the pandemic seems to be increasingly under control as more people work from home, get vaccinated, and adapt to social distancing activities. We're also thrilled that consumers continue to spend online and appreciate the conveniences of eCommerce.
The rise of eCommerce generally across industries is promising. That said, EXCLUSIVE always approaches these opportunities with cautious optimism. We remain vigilant in monitoring these weekly and monthly shifts, the variations in performance by industry and by channel, and in adjusting our own clients' digital marketing mixes as benefits them.
EXCLUSIVE-managed clients consistently outperform clients using other agencies or handling their digital marketing in-house. Perhaps the pandemic, which has lifted so many eCommerce businesses, is the best example of how EXCLUSIVE delivers revenue results that far exceed the average.
Read some of our success stories to see specifically how EXCLUSIVE grows businesses through innovative holistic digital marketing:
Would you like to see our industry reports for your vertical? Contact us so we can share them and perform a free eCommerce analysis.