In the wake of the COVID-19 health crisis, retail sales dropped precipitously in March by 8.7%. It was the biggest monthly decline on record. Food and beverage brands, on the other hand, represented a relative bright spot, while sporting goods, vehicle parts, furniture, and apparel sellers took the hardest hits according to CNBC. These two graphs illustrate the disparity.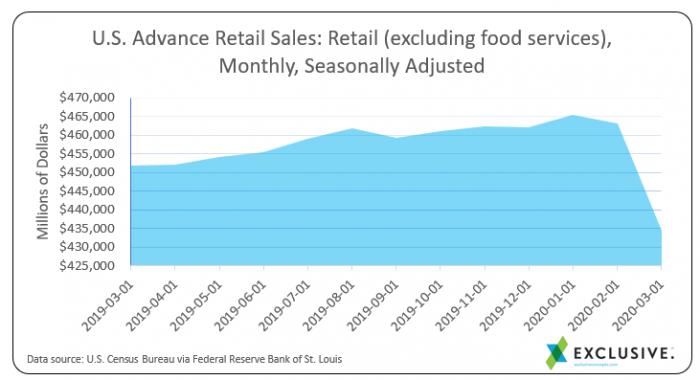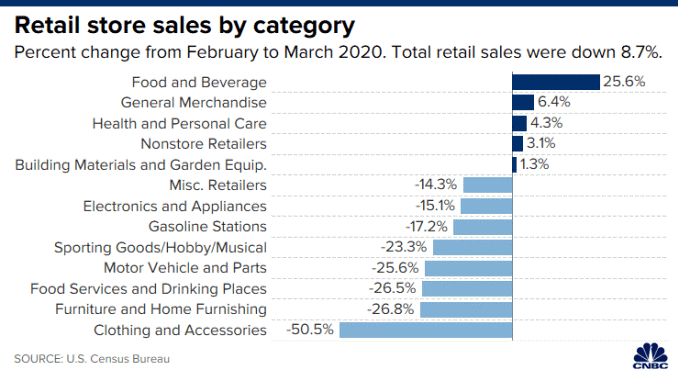 Food and beverage brands and retailers are seeing huge growth online
While food and beverage sales grew 25.6% across offline and online channels, online growth was much faster. Across the 35 food and beverage retailers we work with, YoY revenue growth after big shutdowns started during Week 12 (Mar 23-27) peaked above 150%.
Let's dig into the data, looking at 3 types of sellers: grocers, brands, and subscription services.
The grocers did well, of course
Here's a typical result from a niche grocer selling a variety of ethnic products and brands. From the graph below, you can see that their YoY revenue surged immediately after big shutdowns started. Sales growth was constrained mostly by their ability to keep products in stock.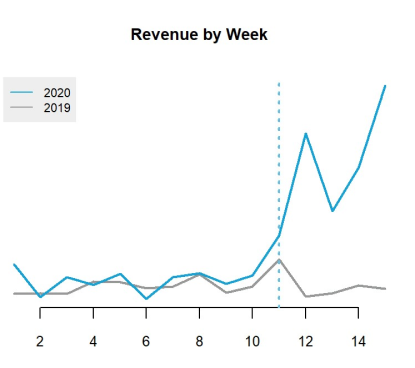 Brands did extraordinarily well, too
Here's a typical example of a snack food brand you'd find in Whole Foods or other upscale grocery store chains. What's interesting is their growth started to accelerate before the big shutdowns occurred. We noticed the same trend across most of the food and beverage sellers we track.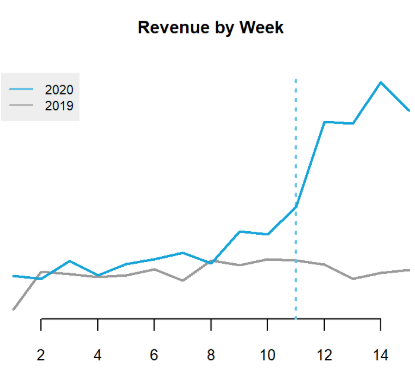 Brands are intriguing because many are still early in defining and implementing their direct-to-consumer strategy. We've heard feedback akin to, "nobody's going to buy a package of Oreo's on our website," but the answer is many will. They'll just stock up in larger quantities. The larger issue, perhaps, is product discovery. Most experts anticipate the impact of COVID to span years, with many high-value customer segments being less likely to walk into a grocery store. Food and beverage brands must find new ways of being discovered as in-store tactics become less effective.
Subscription services
We work with many subscription services that allow customers to have food and beverage products delivered on a recurring basis. Here's a typical example for a large seller in the "butcher" category, who saw demand surge immediately before big shutdowns started.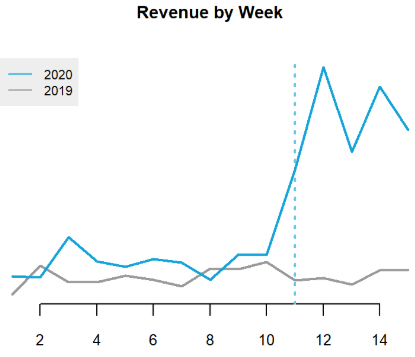 Subscription services are interesting because, to the extent customers are truly delighted with their service, consumers may be the most "sticky" even after the immediate health crisis abates.
How are grocers, brands, and subscription services getting results?
It may seem that shoppers are willing to literally throw money at any food and beverage seller with stock on their shelves, but it's not that simple.
First, it's important for food and beverage sellers to begin with the end in mind. Is your goal to generate an immediate spike in sales, or to fuel the long-term growth of your company? For most of our clients the goal is the latter, which means thinking about the profile of the most ideal customer and aligning marketing strategies across Google, Facebook, and Amazon to find them.
Second, even though marketing ROI is high in the current environment, competition is ramping up. By using smart top-of-funnel strategies today, you can "tag" a high volume of browsers with your remarketing code to prioritize high-performing marketing to them later.
Third, branding is still critical during times like these. If your messaging and visual strategies enable you to create a connection with your customers, you'll avoid being perceived as a commodity that can easily be replaced by a new upstart seller that comes online in a few months.
Every food and beverage retailer and brand is facing a unique situation
Some are facing supply chain disruptions that have brought their businesses to a halt. Others relied on offline sales and are trying to pivot to ecommerce to sustain their companies, now and into the future.
In nearly every scenario, COVID-19 will be a game-changer. Iterating, or outright transforming business and marketing strategies will be necessary. We have the benefit of 22 years of experience working with many different companies across dozens of ecommerce categories. Retailers and brands will be looking to us over the next few months to help guide them through the business transformations that may be necessary, and we'll deliver for companies large and small as we always have.
Are you looking for a thought partner to help? Let's talk, please reach out to us here.