Now stay with me for a minute.
Managing Google Shopping campaigns is primarily how I make my living, and shutting down the platform would have big implications for the agency I work for and me personally.
So of course, I have read a lot about the European Union commission's $2.7 billion ruling on Google Shopping over the last few days, and my initial reaction was one of incomprehension. I am not saying I agree with the case presented by the EU and U.K.-based Foundem (the main comparison shopping engine [CSE] that filed the original grievance), but I believe most publications have largely — or entirely — missed the main point behind why the EU commission found Google in violation of antitrust laws.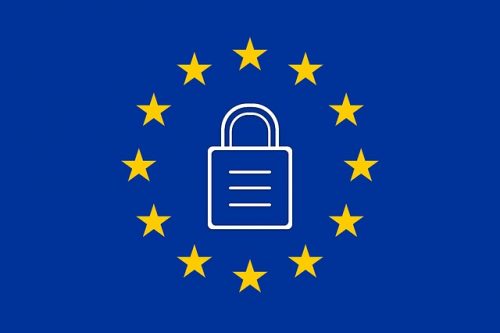 The popular takeaway is that Google was found guilty due to their creation and prominent display of an ecommerce-specific ad unit called Product Listing Ads (or PLAs). But Google's bigger culpability was that they rolled out an organic search algorithm update, Panda, which knowingly cut off the lifeblood to CSEs and radically changed competition in the marketplace in Google's favor, according to the ruling.
Because Google was going to be competing for the same customers as the CSEs, this move essentially removed all competition in this particular space and directly jumpstarted traffic to their own alternative comparison shopping product: PLAs/Google Shopping (then named Google Product Search). Note that the particular space occupied by Google Shopping is comparison shopping, not marketplace shopping like Amazon or eBay —  a distinction Foundem really wanted to be made clear.
Below are the comScore numbers as provided by Foundem from their annotated slide deck of the case. You can see the massive impact that Panda had on Google Product Search traffic.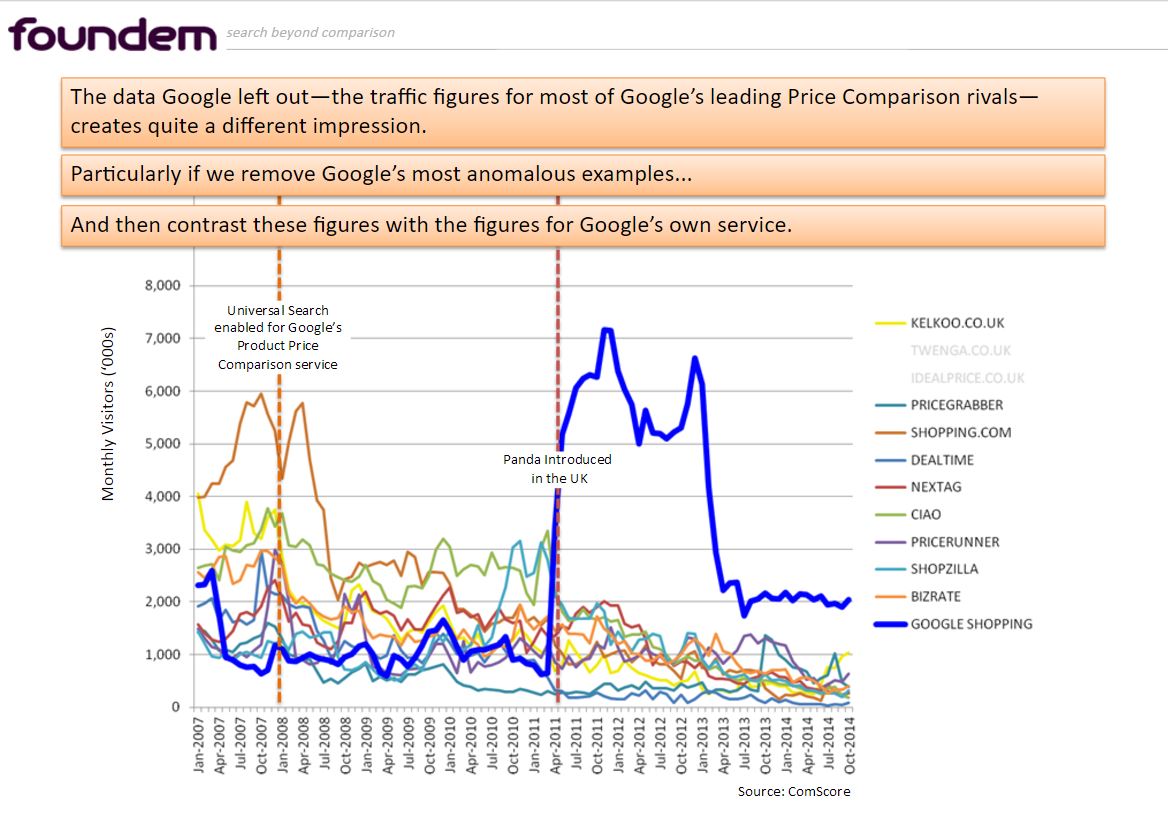 Again, I am not saying I agree with the commission's ruling or the preponderance of Foundem's evidence. Also, I am not speaking to the commission's labeling of Google as a "dominant" market presence, or even if Google has the right to do what they wish with their algorithm and results, which could all be debated.
I also recognize that Google's health and existence hangs on delivering the highest quality search results. So when Larry Page came back as CEO of Google in 2011, and he believed the state of ecommerce search results was in disarray, I can see why he wanted to fix it.
With the worldwide Panda rollout in April 2011, Google did just that. However, as a result, millions of different web properties with duplicated manufacturer content were cut off from the trough. Because many ecommerce stores reused manufacturer's product descriptions at that time, they were right penalized alongside the nefarious players. The biggest losers of all, however, were the CSEs, which by nature aggregate outside, duplicate content. And the update put them squarely in Google's crosshairs.
So depending on your opinion of Google and Page's fix, you either believe that:
It was a calculated slash-and-burn move that accounted for an 85–90 percent drop in the traffic that had previously sustained these CSEs, which knowingly allowed Google Shopping to come in and harvest ad revenue without competition.
It was a coincidental, ancillary outcome tied to Google's main goal of maintaining the quality of its search results. Unfortunately, it inadvertently impacted CSEs disproportionately.
Either way, the resulting vacuum provided an ideal environment for Google's new shopping comparison engine to thrive.
Was this an act of callousness by Google or just another one of Google's hundreds of search ranking adjustments aimed at staying a step ahead of spammers to protect the sanctity of its search results?
In my eyes, a lot is still up for debate, but for the EU commission, they had seen enough evidence to issue their ruling against Google.
This article was authored by Nolan Antonucci, Performance Manager of Product Ads & Marketplaces at EXCLUSIVE.
Photo credit: harakir

Featured photo credit: 422737