COVID-19 has flooded the market with content, news, and data. It's hard to know who to trust and what's worth reading; that's why clarity and transparency are always our main goals.
EXCLUSIVE would like to thank our partner, Klaviyo, for aggregating great insights from eCommerce brands and the consumer market via a recent survey. As partner brands, our shared mission is to surface strong data and insights so that our clients can focus on what will ultimately bring them the most success and drive more eCommerce sales. We love that we're so aligned on the importance of data!
As we dove into their recent consumer and eCommerce seller survey findings, we quickly noticed congruencies with our own client data and performance. This article aims to share the insights and commonalities in our data sets as well as some of the strategies that EXCLUSIVE clients have implemented in order to "make lemonade out of lemons" in the COVID-19 market.
We know this has not been easy, but we are cheering for all of the digital marketers out there today — times may be uncertain and ever-changing, but we all know external challenges can breed some incredible opportunities and space for innovation. There is opportunity out there and we aim to quantify it here.
Across industries, some marketers have pulled back advertising budgets but EXCLUSIVE is seeing a 23 percent increase in revenue for our clients who stayed the course and a 10 percent increase in orders across industries and categories — eCommerce is far from shutdown. Similarly, Klaviyo shared its latest eCommerce consumer and brand survey data on a recent webinar, saying: "More brands are reporting that their sales are going up. Non-essential purchases are on the rise, and order values are increasing as well across categories."

With many brands and manufacturers instituting a spending freeze and therefore pulling out of Google Shopping, Amazon, web development, social media, and of course, email marketing, this has driven down cost-per-click (CPC). But consumers are just reallocating their time online (impressions are up in a big, off-trend way). In the end, this is surfacing a real opportunity for eCommerce brands looking to invest wisely in advertising, because you can see a return. Those new orders and revenue you see today might be able to lessen the decline, save employees' jobs and maintain or grow customer loyalty.
Our main takeaway: stay present! Customers want to hear from you and other eCommerce brands, like yours, are getting the return that their CFOs and finance teams want to see (due to reduced competition).
Common Insights and Strategies
EXCLUSIVE and Klaviyo believe in the need to surface trends by industry to give brands a better sense of what their peers are seeing for specific categories in today's market. Our teams have found that the best way to execute a winning strategy as we emerge from COVID-19 is to leverage the insights and marketing performance data you have available to you, at the channel, product, and holistic levels, to form the smartest strategy.
EXCLUSIVE's Insights and Data:
We believe it's important for you to be aware of where your business stands. This will help create a strategy that's customized to your specific challenges and demands. Accordingly:

What Pandemic Demand Curve do you follow?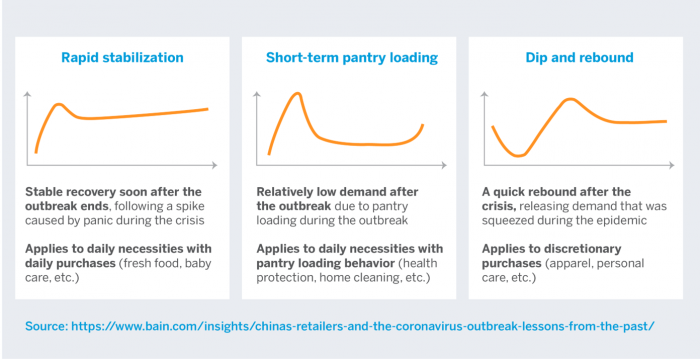 EXCLUSIVE has identified three common pandemic demand curves and we believe that each industry falls into one of these three examples. These curves will help your brand understand what trends they should expect to see throughout this pandemic.
More people are shopping online, so your brand should be connecting with your community and making that a top priority during this time.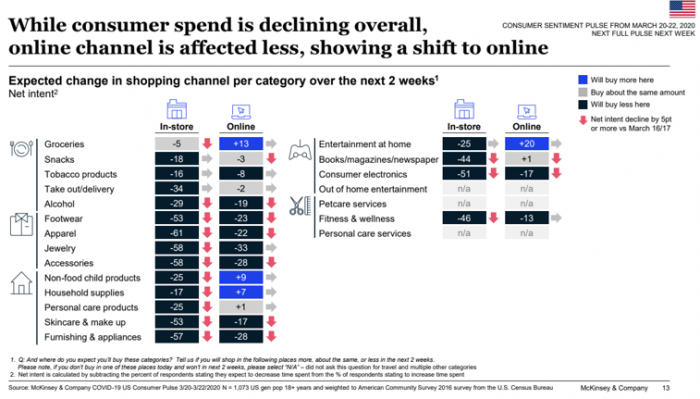 With the increasing need for humans to feel connected, we are seeing users on social media platforms become more active throughout the day. Learn more from one of our recent webinars where Google joins us live.

53 percent of consumers are browsing Facebook more often
32 percent of consumers are browsing Instagram more often
YouTube relates searches are seeing significant WoW growth in searches

Despite many consumers shopping online, the need for constant and transparent communication is critical (i.e. shoppers know that the supply chain is impacted, so just be clear and transparent and they'll know what to expect). This will build trust and loyalty.
Cost-per-clicks are down across Google and Amazon.
Customers want to be distracted and are turning to YouTube and other media outlets. Additionally, they're looking for deals and discounts. If your margins can manage it, now might be the time to promote or discount to drive acquisition or even in remarketing to win-back.
With Amazon facing fulfillment issues, now is the time for direct-to-consumer (DTC) brands to take the opportunity to leverage best practices and take advantage of cost-efficient media. Overall, Klaviyo is seeing sales increase amongst all of their DTC customers and believe these sales will continue to ramp up.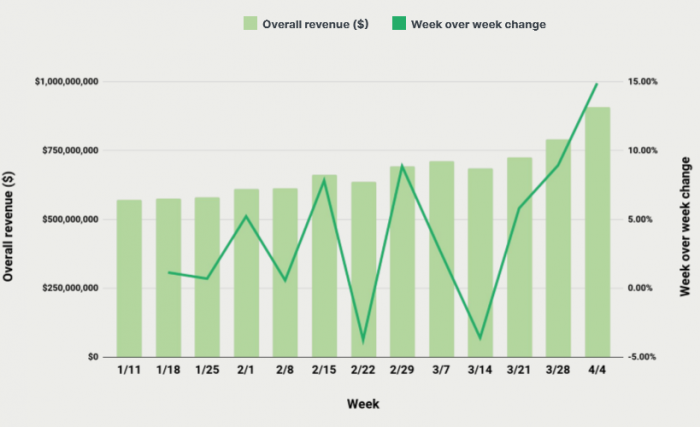 Although the immediate influx of online spend in early March was primarily in essential categories, the trend has shifted and increased spend is now being seen across categories.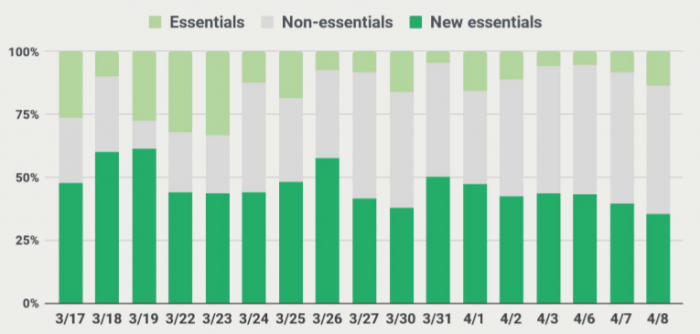 As sales in essential categories have stabilized, non-essential and new essential categories are also plateauing. Some brands are even seeing a performance boost in sales compared to their pre-outbreak sales.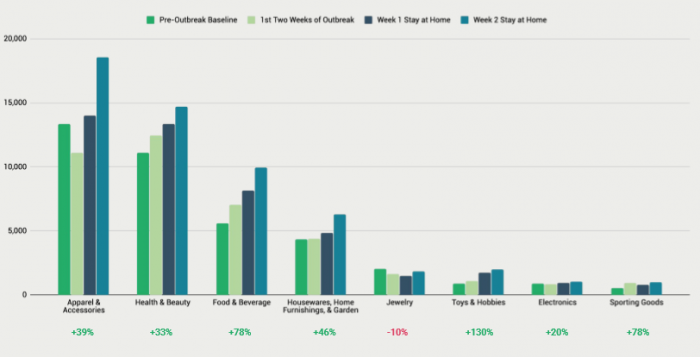 New essential categories are on the rise seeing YoY growth with their orders. Four categories seeing this surprising growth are toys and hobbies, health and fitness, beauty and cosmetics, hardware, and housewares.
Four Strategic Steps to Work Smarter, not Harder
Now that we've shared the trends, let's shift gears and discuss what you can do with this information. Many of EXCLUSIVE's clients are realizing they need to:
Play smart(er) – Look closely at spend by channel and even down to the SKU level to make smart investments that are most likely to provide a return (a big return!).
Focus – Analyze your product assortment. What products are still doing well and which ones are not (so you can reduce ad spend)? Which products fulfill a need right now and which ones don't? (Be creative.) Sometimes you can simply adjust (see next bullet).
Adjust to meet new consumer demands – What products need repositioning (address your content, feed and creative)? For example, changing resort wear to leisurewear in order to increase relevance and meet the demand. This will increase engagement and most likely conversion, too!
Double down if you can – If you have access to inventory and can fulfill, you'd be partaking in a less competitive market, so it may be OK to increase your CPA, CPC budget, etc. because there more consumers out there shopping while it's less competitive for sellers. Win your customers now, because your competition will rejoin the game in the coming weeks and months.
Here's more detail and specifics on how some of our clients are putting these strategies into place:
Client #1
SPORTING GOODS CLIENT SUCCESSES
With this sporting goods client, we've noticed faster conversions and an influx of new customers. Although the client had to pull back spend, EXCLUSIVE was able to maintain its social presence (in a time when impressions are surging) and drive YoY increases in revenue and new-customer acquisition. Sporting goods is one of the handful of industries seeing less competition (more brands pulling out of advertising, which is driving down CPCs) and heavier adoption with more Americans and consumers abroad getting outside, trying to stay active, and trying to stay sane.
Changes Since COVID-19:
Client worked with EXCLUSIVE to cautiously decrease ad spend (nearly 40 percent) with the goal to cut some cost while still maintaining a strong social presence.
They have also pivoted their messaging to show the usefulness of their products for at-home fitness.
Additionally, they have used a banner spot on their website that details their shipping information and a current promotion of free two-day shipping site-wide.
Results Based on Changes:
By taking things day by day and making small adjustments, we have seen a 27 percent increase in overall revenue between February and March 2020.
As well as a 53 percent YoY increase in paid ads across the same time frame.
They have also seen a 20 percent increase in new customer sessions YoY and a 26 percent increase in transactions from new customers.
Client #2
SPORTING GOODS CLIENT SUCCESSES
This leading sporting goods brand has seen strong results as they embrace this "new essentials" category.
Changes Since COVID-19:
EXCLUSIVE grew site-wide revenue over 90 percent YoY during COVID-19 by:

Analyzing and optimizing their user experience
Optimizing their SEO content and using keyword research to inform Google Ads keyword targeting strategy
Bringing new customers to the site via social, products ads, paid search and organic
Retargeting with social ads and paid search

Additionally, we wrote blogs around COVID behavior for this brand (how to safely handle equipment; the best indoor workouts; etc.).
Results Based on Changes:
As this client started to see demand increase, EXCLUSIVE increased paid spending by 55 percent to generate a 112 percent lift in conversions.
For this client, EXCLUSIVE worked on scaling spend on social ads by 913 percent, generating more than 3,000 percent more conversions through the social channel and increasing ROAS by 191 percent.
EXCLUSIVE improved page 1 keywords ranking by 60 percent YoY, which resulted in 72 percent lift in sessions and 76 percent increase in new users.
Additionally, this client saw a 98 percent increase in clicks and a 28.5 percent increase in ROAS by working with us to increase paid search efforts and product ads.
With an increased paid advertising budget and tighter focus on target keywords and content, EXCLUSIVE's paid strategy led to improved SEO performance — more traffic and 200 percent increase in conversions to the website compared to the period before the COVID-19 crisis.
Increased traffic and conversions drove strong lifts — sessions up 111.6 percent, a 207.8 percent increase in revenue with only a -1.7 percent decline in average order value (AOV), meaning there was a pure and incremental lift in orders.
While industries such as apparel, B2B resellers, luxury products and travel were hit hardest early on in the pandemic, there are still ways for all industries to successfully engage with their customers. Right now, engagement can be just as powerful as it is important. Invest now and you can win the customer later.
Conversely, industries such as food, education, skin care, at-home entertainment, cleaning supplies and home improvement are seeing outrageously positive results. We challenge you to take advantage of the continued opportunity for higher revenue and strong return (ROAS) to expand your reach with broader cold audience targeting. Grow, grow, grow!
Client #3
 FOOD AND BEVERAGE CLIENT SUCCESSES
It goes without saying that food and beverage is a category that's benefiting from this shift in consumer behavior. Consumers had to embrace and be comfortable with online ordering like never before and many believe this forced adoption will prove to be the new normal as the dust continues to settle.
Changes Since COVID-19:
It wasn't difficult for this client to maintain and grow spend throughout the pandemic, but this client made the decision to further invest in advertising and social media with us during the pandemic.
In addition, they decided to target a broader audience to increase community engagement.
EXCLUSIVE used three common advertising strategies to increase conversions on social media and advertising.

Repositioning products to show usefulness.
Encouraging short-term buying with promotions.
Limiting changes to messaging and avoiding anything that goes against health guidelines.
Results Based on Changes:
Revenue is trending close to holiday levels for this brand, but ROAS is performing better than peak!
The efforts made in social media advertising led to a 170.6 percent increase in conversions, which results in a 243.7 percent increase in revenue and a 155.8 percent improvement in ROAS.
Client #4
HOME DÉCOR CLIENT SUCCESSES
The Home and Furniture industry has seen a surge since COVID-19 that's continuing even as businesses slowly reopen. With a challenge of low revenue at the start of the pandemic and this clients' fear of factory closures and product delays, EXCLUSIVE was tasked to pull back on spend and strategically remove certain products. By changing up the strategy, this client saw positive results in the month of April and increased revenue YoY, even with reduced spend.
Changes Since COVID-19:
EXCLUSIVE saw that the clients' competition was removing or reducing ad spend. That said, this client did grant access to increase spend specifically for remarketing in Display (focusing primarily on Video content).
The client also created an aggressive promotion strategy to convert newly vetted customers.
Finally, EXCLUSIVE shifted a significant amount of budget to targeting DIYers.
 Results Based on Changes:
This client saw an increase of more than 50 percent YoY revenue in the month of April alone.
April ended up being the highest-earning month of all time for the client on paid search by $110,000.
Their overall revenue went up 80 percent YoY on Google Analytics.
IN SUMMARY:
We'll leave you with some actionable takeaways and strategies to consider:
Actionable Takeaway: Purchase behaviors have changed. Consumers are online now more than ever. Create and nurture your brands' community, prepare your messaging and help your consumers with this uncertainty by planning and preparing for the unknown.

"…our platform is now handling Black-Friday-level traffic every day! It won't be long before traffic has doubled or more. Our merchants aren't stopping; neither are we. We need to scale our platform." – Jean-Michel Lemieux, CTO, Shopify

Strategy Tip: More and more brands are pulling out of advertising, especially Google PPC, Google Shopping and Amazon. CPCs are down and impressions are up. Use this time to expand your audience and put more into your ad spend.
It is imperative for you and your team to find a way to maintain your presence during this time. Whether you adjust your marketing mix, focus on select product categories, adjust creative and copy to align with consumer needs, expand your audience or pull back, we at EXCLUSIVE and Klaviyo can conclusively share that being on your "game" now will position your brand better in the future.
Now is not the time to sit on the sidelines and be a spectator. Your competition will be back, and we confidently believe there are many things that your brand can be doing in your owned, earned and paid channels to benefit from this continued eCommerce demand.
We're here.
Regardless of the space you are in, we know that each business is facing unique challenges these days. We would love the chance to help provide insight, guidance, focus, and advice if you'd let us — book time here to connect.