Website owners have been hearing "content is king" for years now. And with Google's barrage of Core Updates in June/July 2021, that isn't changing any time soon. The challenge with many eCommerce sites, though, is the massive number of pages on them and how they've become tangled with each site change or even product addition. If you do a deep dive, we're sure you'll find pages that are out of date, irrelevant, misplaced, containing errant links, and generally the cause of user-experience frustrations and Google penalties. Fortunately, there are ways to diagnose and fix SEO content problems.
Getting the Real Picture
There are hundreds of SEO audit tools out there. We built the EXCLUSIVE Content Scorecard for SEO to fill a gap in the understanding of content health. Sure, we could have run a crawl and told you how many short and long titles you have, but we've heard from prospects and clients time and again, "Don't just tell me how many broken links I have – give me something more." Understanding content health goes much deeper and can actually help uncover larger technical issues at the same time. So by exploring content health, we're also uncovering the "more" that growing eCommerce businesses want and need.
Benefits of Our Content Scorecard: A Snapshot of SEO Health
Our free scorecard covers thin content, duplicate content, and orphaned pages. We provide a health score based on what we have observed as ranking signals (cues picked up by Google and other search engines to calculate how a website should rank). With 200+ signals in ranking algorithms, any single grader or audit tool only provides a snapshot in terms of specific breakdowns of performance. However, we have focused the Exclusive Concepts scorecard on three ranking signals that are weighted most heavily for optimal SEO performance.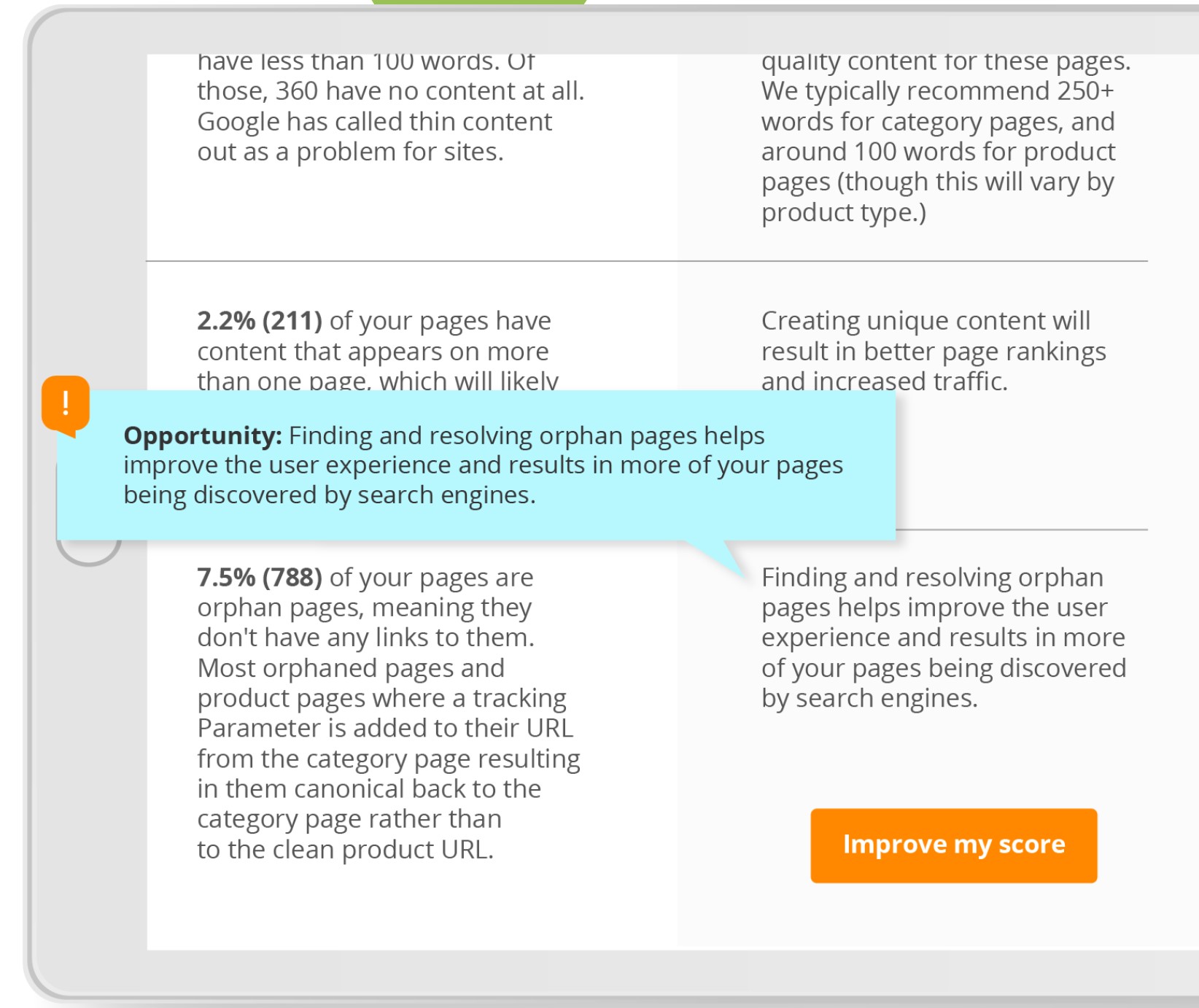 Thin Content
Thin content includes pages that aren't living up to their full potential. Remember that Google is in the business of providing answers and information. When a website doesn't provide visitors with enough information in breadth and depth, that is considered thin content and Google will prefer another website over yours, namely one that better satisfies the algorithm and visitors.
The EXCLUSIVE Content Scorecard flags web pages with fewer than 100 words on them. Even for product detail listing pages, you should aim for 150-250 words. For category pages, you should aim even higher. And yes, Google is smart enough to detect redundancy and filler so make sure that your content delivers clear value. Other benefits that come from including content that is clear and provides value include:
Giving shoppers those extra details that make them more likely to buy

Staving off potential returns and customer service issues because the buyer didn't get a full sense of your products or your business
Duplicate Content
Duplicate content is content that appears on more than one page of your site. It includes exact duplicates and as well as content that is highly similar. When you have duplicate content on your website, you're confusing Google and shoppers who can't discern which page is the "right" one to go to. 
As well, duplicate content skews your metrics as you are splitting impressions between pages and not getting an accurate read on traffic and clicks. Our scorecard flags pages where more than 50% of the page content is found on another page of the site.
Orphaned Content
Orphaned content is a web page that is stranded because nothing links to it. The page is not attached to the site structure. It's essentially floating untethered to the navigation or any other content.
Often, orphaned pages are leftovers from earlier website iterations. They should have been unpublished, but they were missed and now they've been forgotten about and are slowing your site. Google can still find them and evaluate their content and so can our scorecard. If the orphaned page is important, integrate it logically into the site structure so shoppers can find it. If the page is no longer relevant, remove it so as not to confused Google or users. Any pages you can eliminate may also help with site load time and indexing.
The Final Word and Next Steps
SEO is about so much more than backend and frontend keywords. Content that sends the right signals to Google and that resonates with shoppers is critical. Don't leave your rank or shoppability to chance. Get your free EXCLUSIVE Content Scorecard for SEO so you can easily find trouble spots and fix them
Add if you're interested in further helpful SEO tips and tools, check out The Ultimate Guide to Understanding & Improving eCommerce SEO: Your Free Resources Center.