Each week imaginary CEO Adam receives dozens of sales calls and emails that promise to bring more qualified traffic to his online store. These advertising pitches focus on a wide range of channels including search engines, shopping portals, social media, email, print ads, television ads, and more.
Adam ignores most of these phone calls but he wants to increase traffic and sometimes feels overwhelmed. There are an endless number of channels and strategies he could choose from.
Unfortunately Adam finds himself falling into the same trap that many online retailers do. Adam should commit his time, resources, and attention initially to mastering one or two key channels. Instead, he spreads himself too thin. He does a little of everything, but nothing extremely well.
As a result, he has trouble building marketing momentum, and growth comes at too slow of a pace.
So – what channels should Adam be prioritizing above all others?
The answer is simple – the most lucrative ones.
And the most lucrative channels for small and mid-sized online retailers are search engines.
Previously we analyzed the traffic sources of hundreds of online retailers, and the pie chart below shows where their traffic is coming from: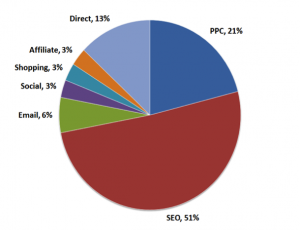 SEO (non paid traffic from search engines) is responsible for more than half of traffic
PPC (paid traffic from search engines) is responsible for 21% of traffic (though this percent is and will continue growing due to changes Google is making)
Direct traffic, which refers to shoppers directly typing in the URL of the store was the third biggest source at 13%.
Social sources, according to our analysis, only drove 3% of total site traffic.
According to this analysis, search engines in total drove 72% of traffic. You might, therefore, decide that search engine marketing should account for approximately 72% of your marketing attention/budget. That means not getting distracted by other seemingly more sexy channels, like social media and comparison shopping engines.
Where should your search marketing dollars ago?
We've seen the highest ROI come from well-optimized Google Shopping campaigns, valuescaping SEO that strategically targets rankings on high buying intent keywords, and traditional PPC advertising focussed on your most profitable products.
Making search marketing more profitable by boosting repeat sales
To maximize the benefit of your search marketing spends, of course, you'll want to develop follow-up email marketing programs that drive repeat sales. The most profitable business comes from repeat customers, and if you're not generating repeat business, your marketing budgets will be starved and growth will slow.
Converting more browsers to buyers
While it may fall within a different place in your budget, conversion testing, like email marketing, is also a critical activity that enables you to maximize the benefit of your search budgets. Conversion testing helps you answer questions like:
Why do shoppers abandon their shopping carts at such a high rate?
What can I add to my product pages to increase conversion rate?
How important is my in-site search to conversion rates, and how can I improve it?
You can also take advantage of cart and site abandonment tools like those we make available through Conversions On Demand to increase conversions quickly. Often it makes sense to offer reluctant shoppers a special incentive to complete their purchase, especially if you focus on generating repeat sales from those customers in the years that follow.
Invest wisely. Don't gamble
These are the kinds of activities that – when done right, and when properly invested in – make retailers money. These are also the activities that will prove strategic over the long-term. That's what we've learned over the past number of years.
Yes, there's always a chance that you can beat the market and develop a creative social media strategy that will become a big source of traffic and sales. For most merchants, however, social media is a blip as a consistent traffic acquisition tool. It's important, but for very different reasons.
Further, while third-party marketplace selling has generated a lot of hype, as explored in our article published on Practical eCommerce, there's major downsides to it as well.
Conclusion
Strategy is all about making choices, and all choices have trade-offs. Rather than spreading yourself and your investments thin, master a few things rather than trying to be "OK" at a lot of things.
To beat your competitors you'll probably need to master the most important traffic acquisition source – search engines.
If you agree that search engines are where you want to focus, at least for now, you'll want to support those efforts by developing strengths around driving repeat business, and converting browsers into buyers at the highest rates possible.