With containment efforts for the coronavirus ranging from social distancing to quarantining, our hearts and minds are focused on how we can all do our part to protect ourselves and our communities. Our role – amidst all of this – is to help you maintain the health of your business. That means looking for new sales-growth opportunities when others aren't and identifying proactive measures to prevent performance slips.
To help our clients overcome challenges like these, we've been monitoring the emerging e-commerce trends that will reshape the competitive landscape for the foreseeable future. And we're here to share our business perspective on the silver linings in all of this:
CPCs and CPMs are declining. There's less competition and your ad dollars can go further by reaching the influx of new impressions right now.
With Amazon significantly pulling back its ads efforts on Google, the competitive landscape is presenting unprecedented opportunities for merchants.
Consumers are shifting their spending online and that's where you need to focus your attention.
COVID-19 Paid Advertising Macro Trends
Macro trends are showing that this is the time to expand your marketing efforts on Google Shopping, Amazon and Facebook. With people staying at home as much as they can, time spent browsing online is dramatically rising and e-commerce is showing growth where other areas of business are struggling, if not completely shutting down. Adjust your marketing strategy accordingly and you'll be able to maximize revenue while others remain stagnant (or worse). We've got the numbers to prove it.
Let's talk through the changes that can help you increase revenue and return on Google, Amazon and Facebook:
Google Shopping: Seizing a Dramatic Drop in Competition
According to SEM Rush, Amazon's paid traffic had decreased 29% on March 15, when compared to February 15, with a steep downward trend forming. Amazon is clearly reducing its sizable ad spend on the Google Shopping side of things, creating a lower CPC while freeing up more impressions.

Additionally, mid-way through March, Amazon only had 1.4 million active PLA Ads on Google, which is their lowest number since February 2019.

What Kinds of Results are Our Clients Seeing? 
The WHO officially declared a pandemic the week of March 9.
That week, our clients saw a 23.4% YoY increase in revenue compared to the same week last year. Winning categories included business and industrial, food and beverage, health and wellness, animal and pet supplies, healthcare, medical, office, and school supplies, hardware, automotive, home and garden, furniture, and others. We'll be sharing trends and insights weekly moving forward to help you benchmark your performance against others.
Client Case Study (Industry: Health/Supplements)
Regarding the expanding pandemic-related industries in particular, a health/supplement client of ours saw record-setting growth on Google Shopping, which is pretty typical for sellers providing daily necessities. Here are the details:
Increased purchases across all of their product categories
Target ROAS goal was a 3:1, and EXCLUSIVE is driving a 6:1
Midway through March, they've seen the following month over month growth:

Spend is up 172%
Conversion is up 22%
Revenue is up 203%
The total increase in ROAS is 11%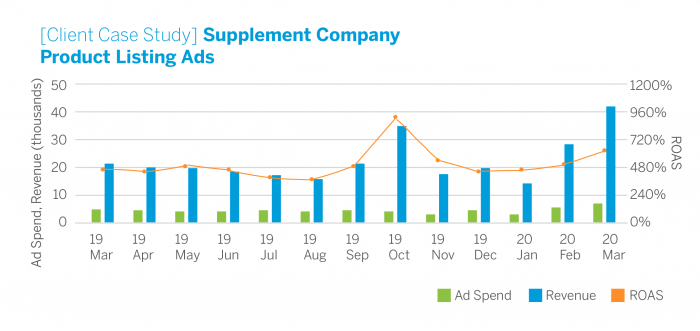 This was all enabled by pivoting to a more sophisticated automation strategy instead of a "set and forget" approach. EXCLUSIVE analyzed the keywords that were converting most effectively in mobile versus desktop, and then created targeted ROAS campaigns for each to steer the Google algorithm toward prioritizing budget on keywords that will ultimately grow revenue.
What We Recommend on Google
Monitor your campaigns closely to make sure you're capitalizing on these opportunities, and when increasing ad spend, make sure to consider the appropriate bid strategy. Will you use full automation (be cautious: if you set a target and can easily get there, know that Google will drive a percentage of your budget to longtail or mobile where it may not be as efficient)? Will you apply target ROAS or manual bidding? If you'd like to chat with us about these approaches, then don't hesitate; this is what we do for hundreds of clients, day in and day out.
The takeaway? If Amazon has been competing hard in your industry on Google Ads for years, you may have new opportunities to:
Improve your click share
Increase your revenue
Establish increased market share that continues into the long term
This reduction in Amazon's ad spend is creating a vacuum in Google Text and Shopping Ads alike. The only question is: Will you fill this vacuum or will your competitors?
A sporting goods client of ours in a highly competitive niche, with a lengthy sales cycle and higher average selling price (ASP) stepped up to take advantage of this growth opportunity.
The EXCLUSIVE team has delivered a consistent 6:1 ROAS that first dipped on March 8 to 4:1 due to the initial quarantine efforts in several areas, but that quickly rebounded to the usual 6:1 as of March 18. Why? This smooth recovery is a result of increased traffic and impressions of people shopping online, and quickly adjusting their campaign tactics accordingly.
Amazon: Big Changes, Big Opportunities
Pre-pandemic, Amazon was already a leader for sales growth and making the most of your marketing dollar. Now, competition is at an all-time low for non-essential/discretionary-spending industries such as automotive, sporting goods, apparel and lighting because Amazon is dialing back in those categories to focus on fulfilment and reprioritize its outlays. Cost-per-click is going down as a result and that means you can see better ROAS, too.
What Kinds of Results are Our Clients Seeing?
As an example of what to expect in high-demand industries like those mentioned before, we have a client in the industrial supplies category whose performance is increasing across the board for sanitizing products, bathroom tissue paper and home office supplies. While we're thrilled with the success that they've been seeing, in order to help satisfy demand, we've also been partnering extremely closely with our contacts to manage inventory so that we can maintain revenue and profit for them into the future.
While it's easy to sell raincoats in a downpour, we've also been able to generate sizable returns in both on- and off-trend industries.
Client Case Study (Industry: Cleaning Supplies)
1,100% MoM increase in units ordered
600% MoM increase in Total Sales and 350% increase in channel sales
Ensured our ads served throughout the day over the past 25 days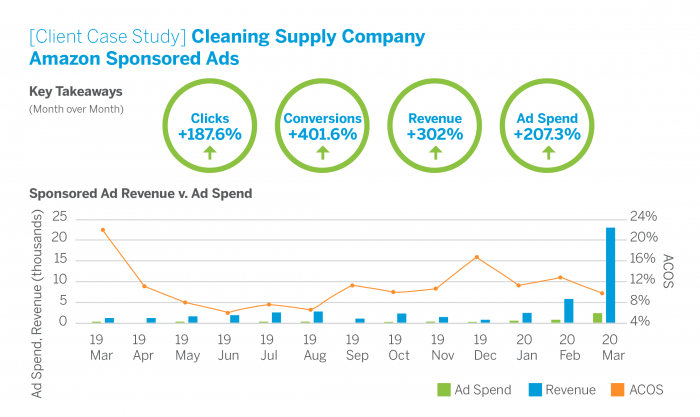 Client Case Study (Industry: Home)
Client has seen 33% increase in revenue MoM
Maintaining top-three ad slot for majority of the day
Running spike tests on keyword "comforter" and related keywords – maximizing on time-of-day and every conversion opportunity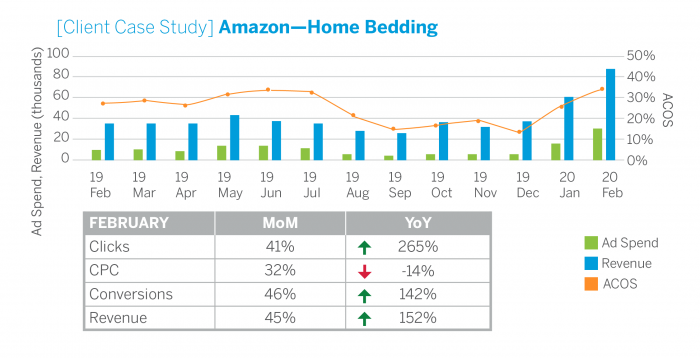 What We Recommend on Amazon
Timing is essential here, but the current competitive landscape, with its reduced competition and lower ACOS figures, should mean one thing to forward-looking business leaders: opportunity. That is to say, opportunity to meet demand from customers who have limited options to procure the products they – and their families – need, and an opportunity to generate the revenue your business needs to sustain itself and your people.
Our Amazon How To Guide is a solid reference for those of you looking for direction on how to take on this marketplace or how to increase your presence, but if you do nothing else, focus on these two things:
You have to play to win. Competition will heat up as the situation begins to stabilize.
Dissect and pull apart your campaigns into our OPPA structure (one product per ad group) so that you can more tightly manage the descriptive keywords that are associated with that individual product, allowing more control of the bid.
As always, EXCLUSIVE is here to help. Requesting your free analysis is a good place to start.
Facebook: How Marketers can Capitalize on a Surge in Screen Time
Yes, we all want to take advantage of the impressions surge in the market right now, but let's all be smart marketers and remember that remarketing is the best place to start, since you'll always see better conversion rates when speaking to an audience that's been to your website or bought from you before. This is especially true on Facebook, where impressions and clicks are swelling, but conversion rates on ads served to cold audiences aren't necessarily following suit.
If you don't have enough of a base for remarketing or you have the budget to grow and drive adoption or create loyalty for your brand (which should also pay off in the long run), you can take advantage of increased mobile and desktop screen time with cold audience marketing strategies. A free e-commerce analysis from EXCLUSIVE can help inform your decision when choosing between tactics such as custom intent, in-market and affinities.
 What Kinds of Results are Our Clients Seeing?
We believe the following stats show that now can be the perfect time to test and grow your social advertising strategy and win customers for life.
Overall, we're seeing steady declines in CPM (cost per thousand impressions), which means you can more efficiently and confidently invest in your ads, and even better, you don't have to spend as much. Just be careful about how you target your audience, because you could also end up wasting ad spend in the current click-happy environment.

This trend applies across several industries, including specialty food products, which are seeing incredible growth on Facebook

What We Recommend on Facebook
Getting quality, data-backed insights during trying times, especially early on, isn't always easy. Fortunately, we've had the privilege of being one of Facebook's Marketing Partners for years and they've shared some compelling insights and recommendations that we thought were worthwhile to pass along. Digesting this data and factoring it into your strategy can enable you to make the exact adjustments that are necessary for the climate. According to Facebook's survey:
The top concerns among consumers about the COVID-19 situation are:
30% said they panic about running out of essentials and end up making panic purchases

Our thoughts: We're seeing lifts across industries, including those outside essential products. So even if you're not selling dog food, toilet paper or groceries, there's still plenty of opportunity according to the indicators.

34% believe this is going to be worse than an economic recession with the risk of people losing jobs (as marketers, it is within our control to help our own businesses make the most of this difficult situation and help our peers keep busy in their day-to-day situations)
How consumer behaviors change in the context of COVID-19:
-50% Reduced their frequency of visiting brick-and-mortar supermarkets

Our thoughts: As we'll share below, we've helped many of our clients in the food and beverage industry – previously reliant on resellers or brick and mortar – to shift or compensate for the offline shutdown by driving more traffic to their own e-commerce site

+32% Increase in online shopping activities across markets
+42% Increase in home entertainment streaming

Our thoughts: Although it's not in our wheelhouse to recommend media placements or buys, programmatic/display is. And both Facebook and Google Display Network are going to benefit from the increased impressions.

+53% Browsing Facebook more often

Our thoughts: Be thoughtful about the creative strategy and content that you share – be empathetic and we second Facebook's recommendation to "craft your story around consumer reassurance rather than product messaging utilizing poll ads to understand needs and preferences, leverage influencers who have deep bonds with their audiences, and even give consumers the opportunity to test products from home."
In Summary
The gates have been opened for opportunities to reach this increased traffic online, with even fewer ad dollars than before. Whether it's Amazon, Facebook or Google – you may have an affinity – remember to consider the Golden Rules of Marketing:
Who are you trying to reach?
What type of message or content are you trying to deliver?
What are your goals and what type of return can you afford?
The opportunity is certainly there and we promise: if you're thoughtful in your strategy, approach and campaign-setup, you'll give your company the best chance of sustaining itself in the short-term while positioning for the recovery as we emerge from this pandemic.
For those of you in key categories, you may be seeing significant success, but that certainly comes with its complexities as well (inventory management, fulfillment, transparent communications with customers, and building out demand-based projections). If you're in these key categories: pet, health, food, beverage, baby and home, now is the ideal time to double down on your current efforts, not just winning the first sale, but thinking about how to turn these new customers into loyal customers.
Why Might EXCLUSIVE be the Partner You Need to Survive and Thrive?
We've been steadfast in our ability to create smart digital marketing strategies and deliver results that ride out crises, big and small, for 23 years. We've helped thousands of ecommerce clients – through H1N1, the recession of 2007-2008 and other challenges – and I'm sure this will not be the last storm we weather together.
To paraphrase a recent Bain article, when the stakes are the highest in sports, "smart teams shorten the bench." In business, that means promoting your hero products and selecting only the best players to lead the charge. We're the team that will be resourceful, resilient and relentless in enabling your business to make the most of this trying time, whether that be in organic search, paid advertising or conversion. We're here!
Please consider booking a time and we can have an honest conversation about the current state of your business and, together, come up with a plan that we can then execute flawlessly for you. Don't feel like you're in this alone! We're here.