Adding promotions to your Google Shopping ads can certainly be helpful when trying to endorse your entire product catalog or specific items on your site.
What are Merchant Center Promotions?
Merchant Center promotions is a way to highlight special offers/discounts in shopping product ads. The products eligible for a promotion will show a "Special Offer" link (i.e. 15% Off, Free Shipping). When the customer clicks on "Special Offer," they will see the promotion description and, if provided, the promotion code. See below for reference of how promotions may appear in ads.
Why Create Merchant Center Promotions?
Incorporating promotions into shopping ads can increase CTR. It is a value-add in your small PLA real estate. This can increase the appeal of your ads and thus encourage shoppers to click and, eventually, convert.
Creating a Promotion
Promotions live in Google Merchant Center under Promotions > List > Plus sign to create a new one.
Note – If you do not see "Promotions" in the left side panel, it is because the account is not yet opted into Promotions (it's still technically a beta). To do this, navigate to the three dots in the right-hand corner and click "Merchant Center programs." You will have to "Get Started" on Merchant Promotions. During Black Friday craziness, this can take a few days to become enabled but typically it takes less than 24 hours.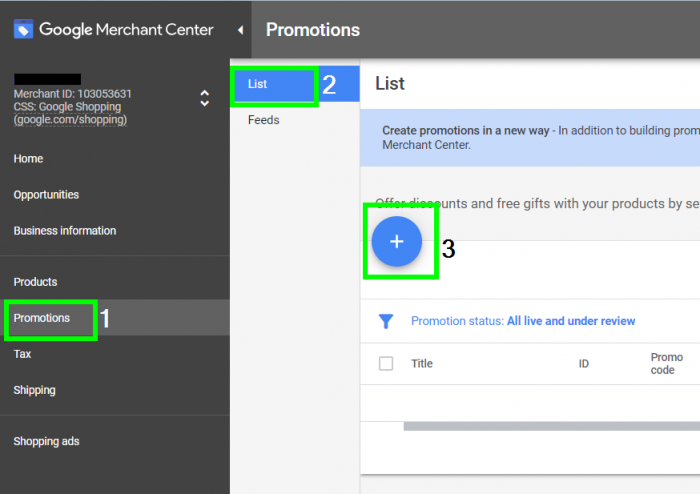 On Page 1 of creating a promotion, choose the country and promotion category. They have made it easier to see what kind of promotions are eligible (Amount Off, Percent, Gift or Shipping). More details on requirements are later in this doc.

When you select what kind of promotion, the "Promotion Type" boxes below will populate. Fill out as necessary (including % or $ off and any minimum requirements).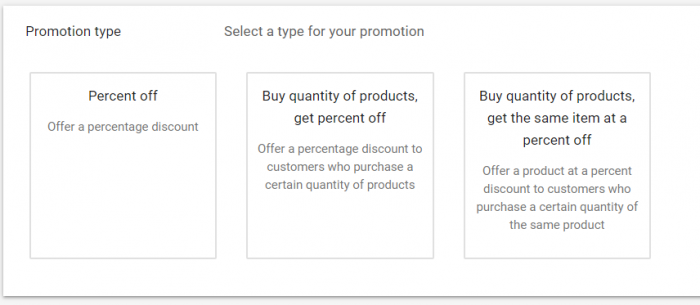 Linking via Promotion ID
If the promotion does not apply to all products, you can choose products based on promotion ID. Note this is not the promo code (provided by the client). This is a unique ID for the promotion – it's only used in Google Merchant Center for mapping purposes. For example, a Fourth of July 30% Off Promotion might have promo ID "30OFF_07042019." Once promotions are submitted, you cannot reuse promotion IDs.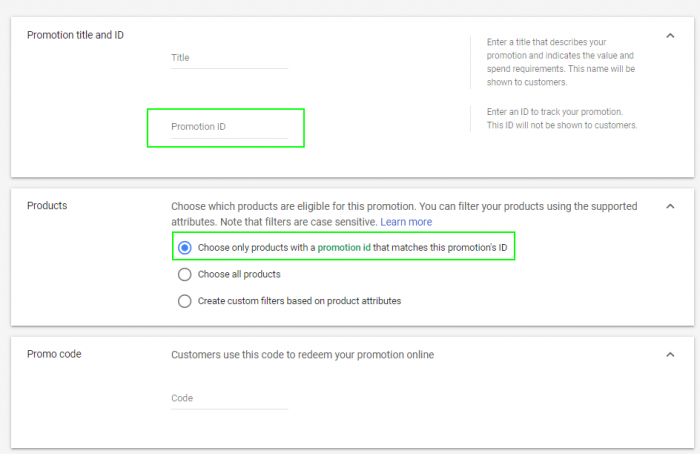 To create a promotion ID, navigate to "Products" > "Feeds" > click on the accurate feed > "Feed Rules." Here, you can create a rule to identify Promotion ID, based on "brand," "item IDs," etc. See process doc on feed rules for more info. Remember once you have submitted your rule to "Apply" it – otherwise it will stay in draft and your promotion will be disapproved.
Tips and Tricks
– Titles: keep it short and sweet and highlight if there are exclusions (i.e. don't say sitewide if sale is excluded)
o "50% Off Sitewide (Exclusions Apply)"
– Promotion ID: date them! This will ensure you don't run into a situation of "this promotion ID has already been used."
– Keep it simple! Stress to clients that the simpler the promotions the better (i.e. all products!!). The reason promos do well on shopping is to callout any promotion and if it's super limited to certain products, it won't show very frequently.
Limitations and Guidelines
Participation Criteria
Promotion must be redeemable at checkout (i.e. no product page markdowns)
It must expire within 6 months of the date the promotion starts
It must comply with Merchant Promotions policies and editorial requirements (detailed below) Promotions Allowed
Discounts
▪ $ or % Off – must be at least $5 or 5%)
▪ $X Off $Y+ (tiered discounts allowed)
▪ X% Off, Maximum Discount $Y
▪ X% to Y% Off – floor discounts must be stated
▪ Buy 1, Get 1 Free / Buy 1, Get 2nd X% off
▪ $X Cash Back or $X Cash Rebates
Free Gifts
▪ Free Item – must clearly describe the gift and it cannot be samples/trials
▪ $X Gift Card upon Purchase – title must clearly state gift card value and it must be for the business' store Shipping
▪ Free or discounted shipping – must use a promotion code when used alone
o Exception – no code is necessary when combined with another offer (i.e. Free Shipping + 10% Off)
Promotions Not Allowed
Vague Discounts
▪ Up to Y% Off or As Much As $X Saved – floor discount must be defined
▪ X% Cash Back or Reward Points – cash back in % is not allowed unless combined with another valid promotion
Overly Restrictive
▪ X% for First-Time Customers – must be applicable for all audiences
▪ All Promotions Restricted to Subset of Shoppers (Birthdays, Military, etc.)
Other
▪ Discounts cannot be reflected on product landing page – must be taken at cart!
▪ More than 500 promotions live at once
▪ Stand-alone shipping discounts (i.e. not combined with another promo) without promo code
▪ Promotions exceeding 6-month duration
Approval Process
The promotion goes through the policy approval process immediately. This verifies your promo (title, content) follows Google's policy. The promotion's "SKU status" approval process does not happen until the day the promo goes live. This is when Google crawls the site to determine whether the promo works as intended for specified products.
If there is a promotion that is very specific (i.e. only women's pants – I would recommend sending a list of those items to the client for explicit approval so that if something is disapproved on the promo start date, you have a paper trail verifying accuracy.
Merchant Promotions are an effective way to entice searchers to shop at your e-commerce store with an incentive. The Google Shopping team at Exclusive Concepts can help guide you through Merchant Promotion setup, as well as account management.