Facebook has attracted a lot of attention in 2018. From the use of fake accounts spreading misinformation, to the most recent Cambridge Analytica scandal, it has been hard for the tech giant to keep out of headlines. As a result, the company has been diligently working to change its policies and guidelines to protect user's privacy and information.
What exactly is changing?
Facebook will no longer be allowing targeted advertising based on third-party data as of October 1, 2018.
What is third-party data?
In addition to storing thousands of data points such as interests, spending habits, gender and age, Facebook also purchases data from companies whose sole purpose is to collect information on consumers. Oracle, Experian, Acxiom, and Epsilon are examples of companies that collect and sell consumer data to Facebook (and other companies).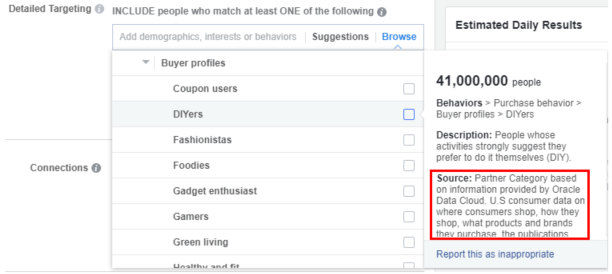 The data provided by these companies can be used within Facebook's advertising platform to target and deliver ads.
Why is third-party data being removed?
Some are speculating that the removal of third-party data stems from the recent Cambridge Analytica scandal. However, others believe it is simply a well-timed PR stunt. This is due to the fact that Facebook is required by the General Data Protection Regulation (GDPR) in the European Union to remove this data by October 1, 2018 or face a fine of 4% of annual global revenue. In light of the GDPR, Facebook has created the following timeline: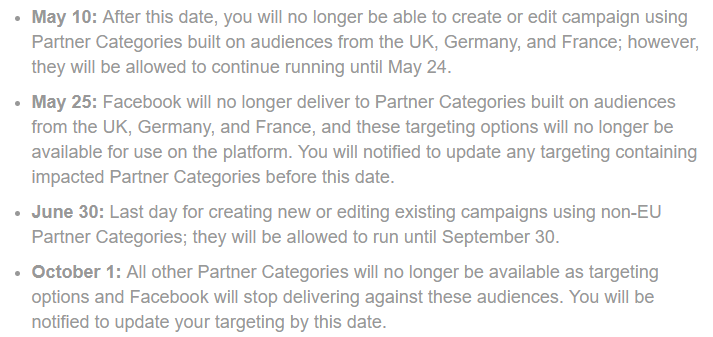 What are the implications of the removal of third-party data?
After analyzing how potential customers are targeted on Facebook for each of a large subset of advertisers, we concluded that 16% of Facebook advertisers will be directly impacted by the removal of third-party data sources. Of these advertisers, 66% operate within the Apparel and Accessories industry, 11% in the Health and Wellness industry, 11% in the Home and Garden industry, and 11% in the Sporting Goods and Outdoors industry.
EXCLUSIVE Insights:
With all of this data leaving Facebook you might be wondering about the implications on your business. In the grand scheme of things, we've found that the removal of third-party data won't harm Facebook ad performance for our current clients. The targeting Facebook makes available to advertisers is robust and actionable, and enables strong performance even if it isn't enriched by third-party data. That said, supplementing Facebook's audience targets is highly recommended, especially if you're currently relying on third-party data today.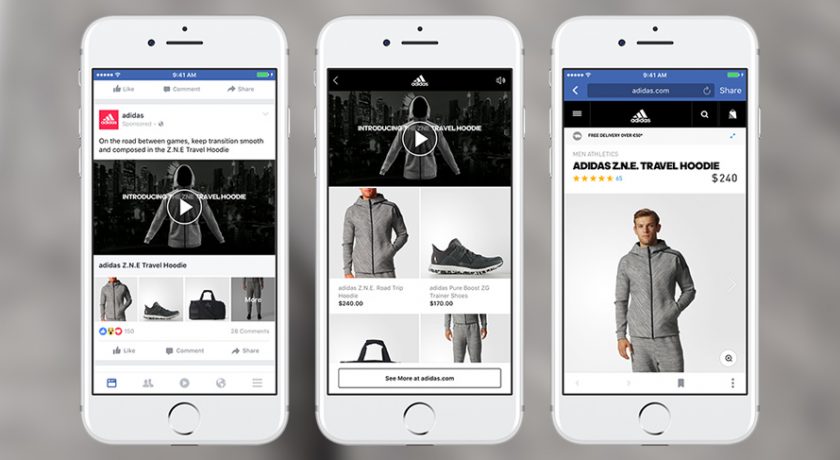 At EXCLUSIVE, we've been using our Feeds for Social product to help fill the gaps that third-party data is leaving behind.  Our feed tool leverages all of your marketing data for use in Facebook campaigns (Facebook, AdWords, Analytics, etc.).  For example, we're able to leverage Google Analytics data to automatically label top sellers, complementary products and high-LTV products for targeting in Facebook ad campaigns.  Using our EXCLUSIVE Pixel, we can acquire cart abandonment data down to the specific products a visitor left in their cart, and target that visitor with those exact products on Facebook.
If you're worried about your performance declining due to changes in third-party data targeting, or you don't even know how much you're relying on third-party data, contact us today at sales@exclusiveconcepts.com for a free consultation and account audit.
Photo credit: Owen Wilson via Creative Commons