The ability to value the importance of head keywords compared to long tail keywords is a constant battle between contemporary data and traditional wisdom that states "head keywords generate traffic; long tail keywords generate profit." We are all familiar with this way of thinking, but in the modern era of search marketing, just how accurate is it?
Head terms are typically defined as being broad, highly competitive, and consist of one or two words that account for significant search volume. Conversely, long tail keywords are typically lengthier, less competitive, account for less traffic, and are more specific. The distribution of these keyword types is visualized in the chart below.[1]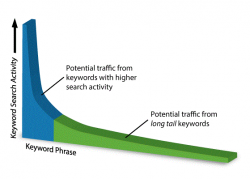 [2]
Ranking for head terms used to be a sign of your competitive clout in the marketplace. However, Google continues to update and improve the search algorithm in ways that directly impact businesses' ability to rank or be visible for head terms in an e-commerce setting (such as the RankBrain update to include more variety of result types[3] or the move to right rail ads in the main SERP feed[4]). The writing was on the wall, and strategy quickly pivoted to focus on long tail keywords that offered higher quality traffic. But just how valuable are long tail terms, and can their expected improvement in click-through-rate (CTR) match up with the value of a high-ranking head term?
Summary
To answer this question, I analyzed 50,000 keywords from six sites across three different industries. Terms were sorted as "head" or "long tail" using the following rules:
If the term generates over 10,000 monthly searches, it is a head term.
If the term generates over 3,000 monthly searches at only 1 or 2 words in length, it is also a head term.
All remaining terms would be considered long tail. (Terms that generate between 3,000 and 10,000 monthly searches at 3 or more words or under 3,000 monthly searches.)
As shown below, branded terms (made up of ~95% long tail) skewed the CTR heavily. Branded terms were considered outliers because of their naturally higher CTR and the assumption that there would be little-to-no outside competition for a company's own branded terms. Each keyword type was then analyzed in terms of the click-through-rate per average keyword and the click-through-rate of the total keyword group.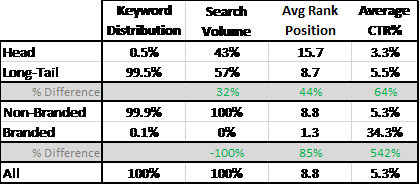 From the summary table above, we can make four major observations from our keyword sample that will be analyzed further.
Long tail keywords make up a majority of the entire keyword universe for an ecommerce site.
Head terms make up only.5% of the total keyword share but capture 43% of the total search volume available.
Average ranking position on SERPs of long tail keywords in the sample is 44% higher than head terms.
Long tail keywords in this sample boast a 64% higher average CTR.1. Keyword Valuation: Average vs. Volume
In this section, we define the average head and long tail keyword by taking the mean search volume, impressions and clicks of the keywords in the group, and applying it to one average term. The total takes the volume of keywords of each group into account, comparing the entire group of head terms (.5% of the total) to the entire group of long tail keywords (99.5% of the total).

If only .5% of the total keywords are needed for head terms to capture 43% of the total search volume available in the sample, one could reach the conclusion that each ranking head term is of more value than nearly 200 long tail keywords combined. But search volume is far from the most important metric here. We are looking to define keyword value to a business, not count searches.
A. The Average Keyword
The graph below shows that the volume per keyword is easily the best performing metric for head keywords. At every step along the way, the average performance of a head term loses ground to the average long tail keyword. The average head term generates 98% of the average keyword volume. This share dominance drops to only 91% of the average keyword impressions generated, and again down to 86% share of average clicks on SERPs.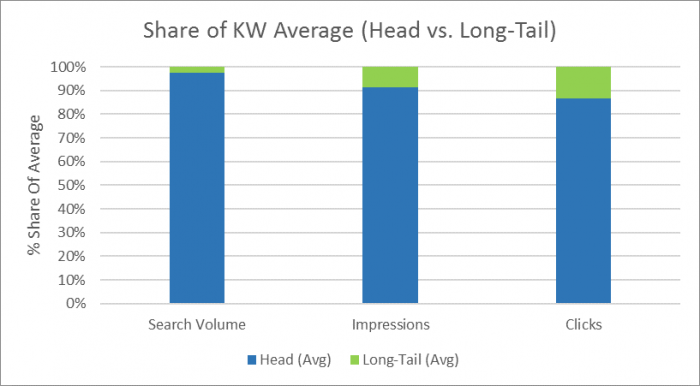 The advantage is still handily in favor of the head terms when looking at the average performance of one single keyword, but there is an obvious trend here that does not bode well for the value of head terms compared to the entire long tail. The average long tail keyword generates 300% more impressions than its search volume would suggest, and 410% more clicks.
B. The Total Picture
The trend identified above amplifies significantly when looking at total volume. The positive trend in impressions and clicks not only becomes more drastic, but actually turns in favor of long tail keywords. Head term's share of the total search volume drops to the aforementioned 43%, while impression share drops to 18%, and click share drops to a measly 12% of the total keyword universe. This represents a 72% gap in search volume and click share in favor of long tail keywords.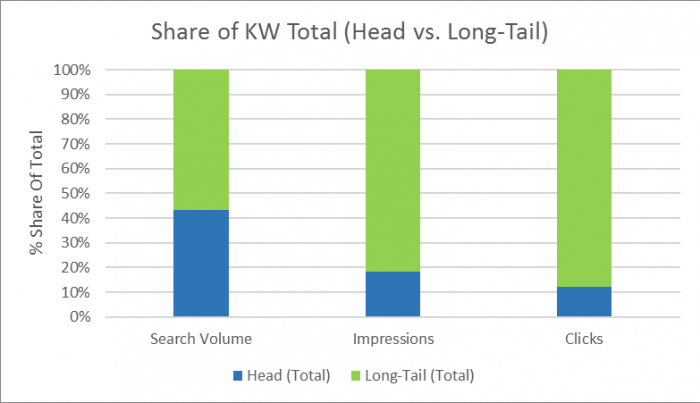 We expect that the volume of keywords is the key advantage for long tail keywords to outperform head terms when looking at the entire universe. But there is another major factor contributing to this trend.
Keyword Position

A. Keyword Position Performance Decay
Simply ranking for a head term isn't enough. As shown in the graph below, head keywords are far more sensitive to ranking position than long tail keywords are. Unless you are ranking in the 1st or 2nd spot for a head term, the expected CTR is significantly lower than a long tail keyword.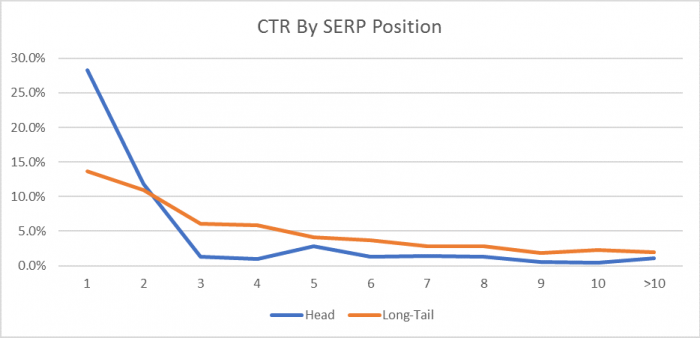 Let's pause to think about that for a second. It's possible that users are simply more likely to sift through results for their specific query or product search to find their specific need. It's possible that your ad at the top of the SERP already caught their eye. But these highly competitive terms, which often apply to dozens of query purposes, universal result types and industries, barely contribute to traffic unless you can nab a top spot for them. If that alone isn't enough to dissuade marketers from pursuing a costly and timely strategy to capture head terms, I don't know what will.
B. Keyword Visibility on SERPs
Ranking in the 1st or 2nd spot for head terms requires dominance over every other e-tailer in your sector and resource on the topic. If you somehow make it through the battlefield to grasp that spot, you will still face additional competition for visibility against paid ads, shopping listings, images, news, maps, and more.
Below is an algorithm-based predictive heat map of the SERP provided by Feng-Gui for a product-oriented head term "basketball shoes" that generates four ads, eight shopping results grouped on the right rail, and a local retailer map below-the-fold. Using the calculated visibility of specific areas of interest above the fold, we can see only the top two organic results generate over 11% expected visibility on the page. The visibility can fall even further when the common queries for the head term are informational in nature, often including Quick Answer boxes, news carousels, and rich results.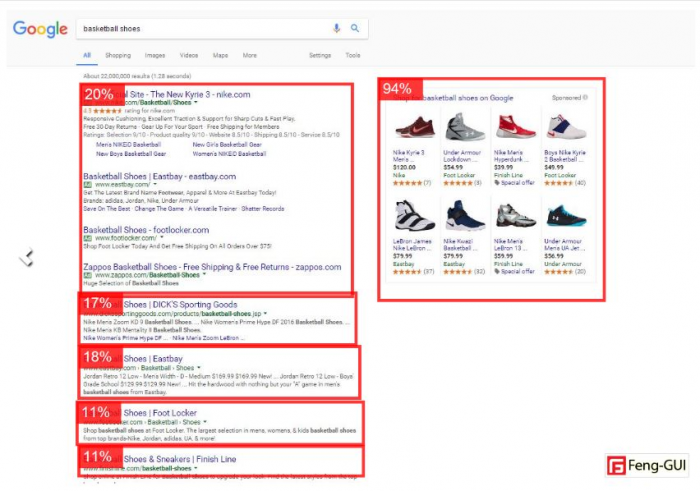 When we perform the same analysis on a long tail keyword for a specific product, the results are drastic. Searching for the ecommerce-oriented term "buy black kobe 11 size 12" yields only a shopping carousel with six listings, and seven organic listings above the fold. Four of these listings are visible above 11% on the page. This represents a 75% increase in organic listings above-the-fold, and a 100% increase in listings visible above the 11% rate.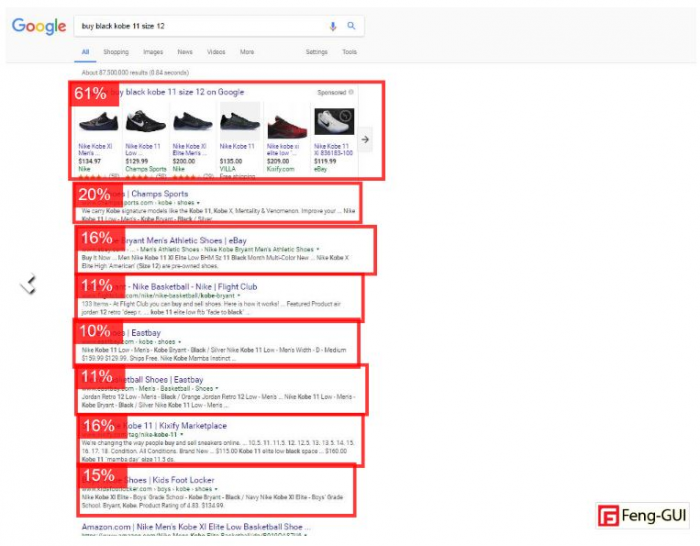 The long tail SERP utilizes less space for universal results (and often ads), taking each specific word into account to refine results. This leads to increased visibility and CTR potential for Results 3-8 as predicted by the SERP Positon Decay graph. With a much more specific query, Google can better anticipate the purpose of the query (online shopping) and the results needed (shopping listings, organic results) to allow more room to serve organic listings.[5]
With long tail keyword SERPs, there is nearly a guarantee that each result listed is offering the exact same product. Users should be more likely to click through a few of the results and use the SERP as their comparative shopping engine. With a head term, users appear to be looking for the quickest result, the first thing they can find to answer a question or point them in a direction instead of scanning the broad results page.[6]
Conclusion
To conclude, let's revisit the insights derived in the summary graph at the top on the page.
Long tail keywords make up a massive majority of the entire keyword universe for an ecommerce site.
The sample shows a higher distribution of monthly search volume in favor of head terms than the entire keyword universe.[7] Even with this handicap, the real question is whether or not .5% of keywords can generate enough quality traffic to overcome the 99%.
Head terms make up only.5% of the total keyword share but capture 43% of the total search volume available.
As shown in section 1.A., the average value of a single head term does generate more search volume, impressions, and clicks than the average long-tail term. But leveraging the amount of long tail keywords available, long tail keywords generate 57% of all search traffic, 82% of impressions, and 88% of all clicks. This indicates that the adage of "head keywords generate traffic; long tail keywords generate profit" may drastically overvalue the ability for head terms to generate traffic.
Average ranking position on SERPs of long tail keywords in the sample is 44% higher than head terms.
In section 2, we analyzed the sensitivity of rank position for head terms compared to long tail. Head terms in this sample averaged a ranking of 15 without branded terms included, which places this sample at the end of the Ranking Position Decay graph in section 2.A., leaving room for potential sample bias against head terms. However, factors explored in section 2.B. including increased competition, query types, result types, and continuously decreasing real estate and visibility, indicate that an average rank significantly higher than 15 would not accurately represent the arduous environment head terms face. Long tail keywords have an advantage in nearly all factors stated above, as reflected in the average rank of 8.7.
Long tail keywords in this sample boast a 64% higher average CTR.
If the dispute for search volume generated gives a slight advantage to long tail keywords, the battle for quality of traffic is a 1st round knockout. Long tail keywords generate 82% of all impressions and 88% of all clicks in the sample, rounding out a 64% increase in click-through-rate for the 50,000-keyword sample. Generally speaking, it should only take 10 long tail keywords to generate the same volume of impressions as a head term, and only six long tail keywords to generate as many clicks as a typical competitive head term.
Looking to the Future
Increasing sophistication of algorithm updates such as Panda, Hummingbird, and RankBrain continue to offer advantages for unique and user-friendly content, and higher rankings based more on user intent than keyword relevance.[8] Google's focus on improving semantic search capabilities shows no signs of slowing down, especially with the meteoric rise of voice queries[9] from mobile and home devices as a staple of their revenue model moving forward.[10] The long tail keyword strategy deserves the most attention and effort by offering the best ROI as a holistic strategy today and for the foreseeable future.
Interested in learning more? Sign up for a free ecommerce analysis from EXCLUSIVE.
This article was written by EXCLUSIVE's Conor Cahill, an Organic Search Specialist.
____________________________________________________________________________________
[1] https://searchenginewatch.com/sew/study/2214529/head-vs-long-tail-keywords-analyzed-impressions-clicks-conversions-profitability
[2] https://www.bruceclay.com/seo/combining-keywords.htm
[3] http://searchengineland.com/faq-all-about-the-new-google-rankbrain-algorithm-234440
[4] https://searchenginewatch.com/2016/02/21/google-is-removing-all-right-hand-side-ads-on-serps-worldwide/
[5] https://ahrefs.com/blog/long-tail-keywords/
[6] https://moz.com/blog/long-tail-content
[7] https://moz.com/blog/illustrating-the-long-tail
[8] http://searchengineland.com/search-update-impact-on-seo-content-strategies-240558
[9] http://searchengineland.com/google-reveals-20-percent-queries-voice-queries-249917
[10] http://www.forbes.com/sites/johnkoetsier/2016/12/27/arms-race-amazons-echo-and-googles-home-grew-exponentially-this-christmas/#6d7e7e4a4665