If you're preparing for the shift to Google's mobile-first index — the highly anticipated new algorithm that will prioritize mobile websites over desktop in search rankings — you may have more time to get ready than you originally thought. At an SEO conference in March, Google Webmaster Trends Analyst Gary Illyes said that the mobile-first index would launch "sometime this year," but at the recent Next10x Conference in Boston on April 5, Illyes updated his initial prediction, indicating that he believes the index will not fully launch until sometime in 2018.

As we reported back in November, the search engine began testing the mobile-first approach, and even though they called it an experiment at the time, it was evident then that Google intended to shift its algorithm to focus primarily on mobile pages at some point. The reason, according to Google, is fairly simple: most searches now come from mobile rather than desktop, but Google's ranking systems focus primarily on desktop content.
"This can cause issues when the mobile page has less content than the desktop page because our algorithms are not evaluating the actual page that is seen by a mobile searcher," Google said in a post on the Google Webmaster Blog in November.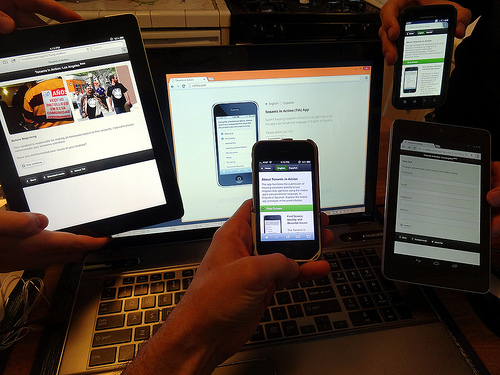 The EXCLUSIVE team has been taking steps in preparation for the shift, creating new mobile-friendly banners and other tools that will help clients' sites rank better under the new ranking strategy. Make sure to bookmark the EXCLUSIVE blog and check back often for more SEO news, or request an ecommerce analysis to ensure that your site is ready for the coming updates. As always, we will continue to keep you in the loop as we hear more facts and generate insights on the mobile-first index and other important updates.
Featured photo credit: Liam Davison

Photo credit: judy_breck 

Photo credit: craigdietrich