In this article, we'll be giving you a quick recap of some of the best eCommerce tips for the 2021 festive season. You can catch everything, including the full recording and the slides, on demand at Google Holiday Guide 2021: Data-Driven Strategies for Explosive eCommerce Growth 
Background About the Webinar
2020 was the biggest holiday season ever for digital sales. Those numbers were up 50 percent year over year to $1.1 trillion globally. Studies show that most of the newly adopted pandemic-created customer behaviors are here to stay. 
So what are the things merchants need to prepare for this upcoming holiday season? Find out from our team of experts, including:
EXCLUSIVE VP of Marketing Sciences, Nik Rajpal

Google Agency Development Manager, Shenise Wigfall

BigCommerce Senior Product Marketing Manager, Evan Smith
Read on as we recap the highlights from the webinar.
Three Holiday Shopping Truths You Must Embrace for Success
#1: Be Everywhere Your Shoppers Are Going to Be
We've seen a lot of growth and extensive investment in different kinds of omnichannel platforms over the last 12-18 months. This covers everything from ads to social media to email and website checkout process.
One of the most important strategies for eCommerce success is to keep brand consistency across all the channels you're in. Also, make sure to evaluate all the channels that are relevant to your business. 
Ensuring that you have a position on these channels will set you up for success over the holidays as well.
#2: Have a COVID and Non-COVID Strategy
Because of the uncertainty in terms of policy and market trends due to COVID, it makes a lot of sense to come up with two strategies. Ideally, you should have two strategies in place with regard to things such as:
Feed Labeling

Inventory and Supply Chains

Language Sensitivity in Promotions
#3: Achieve Preparedness Through Process
In a nutshell, preparedness is key. Whatever process works for your company should be well-prepared and in place during the holiday season. Here are Google's pointers on what to prepare for over the next four months:
Macro Trends to Look Out for When Considering Holiday Growth
#1: The Omnichannel Imperative
COVID has accelerated eCommerce growth. Customers spent over $153 billion online from April to May last year, increasing holiday spending by 7%. Consumers are also more willing to explore more retail touchpoints, making it imperative for merchants to employ an omnichannel strategy. This allows merchants to meet customers where they are and to turn shoppers into brand enthusiasts.
#2: BOPIS (Buy Online Pickup in Store) Is a Big Deal
Retailers with curbside, drive-thru and in-store pickup options outperformed competitors without these services. Retailers that had these options enjoyed a 49% increase in their digital revenue, while those who didn't only saw a 28% average growth. BOPIS became largely popular due to strained shipping systems and customers prioritizing safety. However, due to its convenience, consumer behavior has also changed to a degree. McKinsey reports that 56% of shoppers plan to continue using BOPIS even post-COVID.
#3: Buy Now, Pay Later (BNPL) Solutions
The holidays are a perfect time to invest in buy now, pay later solutions like PayPal, Klarna, Affirm, and the like. A survey by BigCommerce and PayPal reveals that 70% of consumers are more likely to spend more with a retailer that offers their preferred payment method — as such, adopting a BNPL scheme will also likely increase AOV and encourage repeat purchases. Make sure to provide more information and education about BNPL solutions through your homepage, product description page, cart page, and checkout page to ensure success.
#4: Personalization
Personalization remains a big trend for the holidays. In fact, a whopping 90% of marketers report that personalization results in significant increases in revenue. Here are some key things to think about when investing in personalization:
Onsite Targeting: Maximize the use of modal pop-ups, header/footer banners, sliders, pop-unders, and dynamic content blocks to reach your shoppers.
Personalized Product Recommendations via Email Marketing: Drive customer loyalty and retention for your eCommerce business with personalized email marketing. Compared to general broadcast email marketing, personalized emails are 26% more likely to be opened and 760% better at generating revenue. 
Dynamic Onsite Personalized Product Recommendations: Research conducted by Barilliance reveals that personalized, on-site product recommendations account for 11.5% of revenue on eCommerce sites. The dynamic product recommendations are usually based on visitor data, behavior, and history. 
5. Mobile Continues to Evolve
Mobile usage continues to grow, with 3.5 billion smartphone users worldwide. Eighty-seven percent of all time spent on mobile is devoted to apps. This means that mobile commerce remains very strong and is expected to continue throughout the holiday season. 
BigCommerce reports that 66.7% of their respondents in a recently-concluded Consumer Spending Survey revealed that they purchase from their mobile device at least once a month, while 17.9% purchase their mobile device more than once a week. 
To make the most out of mobile traffic, make sure that your mobile strategies are in place leading up to the holidays. Ensure that desktop strategies translate to mobile and that users have a unified experience across all devices.
6. Customers Will Likely Shop Both Online and In-Store
Due to the lifting of certain community restrictions in some areas, consumers are expected to shop in-store while continuing some newly acquired habits. These include BOPIS, online shopping, curbside pickups, and the like. There will likely be a return-to-store surge come the holidays as well, with 85% of holiday shoppers reportedly planning to shop in-store. 
A digital-first approach will also be prioritized as more customers utilize digital platforms to assist their in-store shopping experiences. This includes looking at products, prices, and availability on digital-first before shopping physically.
Avoiding the 6 Costly Mistakes Even Huge Retailers Make
#1: Wrong Attribution Model
Way too many accounts are still using last-click attribution just because it's the default. However, that doesn't mean it shouldn't be changed. Because last-click attribution assigns 100% of the credit for a sale to the user's last-clicked channel, the data can be a bit misleading. The last-click model does not take into account the full customer journey. You're not seeing which channels nurtured customers and allowed them to be endeared to your brand, so you're stuck with the only channel you think works. A position-based model works better because it distributes credit fairly and allows you to make informed bid changes based on this data. Depending on how conservative or growth-oriented you want to be, you have other options, too. However, we suggest sticking to more growth-oriented approaches depending on your goals:
#2: Not Using Smart Shopping
Because of massive improvements in Google's approach, as well as some other refinements, we are now seeing 7x more spend through Smart Shopping. Performance is also up despite the increase in ad spend. Whatever mix of automation gets the best performance for your business is recommended. During the holiday season, Google recommends creating a Smart Shopping campaign for products that you want to prioritize. Segmenting campaigns by marketing strategy or margins might also be helpful, says Google. In any case, using Smart Shopping or Target ROAS will bring an average increase in revenue of 30%.
#3: No Search Query Funneling
While it may not be a long-term strategy, you can still choose the keywords that you're bidding on and choose the products that you show up for. This remains an effective strategy for exclusive clients. For example, taking your best-selling products and placing them into different campaigns according to priority: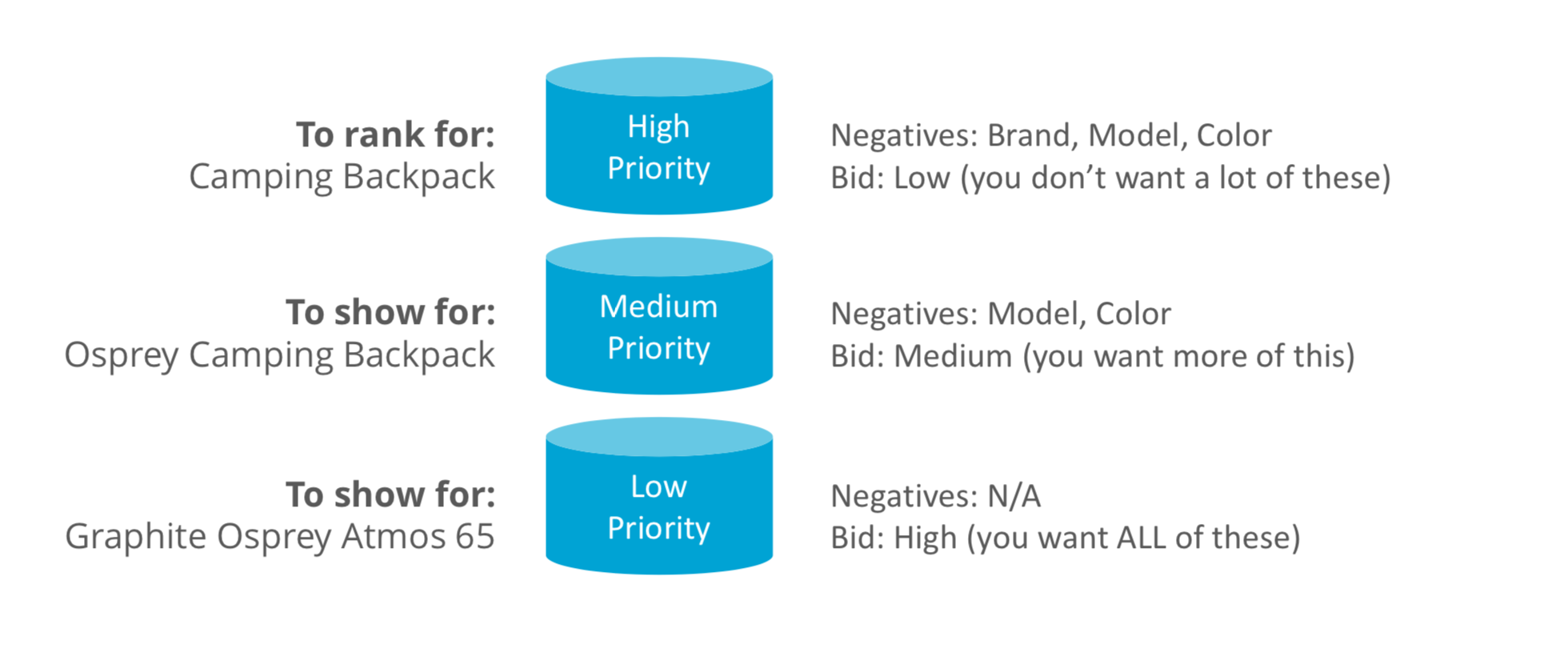 In this example, this strategy allows you to bid high on a specific keyword for a specific product and take the top spot.
#4: Lacking the Right Feed Enrichment for Your Business Model 
Feed technology is not just how you control what keywords you show up for in Google Shopping. It's how you start to put strategy back into your Google Shopping. You may choose to highlight the following, for example:
Variant

Price Advantage

Competitor Count

Margin

Gateway

Cross-sell

Price Drop

Seasonality

Top Seller
This data should then also factor into your custom labels. You can then codify some rules based on this. As data and labels change, so will your bids. The key is in constantly updating your feeds and bringing in high-quality data.
#5: Not Using Creative
Exclusive clients saw a 1091% increase in revenue alongside increased ad spend (+168%) and higher CPC (+45%). Google recommends using Discovery ads, which show up on YouTube, Google Discover, and Gmail. The good news is that you can use existing creatives that you use on Facebook and repurpose them for Discovery ads.
#6: Disorganized Strategy
Lastly, one of the most important things to do is organizing your strategy. Here are three things to remember when thinking about your strategy for Search:
Making sure your clients know your brand

Showing up and competing with your competitors

Get the right attributions for discovery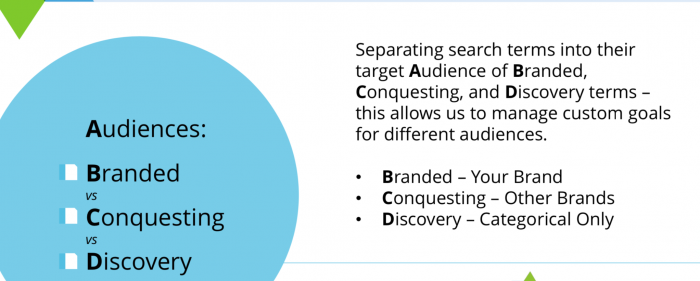 Conclusion
This sums up most of what we discussed during Google Holiday Guide 2021: Data-Driven Strategies for Explosive eCommerce Growth. Ready to experience massive holiday growth and take your eCommerce business to the next level? Contact us or get your FREE eCommerce growth analysis.