It's no surprise that Google is experimenting with new Google Shopping ad formats. Over the past year, Google has invested in Google Shopping by releasing new interface capabilities that include expanding into YouTube and updating Google Merchant Center with feed data import abilities, just to name a few.
What has Google been concocting in its workshop? Read on to find out.
New Experiment No. 1:
For marketers opted into the Search Partner Network, Shopping ads now appear in image searches on mobile devices.
Within the image search, color option buttons will appear at the top of the page, giving searchers the ability to get more specific with their query. In the screenshot below, you can see the prominence of the shopping ads in the image search.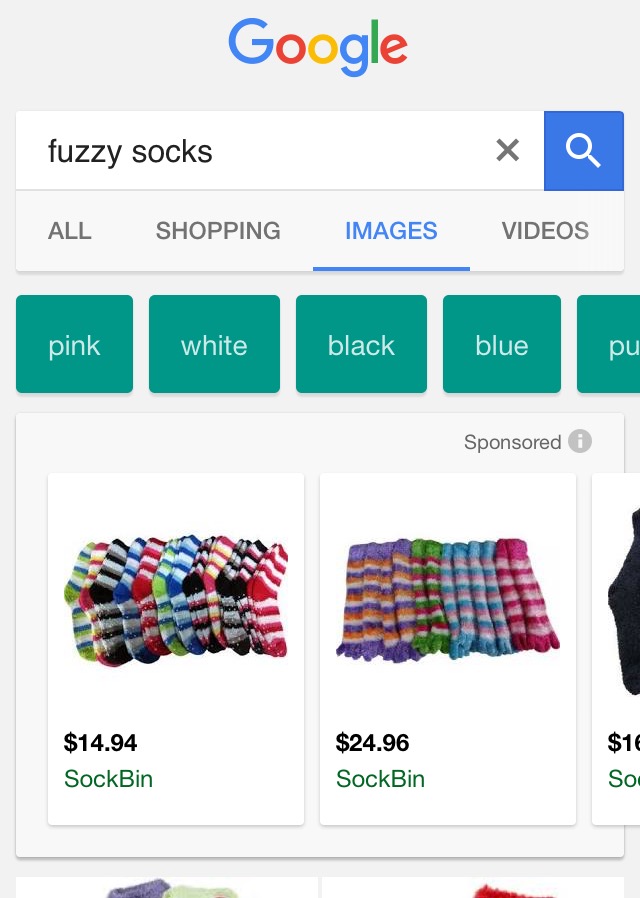 New Experiment No. 2:
Google is beginning to test an expandable view of shopping ads that increases the number of viewable ads from 5 to 16. This expandable view option is available for PLAs when they appear at the top of search results.
When the arrow beside the rightmost PLA is selected, the view expands to cover the top portion of search results. In the screenshot below (credit: Channel Advisor), you can see the before and after for this ad format.
We can expect the visibility for shopping ads to increase thanks to this new wrinkle. The expandable view is not yet available to all advertisers, but it has potential to benefit advertisers seeking greater exposure.
Need help with Google Shopping?
These new ad formats are further examples of Google investing in PLAs and the Google Shopping service. If you need assistance in setting up and/or managing your Google Shopping campaigns, our passionate and experienced Google Shopping team is here to help!
This post was written by Lisa Giorgetti, Google Shopping Specialist