Last month, as Google rolled out changes to its newly renamed Google Ads platform, experienced PPC specialists had lots of concerns about what might happen with "AdWords 2.0."
Would previously granular bid modifiers lose some of their functionality? Would painstakingly created reports and dashboards suddenly lose their usefulness as the names of columns changed? Would returns plummet while you were busy recreating your favorite filters? In the end, we had a rather soft launch of the new interface, as many older accounts can still switch back and forth between the two versions. Now is the time for enterprising Google Ads users to get to know this new environment better, and EXCLUSIVE has put together some handy reference materials to point you in the right direction.
What's New?
The most noticeable part of the new interface experience is how many of the navigation tools in the new interface were swapped around, making it necessary to get familiar with a shaken-up layout. Google has provided users with a decent reference map for where to find new information in the platform, but the biggest differences can be found in the Page Menu, which was previously located at the top of all AdWords accounts. This menu now lives on the left side of the interface, and some of the names of tabs have been changed, combined or altered. We've created the table below to show you exactly what's changed:
Another large change is that the Ads & Ad Extensions tabs have been combined into a single tab, while the Display Network tab has been expanded into multiple new pages: Topics & Placements.
Auto Targets are now called Dynamic Ad Targets, which should help newer users associate this tab with their Dynamic Search Ad campaigns. Dimensions, which was previously included in this menu, has been shifted into the new Reporting function (can be found by clicking on the Reporting button found at the top of the screen and selecting from a set of Predefined Reports).
Keyboard Shortcuts
One big new change in Google Ads is the addition of keywords shortcuts, designed to put all of the most important features of the platform at your fingertips as quickly as possible. Specialists who are still trying to figure out how to navigate to various parts of the account may be able to save time hunting around onscreen with these simple commands: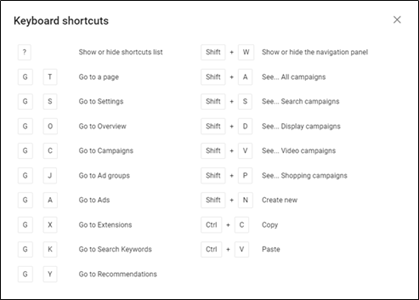 Shortcuts starting with the letter G help to quickly move between areas in the Page Menu
Shortcuts starting with the Shift Key help to quickly move between areas in the Navigation Menu
Shift + N allows you to create based off of your current selection in the Page Menu
Column Conundrums
Another area that experienced specialists will want to visit quickly while getting acquainted with the new interface is the Columns view, where you can decide which metrics (Clicks/Cost/Conversions/Revenue) you'd like to view at a given time. This will likely be a sore spot for many PPC specialists, as your previously saved column sets from the old interface will not be transferred to the new view. Consider taking a few minutes in any account you manage to recreate your most important column sets on the Campaigns, Keywords and Ads tabs. More advanced users will want to make sure their Dynamic Ad Targets, Audiences and Demographics views are similarly set up.
Along with the new column setting, there are some name changes to be aware of in the new view. For example, the revenue column "Total Conv. Value" is now just called "Conversion Value" Specialists should be able to identify these changes pretty quickly, but if you or your company uses reports that are pulled from AdWords, they'll need to be aware that the header data for various columns has been changed. This could lead to situations where spreadsheets or other documents that house data from AdWords suddenly stop working correctly! Your reports from the old interface will likely need a makeover as well, but so far, Google Ads seems to do a pretty good job of converting reports from the old format into the new one.
When downloading old reports for the first time in the new interface, open the file and compare it to a previous version you've already created. You may find some unexpected changes — one specialist reported that an old report sent through the new interface had changed the data in the Month column of a pacing report from a machine-readable date string (8/6/18) to a generic text string ("Week of August 6, 2018").
The steps included here should put you on the right track to getting acclimated to the new interface. Over the next few months, we'll be examining more facets of the new Google Ads experience to make sure you are up-to-date on best practices in this changing platform.

Kevin Brouder is a PPC and Digital Marketing Specialist at EXCLUSIVE. Before joining the team, he provided PPC and digital marketing strategy to a variety of B2B and B2C companies. Kevin likes to stay abreast of Google's newest initiatives in order to provide his clients with the best possible performance.