In this article, we'll recap our webinar entitled, "Critical Google Ads Changes to Make Before Thanksgiving." For the full replay and slides, please click here.
In this article, we'll cover key points from the webinar, including how to:
Fix harmful campaign settings quickly and easily.

Ramp up budgets and revenue without crushing ROI.

Profit from shoppable content with YouTube Video Action.

Harness the power of Google Ads promotion extensions.

Use data feeds and labels to achieve next-level gains.
Common Discoveries From Google Ads Audits in 2021
Merchants and brands often come to EXCLUSIVE for help with their Google Ads, as well as Facebook and YouTube ads. Naturally, they want to know what they're doing right and where they can improve. Hence, we've devised a system that allows us to look deeply into a client's Google Ads account and pinpoint areas for improvement. 
Take note that there's no single, "templated" approach to this. Each business needs to be treated differently in terms of strategies when it comes to ads, especially Google Ads.
So here's what we did: we rounded up all of our client audits in 2021 and came up with all the common findings that may be helpful to other businesses as well. 
For context, the two types of Google Ads changes that we typically suggest are:
Settings: These are easier to do. Usually, these would just entail minor adjustments done from within your Google account.
Build Out: These changes are a bit more complicated as they usually entail more comprehensive adjustments done over a longer time.
There are also different levels of sophistication concerning the Google Ads changes that should to be made:
Easy:

These are minor tweaks that can be done soonest.

Medium:

These require a bit of effort.

Hard:

These require mastery or the help of an expert.
1. We Keep Finding "Last Click" in Conversion Settings
First off, we keep finding "last click" in the conversion settings of accounts that we audit. This attribution model is a default from Google, and quite frankly, has led to a lot of bad decisions. The model only attributes conversions to last clicks and fails to take into account the customer's journey.
THE FIX: Find your tracking settings by going to the conversions tab in Google Ads. Choose a position-based or data-driven attribution model instead. This way, you'll make better-informed decisions when it comes to Google Ads bid changes.
2. Source: Analytics vs. AdWords
When you look at your Google Ads conversion tracking, check the source of your tracking. If it says "analytics," it means that when a sale is made, you might get as much as 50% of the credit.
For example, SEO and analytics were involved in a sale amounting to $100. In terms of revenue, $50 may show up under Google Ads and the other $50 under SEO (but shows up as analytics). This can be a problem because too often, the credit given to Google ads is too low. Hence, the data that can be used for re-allocation and optimization of ads can be unreliable.
SOLUTION: Switch to Google Ads tracking instead. It distributes the sale value between ads, giving you more data for re-allocation and optimization.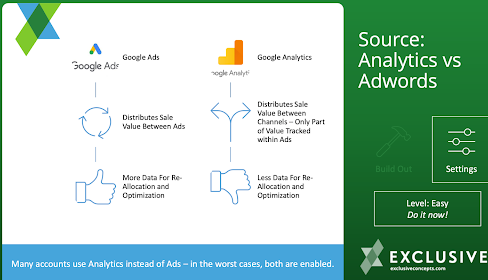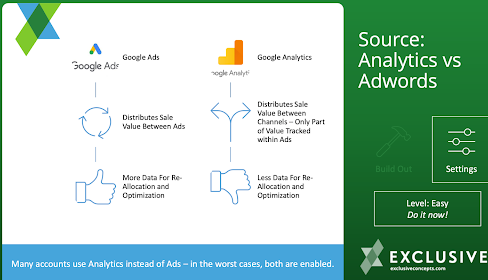 3. Bid Strategy Optimization
Campaigns also have a bid strategy set for them. Typically, bid strategies are not aligned with other goals or fail to take into account things like tracking count, tracking value, or campaign goals. Some of the common issues we encounter are:
Using max conversion value for lead generation

Using target CPA (TCPA) but double-counting conversions

Setting TROAS for brand campaigns, limiting exposure

Only using manual CPC
4. Phone Tracking
Pretty much any online retailer has some phone orders, especially those with high AOVs. Having no value set for every phone call tracked is not a good idea. You should at least have a global value set, or use a call tracking technology.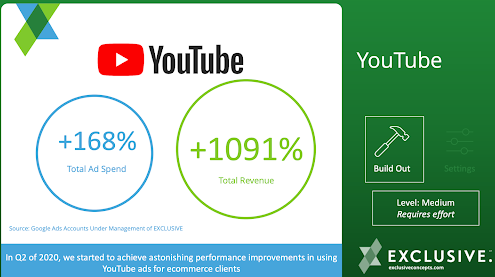 Here's a good formula that you can use to set up a phone call value: Average Close Rate X Average Phone Order Value = Phone Call Value.
5. ROAS-Based Product Distribution
In virtually every account we look at, we find a lot of room for optimization. For instance, we see the same ad spend for both high and low RoAS products. So what has to be done? The solution is moving out of a global, all-products campaign approach and into a more focused approach per RoAS.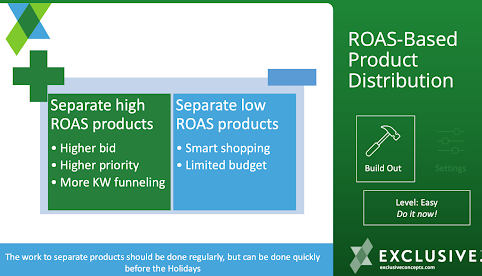 6. Product Segmentation
There are also a lot of all-products campaigns going on in low-performing accounts. When there is no product segmentation, bad-performing products are not filtered fast enough. Top-performing products are also not elevated fast enough, slowing down Google's automation.
7. Ad Strength
In almost every account, we see search ad performance that is either poor or average. Issues remain unresolved and the ad keeps running despite Google's suggestions. Why does this matter? Because poor ad strength leads to lower CTR and paying a higher CPC for the same position.
8. Exact Match Search Terms to Maintain Performance
Some search terms are triggered by broad matches — when they perform, they should be added with more precise targeting. Let's say you're targeting your own brand with a broad match. If your brand name has two to three words, for example, each of those words and all of its synonyms are now all part of the search terms eligible in the broad match. 
You might find search terms that should be set as negatives (those that you don't want to show up for). You might also find some keywords that you like and are performing well. Those, you can set as exact because you want to show up for those keywords more often than the others in the broad match spectrum. This will allow you to gain a better position at a lower cost. You can do this at least once a year but it's recommended to do so monthly.
9. Conquesting
Separating competitor terms into conquesting campaigns allows you to be less conservative with ROAS while achieving a secondary goal. Even if you just break even, it's already a good thing (because you stole a sale from a competitor). As such, conquesting campaigns should have different goals from your brand and discovery campaigns.
10. YouTube
If you do not have YouTube ads yet, you should push to have them live before Black Friday. Among EXCLUSIVE clients, YouTube ads drove revenue by 1091% upon increasing ad spend by only 168%. Start with in-market audiences — and add some video and channel targets using placements.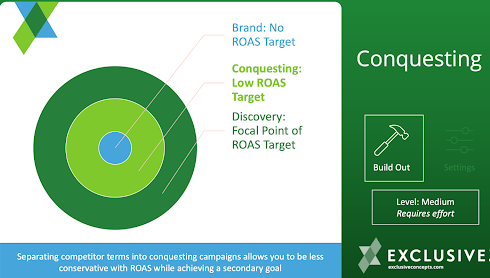 Holiday Tip: Use Video Action campaigns to seamlessly incorporate your product feed into your YouTube ads.
11. Audience Clarity
Trying to figure out what your audience structure is can be tricky, but it's essential. 
The simplest audiences feature in-market targets, past visitors, and customer lists, so try to sit down and map these out to slowly build your audiences.
12. Discovery Ads
Discovery is a key feature in the Google Ads toolkit — but it's not used often enough. They allow you to take in-market audiences, past customers, and visitors, so you can start to build your brand with them by showing brand essence. It's similar to Facebook ads. In fact, you can simply copy your Facebook Ads into Discovery!
13. Promotion Extensions
Every online retailer should be using the simple promotion extension this year. Google made it easy to just set up promotions based on the most common calendar days. 
You can choose on what days you want to set up promotions, and you get a beautiful extension that shows up with your search ads.
14. Redefine Distribution
Analyzing your current distribution and choosing an indented distribution is one of the most sound ways to achieve your goals faster. Simply focusing on your brand category terms and not paying attention to other areas can be inefficient. 
At EXCLUSIVE, we assess clients' distribution and suggest the right structure for their business. This is something you can also do on your own but you really have to pay attention to your priorities — Is it discovery, engagement, conversion, or retention?
15. Run Aggregate Analysis on Keyword Patterns
Also achievable in Excel, EXCLUSIVE utilizes a powerful real-time keyword aggregator to find patterns and impact bid strategy. This allows you to envision what keywords to bid high or low on and what keywords you want to keep repeating on search ads, Facebook ads, and YouTube ads.
16. Develop a Concept Map
Developing a high-level concept map ensures strategic separation of keywords and goals — while clarifying conversion action, bid strategy, and device targeting. By having a handy guide, you can go back and reference your Google ads every time and align with everyone involved.
17. Advanced Feed Mapping
Feed labeling is a key advantage in eCommerce marketing,  ensuring your visibility and ad spend are focused on the most beneficial parts of your catalog. Labels mean that you introduced new information about that product from offline analysis that you consider helpful in determining your bidding strategy for that product. For example: "Top Sellers," "Products in Season," "Products 50% Off."
Big data takes this to another level by setting up and updating these labels automatically.
18. Search Query Funneling
Google Smart Shopping is gaining a lot of traction in 2021. A lot of strategy and granularity can also be introduced into smart shopping. We don't typically get to see what keywords we're triggering though. 
In some cases, a deliberate keyword strategy is necessary.  A simple method can be employed to bid higher on specific keyword + product combinations in Google Shopping. That's where Search Query Funneling comes in. It's a bit complex, but here's the logic behind it:
You have a product that enters into the merchant feed. In the title and product description, you have keyword "X."

Keyword X is an important KW for that product so you mention it in the title and description. 

For that product, you create two Google shopping campaigns:

First: low bid, high priority.

Second: high bid, low priority.
Need More Ideas for Profitable Google Ads Changes? Take These Next Steps.
Catch the full webinar replay and download the slides for "Critical Google Ads Changes to Make Before Thanksgiving."  Or, if you're ready to dominate Google Ads (and even more digital advertising channels), reach out to us for your free eCommerce growth analysis.