How many social media platforms can you name? Are you onto your second hand yet? There are a plethora of social platforms and tools out there!  (Some I bet you haven't even heard of before, like hi5 and friendster.)
When it comes to eCommerce, there are some opinions out there about which platforms are ideal for impacting your sales and loyalty — and which ones won't move that particular needle. Some say Twitter is a waste of time, while others religiously send out multiple Tweets a day.
What your social media choice should come down to
The key is to keep your brand readily visible where it's most relevant. Where are your customers surfing — and why? Research shows that 42% of Facebook fans like a page to get a discount or coupon, while 70% of Pinterest users are on for shopping inspiration.
So, are you offering weekly promotions that you want to keep your audience up to date on to persuade them to place an order? Get the word out through Facebook! This is especially valuable for brick and mortar retailers.
Twitter can be an extremely powerful tool, too — especially for retailers in the B2B sector. Knowledge-sharing and newsworthy tweets will always get your brand brownie points. It's hard to pass up an opportunity to get your brand out there.
Instagram is a new frontier for visual-minded shoppers. This platform is slowly creeping to the top of the popularity chain. Some brands work this to their advantage greatly — check out "poppin" for a great example of how to use Instagram to represent your brand. If you're still confused, have a look at our tongue-in-cheek infographic below for additional guidance.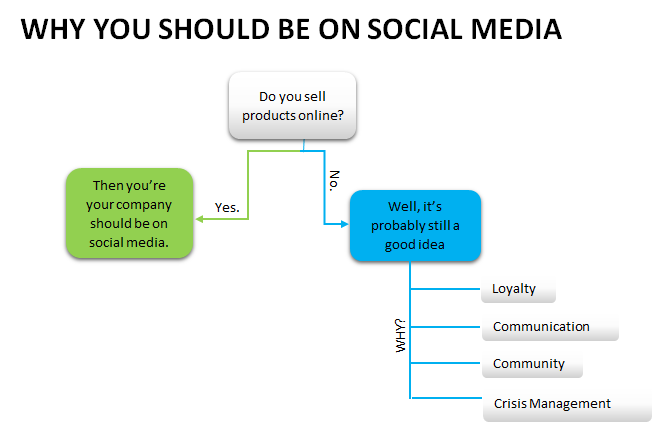 Ultimately, you should consider your target market in relation to a given social platform's most mainstream applicability, and find ways to understand your customers' behaviors on that particular social medium. Think about age ranges, demographics and general behaviors on and away from your site.
The next step is to find your brand's voice and create a strong, consistent presence on the social media platforms of your choosing.
Leanne brings more than five years of experience to her clients at EXCLUSIVE. With a background in public relations and communications, she has helped online retailers across multiple industries connect with their customers.