We hear questions like these all the time…
Is my conversion rate "good"?
What's a good conversion rate for an online retailer?
What should my conversion rate be?
Now, thanks to the analytics we've baked into our Conversions On Demand software suite, we can actually start answering those questions. We've calculated weighted averages after aggregating data from 400+ small to mid-sized online retailers.
The average conversion rate is: 1.72%.
If your conversion rate differs from our network average of 1.72% it could be for many reasons. Certain product categories, for example, naturally lend themselves to higher/lower conversion rates. Take the following examples into account:
Merchant 1: Selling mostly low-priced themed gifts and apparel catering to a niche market.
The graph below shows their March conversion rate compared to our network average.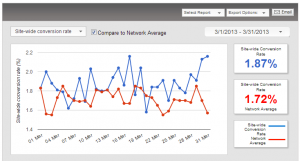 Their conversion rate of 1.87% comes in right around our network average, as does their average order size. And their conversion rates are generally the same as other similar merchants we see.
Merchant 2: Selling high-priced luxury items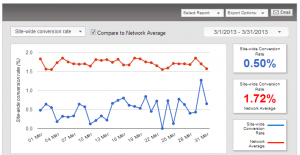 Their conversion rate of .50% comes in dramatically below our network average, but again their conversion rate is around the same as other similar merchants we see. The average order size of their product category is larger by 10 to 20 times most other retailers, which is a big reason for their low conversion rate.
These examples show why it's difficult to answer the question, "is my conversion rate good" in a meaningful way, because it really depends. Merchant 1 beats the network average, but they of course could be doing much better. Merchant 2, whose conversion rate is respectable given their product category, could also be doing much better.
It's all relative…
In the end – I find it most useful to compare your conversion rate to your own historical averages or to other merchants in a similar product category as you. But – at least we can now answer the most basic question – how does your conversion rate compare?
Formula: Site-wide Conversion Rate = (Number of Total Orders from Store / Total Number of Unique Visitors) * 100 %