What Merchants Should Start, Stop, and Continue Doing to Drive Growth: The Only 2021 eCommerce Strategy Report You Need
Woe be to we who made predictions for 2020 and had those quickly dashed by the unforeseen and unprecedented. Today we're supposedly well into the new normal, which feels anything but.
Instead of asking for 2021 predictions, we took a different approach.  We've consolidated the advice of our own senior strategists, as well as some of our top partners. The result? A single guide, handily broken out into "What to Start, Stop, and Continue Doing in 2021."
Together, as a community of eCommerce leaders, we believe that the actionable insights within this eBook can, and will, guide you toward success and growth this year and beyond. Broken into clear modules of expert advice, you'll quickly recognize what offers the biggest wins to your business.
Introduction: Make This Your Best Year Yet
Chapter 1: Bad Business Habits to Kick
Chapter 2: Smart Practices to Start
Chapter 3: Winners to Stick With
Conclusion & Action Items
How to Use This Guide to Better Your Business
T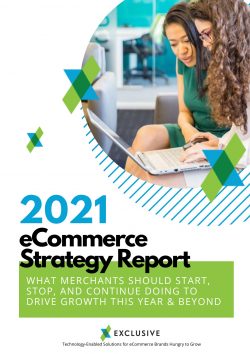 his 2021 eCommerce Experts Strategy Report, "What Merchants Should Stop, Start, and Continue Doing This Year," includes 23 recommendations offered by industry experts from top digital presences. That may seem overwhelming so we recommend the approach listed below to make 2021 your best business year yet.
Start Small: Pick a few strategies that best align with your team's strengths and the goals you've set for your business this year.
Align Your Strategic Roadmap to Strengths & Weaknesses: Leverage your customer data and marketing reports to glean insights into which channels, products, campaigns, and keywords are helping your performance and which are hurting it.
Ask for Help: Reach out for a complimentary eCommerce analysis from EXCLUSIVE or for assistance from any of the partners who generously contributed to this guide. This group of experts shares a collective mission to help eCommerce brands grow!
Special thanks to our partners for taking time to weigh in on their recommendations for merchants in 2021. Google, Facebook, Microsoft Advertising, Klaviyo, Yotpo, Trustpilot, and Privy, we appreciate you!
Get your free eCommerce analysis today and take control of 2021!