The holiday season is quickly approaching, which represents a pivotal time for many e-commerce stores. To capitalize on this period, we've assembled 11 game-changers for Q4 that will help you optimize all of your sales channels so you can get the most out of the upcoming holiday shopping season.
Holiday-Specific Techniques:
1. Create Gift Guide Landing Pages — Cookie-cutter gift guides won't get you as far as hyper-targeted, specific alternatives. Why? You may be targeting the correct audience, but broadly addressing them is unlikely to create that perfect gift-to-buyer match you're looking for. Rather than throwing all of your mom-friendly gifts into a page titled "Gifts for Mom," get more specific with pages like "Gifts for the New Mom" or "Gifts for the Bookworm."
You can use Google's Affinity Categories to identify themes for your guides, and then create corresponding gift guide landing pages that are tailored to your customers.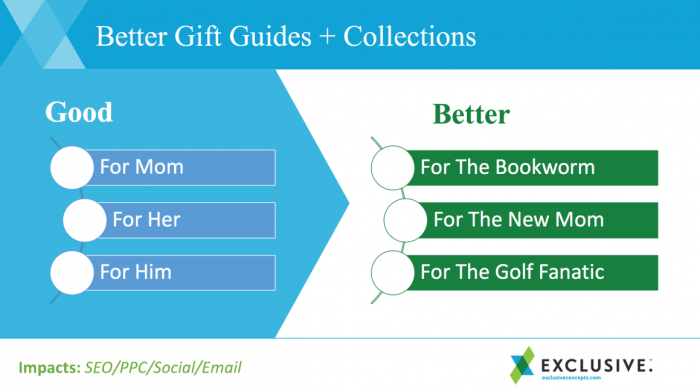 2. Identify and Invest in Proven Best Sellers — Build holiday ad campaigns around best sellers using the Dimensions tab and performance parameters in Analytics. This tool will generate valuable reports to help identify proven performers that, when given added focus during Q4, can have an exponential impact on sales. See the image below for how to visualize best sellers based on the Dimensions tab. Our new EXCLUSIVE Feeds product for Facebook automatically identifies and tags trending best sellers, a campaign approach that's performed very well on Facebook.
Year-Round Techniques to Intensify in Q4:
3. Generate More Product Listing Ad Visibility via Better Targeting — Using targeted feeds can help you supercharge the sales you draw from Product Listing Ad (PLA) sales. Add gift-related phrasing — for example, embellish your description with gift-wrapping, if that's something you offer — to entice users to click. You should also add the make, model and SKU (if applicable) to ensure that your ad covers all the bases.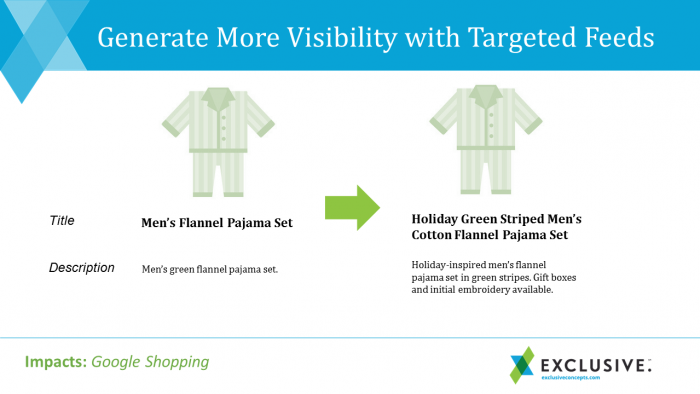 4. Take Control of Your Amazon Rating — Analyze your method for gathering reviews in order to improve search visibility and buy-box win rate within Amazon. Since most users don't leave a review, and those who do are more likely to leave a negative one, you should put appreciable effort into actively soliciting positive feedback. Helpful tools are available to automate the process, too.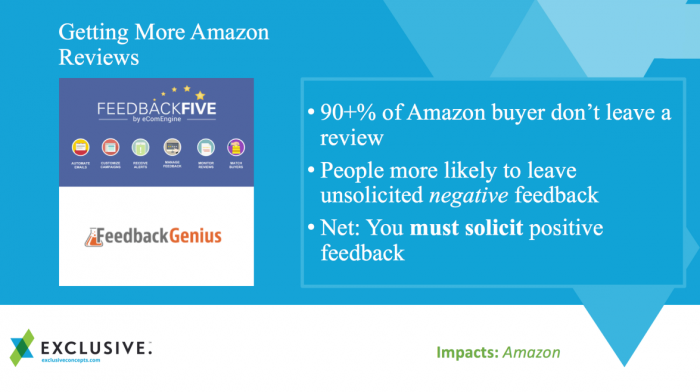 5. Segment to Optimize Amazon Campaigns — Using Amazon's OPPA (one product per ad group) segmentation, you can better optimize campaigns via product-level bids and keyword adjustments, which will help generate valuable visibility for your products on Amazon.
6. Focus on ROI at the Top and Middle of the Funnel — Properly capitalizing on ROI-driven keywords at the top and middle of the funnel can be highly effective during Q4, when sales are abundant. That includes categorical, ambiguous, and mid- and high-CPC keywords. Use similar audience overlays on broad keywords to ensure you're bidding more effectively on valuable users.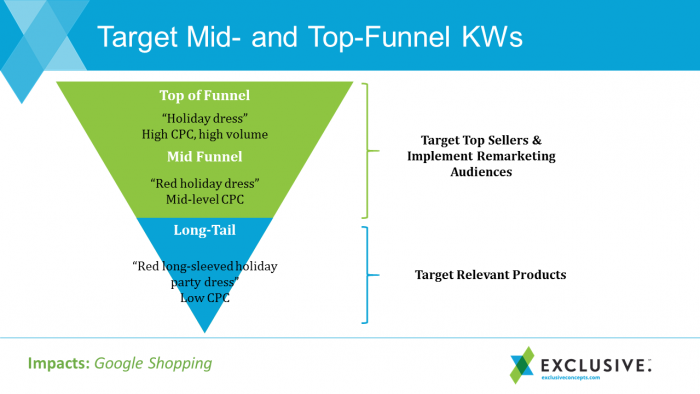 7. Use Size-Based Bid Adjustments — On Amazon and Google Shopping, you can take advantage of size-based bid adjustments — setting different bids for different product sizes — to scale down when popular sizes go out of stock, and scale up when inventory replenishes or you want to maximize on a particularly lucrative size.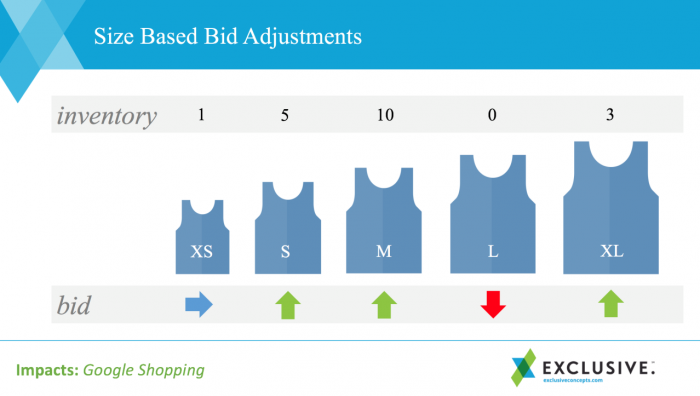 8. For Added AdWords Performance, Use Dayparting Scripts —Take advantage of dayparting scripts in Google AdWords to ensure that you're getting the most visibility during high-volume sales periods like Cyber Monday and Black Friday, as well as Q4 in general. Hour-based optimization by device will help propel your campaigns by allowing you to target times when users are more likely to search or purchase via desktop or mobile.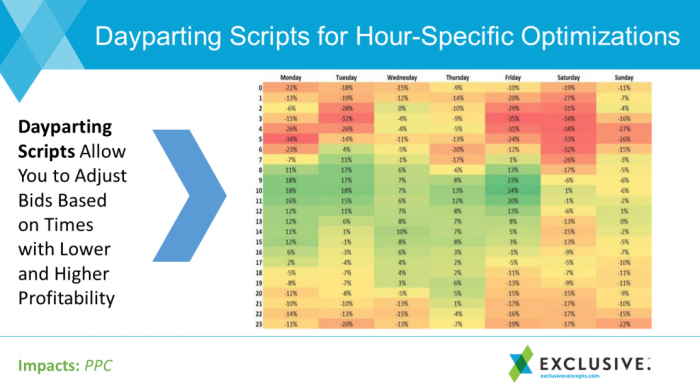 Coordinating Your Holiday Marketing Machine:
9. Prioritize Your Channel Strategy — You use Amazon, Google Shopping, paid, social, e-mail marketing and a variety of other channels. Take a look at what's working and what's less profitable, and prioritize accordingly. Choose where to focus based on opportunity. For example, you may want to start with Google Shopping for device-targeting and feed quality and then move on to Facebook for segmentation and experimentation.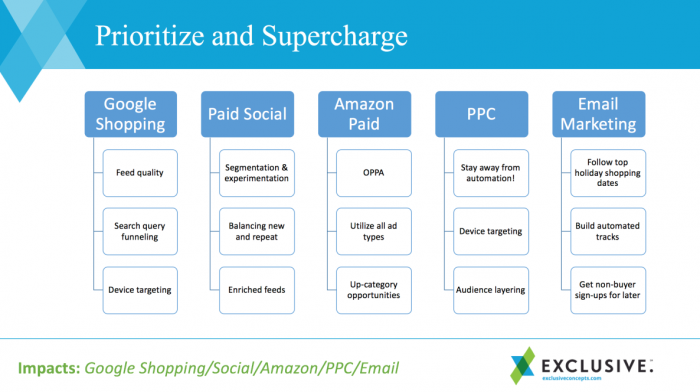 10. Develop a Multi-Channel Promotional Calendar — Developing your promotional calendar early — as in, right now —can help ensure that you're ready for the holiday rush. Develop promotions for Thanksgiving Day, Cyber Monday, Green Monday, Small Business Saturday and other big holiday sales days in Q4. Make sure to pay close attention to shipping deadlines so that users get their gifts on time.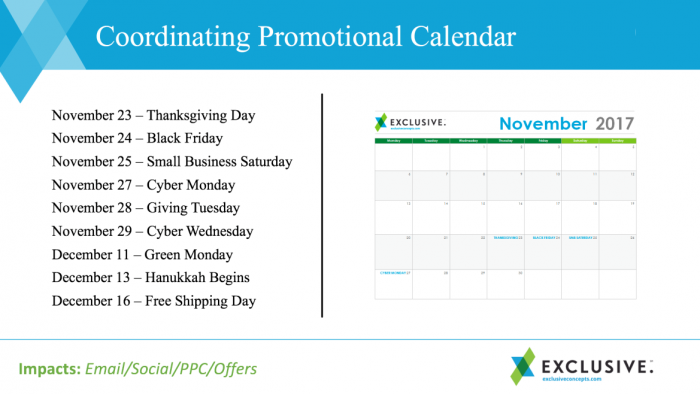 11. Take Advantage of Giving Tuesday — Giving Tuesday is Nov. 28, and brings big opportunity for marketers looking to garner engagement after Black Friday and Cyber Monday. Plan any giving-related campaign to boost sales, get press, outside links and encourage users to engage with your company via social media.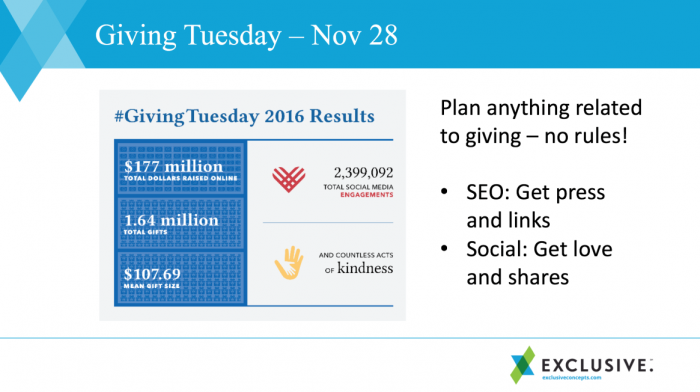 Revamp Your E-Commerce Roadmap — Connect with us to get a free e-commerce opportunity analysis to ensure that you're doing things right and taking advantage of all these channels. We'll help you identify SEO opportunities, PPC performance, conversion funnels and Amazon strategies that can help grow your business year-round, especially during the holidays.
P.S. You can collect a lot of valuable data during the holidays to inform your merchandising and marketing strategies next year. You Amazon sellers probably know that Amazon reporting is a little clunky, and time-limited. Reporting tools like EXCLUSIVE Business Insights enable you to track performance data over time, and track it all in one place.