Client: Spy and Surveillance Retailer
Service: PPC & Google Shopping
Annual Revenue: $1 million
Platform: Yahoo!
Snapshot
Our client is one of the leading purveyors of spy and surveillance products for personal and business use. With a very successful brick-and-mortar presence they moved into the ecommerce space, their foray into PPC left them with a -84% Return On Ad Spend. On a recommendation from Director of Merchant Development and Developer Partner Network for Yahoo!, Mike Ober, they contacted Exclusive Concepts.
Challenge
Revive a sputtering PPC campaign, filter unqualified traffic, develop a sustainable long-term PPC strategy.
Solution
Prioritize and optimize PPC campaign, create highly segmented campaigns using long-tail keywords in very specific match types, heavily test and optimize ad copy, adding the prices of products as a qualifier when appropriate, setup and optimize Google Shopping for client.
Results
ROAS grown from -84% to +452%. Increase in clicks, conversions and a 4,530% increase in revenue while reducing costs and ad spend.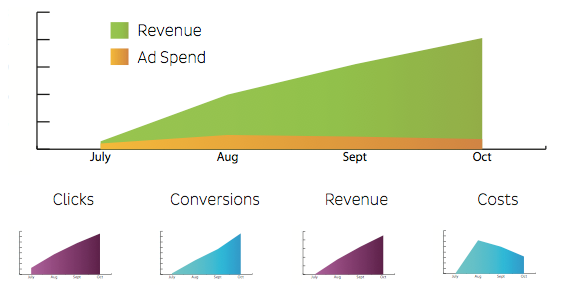 Learn how a $1 million Yahoo! Store turned it's PPC around, mixed in a bit of Google Shopping, and in 3 months saw a 4,350% revenue increase.

Google Shopping Webinar
Our Director of Paid Search Matthew Umbro and Google Shopping Specialist Logan Durant will be sharing the secrets to Profiting from Google Shopping. Join them for this FREE WEBINAR on Wednesday, March 27th at 1:00pm EST. They will be presenting an overview of Google Shopping, it's impact on your online retail business, and covering such topics as:
Effectively optimizing your product feed
Proven PLA strategies to show great results
AdWords management techniques to spark performance
Join this FREE WEBINAR Click here to register (mobile friendly) or use the form below!



Image courtesy fordprefectajt.