For 18 years I've resisted answering the question, "Is my conversion rate good?" Today, right now, in this very blog post, I will actually (almost) answer this question for the first time.
But first, the 50,000-foot view
Conversion rates are never good or bad. They are what they are. No matter how high your conversion rate is today, it should be higher.
That's because every small improvement in conversion rate directly improves the profitability of your marketing. The more profitable your marketing is, the bigger your marketing budget can be.  That will boost your market share, enabling you to grow faster AND more profitably.
So, is your conversion rate good?
No. It isn't. It's never good. But it may be better (or worse) than average.
What's average? We sampled conversion rates for dozens of mid-sized merchants. Here were the average conversion rates by device so far in 2015: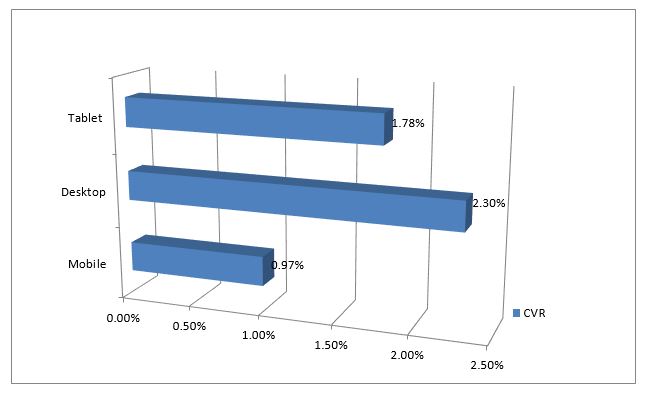 Desktop conversion rate clocks in at a strong 2.3%, up 4% from last year's average of 2.27%.
Tablet conversion rate is strong, clocking in at 1.78%, a 21% increase from last year
Mobile is lagging behind, at a paltry 0.97% while driving 33% of total site visits
What's up with Mobile Conversion Rates?
The mobile conversion rate story is interesting. Visits from mobile, amongst this group, were up 27%, totaling 33% of traffic. Despite this, mobile only represented 15% of revenue.
As you can see, the bar for having a "good" mobile conversion rate is pretty low.
When we dug into the data, however, we saw that as bad as mobile conversion rates were, they are up sharply from last year. Mobile conversion rate in 2014 was .6%, meaning the average conversion rate has grown a whopping 61% so far in 2015.
The year isn't over, but it sure seems that mobile conversion rates are ticking up quite a bit. That's one important takeaway I hope you get from this blog post.
Summary
Don't just compare your conversion rates, by device, to these averages. Ask yourself whether your conversion rates are improving at a pace that is better than, as good as, or worse than average.
Start with your mobile conversion rate because that's where the greatest opportunities and threats are.
Our data suggests that a "good" mobile conversion rate is one that is growing very quickly. If your mobile conversion rate is not growing quickly, whether you sell B2B or B2C, the time to act is now.
Would you like our help?
Request a free analysis of your mobile conversion rate from our Conversion Booster team by completing this form.
You may be one of the first to qualify for our new Mobile Diagnostic Audit, which provides unprecedented insight into how shoppers interact with your mobile site.