Last week, we released EXCLUSIVE Offers. Many merchants have already upgraded and have been creating proactive and reactive offers based on filters and real-time trigger criteria.
If you have not already upgraded to EXCLUSIVE Offers, here are instructions for getting started.
How to upgrade
1. Log in: Go to www.exclusiveconcepts.com and click on "Log In" in the top-right corner.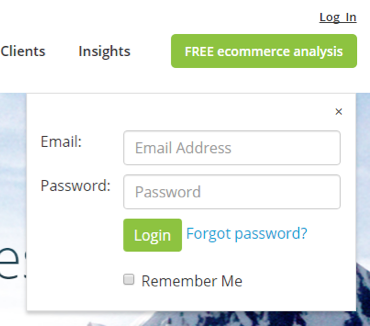 Select your store and you will see the following at the top of the Cart Closer Campaigns screen (if you are using Cart Closer V2 or Time2Buy, you will see a similar screen).

2. Click the "Yes, switch to Offers".
Doing so will not change your shoppers' experience. In the backend, the following will happen:
Your Cart Closer campaigns will be migrated and upgraded to Offers
Your Time2Buy campaigns will be migrated and upgraded to Offers
Your pricing will remain unchanged as well. If you are on revenue share your rate will remain the same. If you are on a flat fee, your fee will remain unchanged.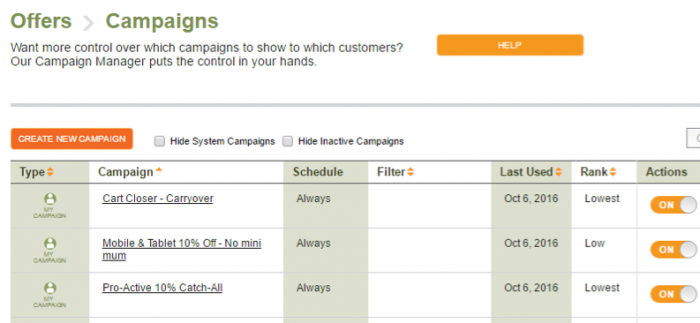 You will now be able to manage your campaigns from this Dashboard.
3. In addition to EXCLUSIVE Offers, the three bonus applications Email Booster, Cart Reminder and Daily Deal will also be fully accessible. If you were already using any of these in advance the settings will remain unchanged. If you are on a flat fee model or decide to switch to a flat fee, the applications will be included at no extra cost. If you decide to stay on revenue share, the fee for the applications will remain as is.
Taking Advantage of EXCLUSIVE Offers
The possibilities with EXCLUSIVE Offers are endless. The best way to get started is to refer to our documentation or reach out to us at customersuccess@exclusiveconcepts.com. We are here to help. Additional resources:
Offers website for an overview of features and benefits
Spy Museum Store's successful use of Offers (view story)
Offers tutorial for detailed guide on features and campaign creation
Examples
Using product and traffic filters to offer first time visitors coming from Paid Search a discount on select products. This merchant generated a 20% increase in orders, and a 12% increase in average order value within 2 weeks of enabling proactive offers.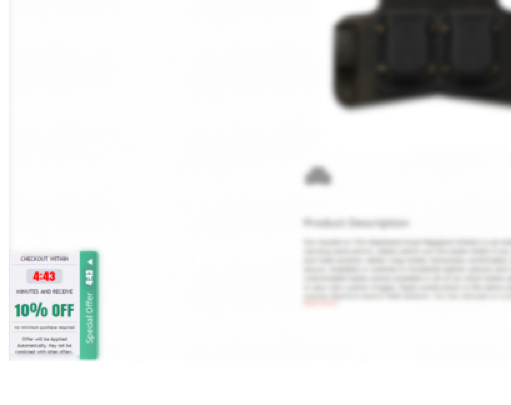 Remind cart abandoners about store benefits — winning their business without giving any additional incentives.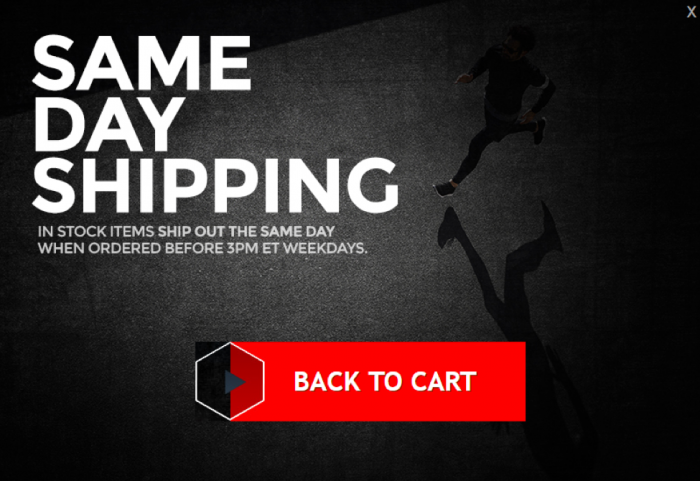 Pricing
When you upgrade we encourage you to move to a flat-fee model instead of the current revenue-share option. You can find the details here.
Feel free to contact us at customersuccess@exclusiveconcepts.com.