Please join us on Thursday, September 22, at 1 p.m. EDT for a live case study webinar: How They Did It: Cyberweld Grew 3X to $30mm in 5 Years.
This webinar was inspired by a powerful single-word answer given by Bob Goodliffe, CEO of Cyberweld, in 2015. It occurred at a conference in NYC, where Bob was headlining a panel of high-growth retailers. A curious audience member asked point-blank: "So what's your secret?"
Bob's answer: "EXCLUSIVE."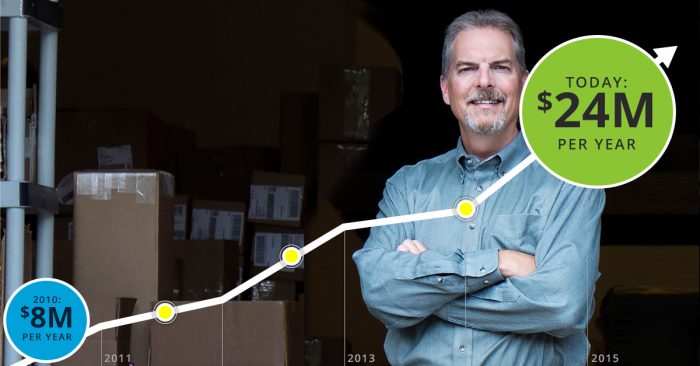 Here's what you'll learn in this webinar:
Challenges that lead to plateauing in 2011
Solutions that led to 3X growth over 5 years
"Good Problems" of growth and how Cyberweld adapted
Advice for assembling your "growth" team
Here's why we chose to hold this webinar:
We get to have a brilliant online retailer share how important his EXCLUSIVE team has been to the success of his store. How we went from being experts who could see a roadmap to overcome his challenges – to becoming his only marketing wing, helping achieve prolonged, exponential growth. Bob has stated "Using EXCLUSIVE was the best decision I've made in growing my company."
This is a great way to explain the unique holistic approach to growth that EXCLUSIVE is known for. It's our belief that when you bring together specialists across the entire shopping funnel (attract – convert – retain) to coordinate and strategize, there are no limits too high or obstacles too great.
Bob is helping us share the online retailer perspective of growth. The challenges of stagnation – as well as of growth. Running the business end isn't easy – but the "good problems" of exponential growth are a welcome change. For those who are interested in driving exponential growth by partnering with EXCLUSIVE, he has some thoughtful advice to help you get the most out of the journey.
You can register here at no cost. Once again, the live webinar will be held on Thursday, September 22, at 1 p.m. EST. A recorded version will be posted shortly after, but come to the live event to experience the energy and ask your questions to Bob and the team at EXCLUSIVE!
Photo by jules:stonesoup