Timothy Gee
Senior Email Marketing Specialist
The holidays are here
The trick-or-treaters have come and gone, turkey leftovers are a distant memory, and the World Series has faded into the start of the NBA season. But for etailers everywhere, December brings the frenzy of the Holiday season.
The Holidays have increasingly become a critical season to generate sales. The 2011 Holiday season generated over $37 billion in online sales1. This accounts for roughly 10% of the total retail sales during the Holidays.1 It is also worthy to note that online Holiday sales grew by 15% (compared to 2010), while brick-and-mortar sales grew by a modest 4%.1
How are you reaching your customers during this important sales season?
Prior to the advent of digital marketing, retailers relied on print, television, and other mass media to publicize holiday promotions. In the 21st century marketplace, email marketing has become the critical link between the etailer and the customer. According to a ForeSee survey, 19% of people reported visiting a website as a result of a promotional email.2 This may not seem impressive, but only 8% of respondents to the ForeSee survey reported visiting a retail website due to a search engine result. So email is an indispensable marketing channel to drive traffic to your website, and generate sales.
Are you doing email marketing correctly?
Given the importance of email marketing as a means to produce revenue and strengthen your brand, how can you push the effectiveness of your campaigns? One way to increase the relevance and resonance of your campaigns is to simply avoid common email marketing mistakes and produce better campaigns.
Today, we will discuss five blunders that befall many retailers.
Blunder 1: lack of autoresponders
Autoresponders are often an afterthought with etailers. They're more complicated than newsletter campaigns, and they involve the additional complexity of database management. But autoresponders that are properly implemented can generate incremental revenue and strengthen the customer relationship with your brand.
Many email service providers have online tutorials that outline how to create autoresponders. For the uninitiated, I would suggest starting off with some simple, broad-based autoresponders. Examples include a follow-up thank you message for purchases or an email that provides a link to customer reviews.
If you are still not convinced that autoresponders are worth the investment of time and effort, consider the case of an Exclusive Concepts client. This client is a clothing and accessories retailer.  The retailer broadcasts weekly email promotions. Additionally, they created a "VIP" autoresponder that emails a coupon code to customers 30 days after they make a purchase of $100 or more.
The "VIP" autoresponder generates an average Open Rate of 41.4%, while the weekly campaign results in an average Open Rate of 12.2%. In a likewise fashion, the "VIP" autoresponder produces an average Conversion Rate of 10.7% (compared to an average Conversion Rate of 4.97% for weekly campaigns).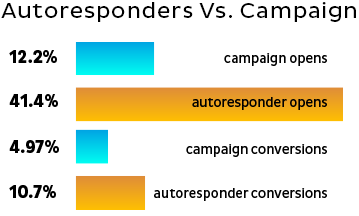 These sorts of results are relatively commonplace. There are many contributing factors to this phenomenon, but a core driver is that autoresponders deliver a highly targeted message at a time when brand relevancy is at the peak while campaigns contain less targeted messaging to placate a larger audience.
Blunder 2: spray and pray (no segmentation)
Segmentation is often neglected by email marketers. Some email service providers lack basic means to segment. In other cases, email marketers do not build databases with sufficient customer information to support segmentation.
A key benefit of segmentation is to know your subscribers better. Through segmentation, you may learn where your customers primarily reside or other important demographic and psychographic trends that belie your customers. Based on this insight, you will be able to send targeted messages and special offers to your most valuable segments.
Segmentation is an art and a science. In general, you can segment;
Quantitatively – according to customer lifetime value, number of campaigns opened, etc.
Qualitatively – based on customer characteristics such as gender, geographic location, etc.
The critical components of segmentation are:
A database with sufficient data to segment against
An email service provider with capabilities to segment according to specific criteria
A marketing professional to build segments that reflect your high-value target customer groups
A B-C client of Exclusive Concepts initiated a basic segmentation strategy in mid-2011. Their segmentation approach was not complicated – they segmented their customer list according to three gender-based groups (male, female, and unspecified – declined to provide gender). Subsequently, they began to promote email campaigns that featured gender-specific products to the respective segments. Some email campaigns also contained references in gender in the subject line.
The client saw a sustained surge in Open Rate after implementing the segmentation strategy. Average Open Rate jumped from 13.16% to 21.78%, and Loss Rate leveled off.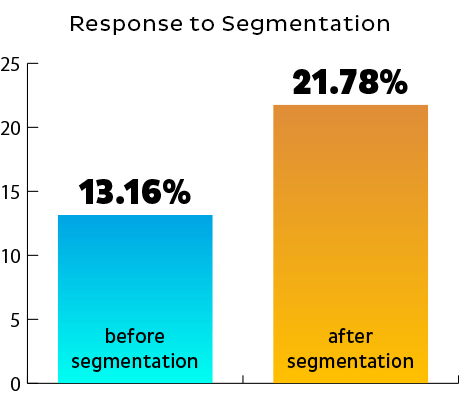 As with autoresponders, segmentation helps boost reader response by increasing relevancy of email campaigns.
Blunder 3: sending junk
In the mad rush to broadcast Holiday campaigns, many etailers forget to test for deliverability. Remember that nearly 18% of invited email lands in recipients' junk folders.3 Adding complexity to the issue, major email platforms (such as gmail and hotmail) traditionally increase the sensitivity of their spam filters during the Holidays. Are your emails landing in your customers' junk folders with a dull thud?
If you are not testing your email campaigns for deliverability, then your campaign could be landing in the junk folder of almost 1 in 5 of your subscribers. How can you navigate around the spam filter?
To improve the deliverability of your email campaigns, you should analyze:
Reputation of your sending domain  / email service provider
Content of subject line (avoid mention of brand names and explicit discounts)
Image-to-text ratio of email
If possible, test your email campaigns before broadcast
To help you with your email campaigns, many email specialists and firms have proprietary algorithms to optimize deliverability. At the very least, your email service provider should have a spam tester to evaluate your email campaigns before you deploy.
Blunder 4. Forget to Brand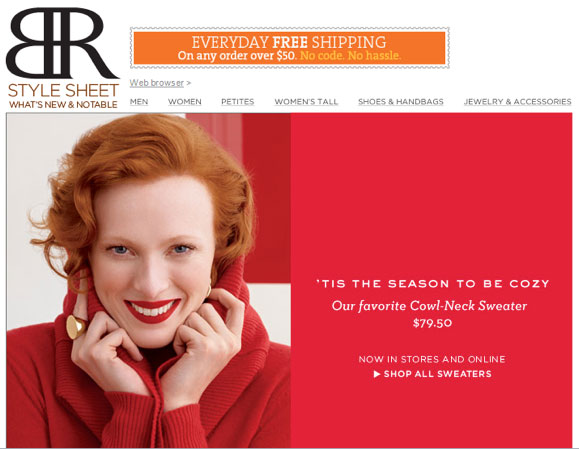 This is a Holiday campaign from a leading retailer. You may notice that the name of the company and brand name are missing. The designer may have intentionally omitted the company name as an aesthetic, but this decision that may confuse recipients who are not familiar with the company and the brand.
Don't assume that your entire subscriber base know your brand, your logo, and what you offer. Make sure that your company name, logo, and website are prominently displayed in the email header.
This is especially important during the Holidays, as people are more likely to subscribe to your email marketing in the hopes of receiving coupons, discounts, and promotion
Blunder 5. Under-Invest After the Holidays
Many retailers invest time and resources in campaigns leading up to December 25; but they fail to recognize that the marketplace is still spending after the holidays.
To put this into perspective, a large B-C and B-B retailer (who is also an Exclusive Concepts client) generated $6,437 in the three weeks leading up to Christmas, while they generated $7,996 in the three weeks after Christmas. This equates to an increase of 24% between Holiday and post-Holiday sales.
To remove any thoughts of bias, the retailer promoted the same incentives during and after the Holidays. In other words, the retailer did not provide special promotions to increase conversions after the Holidays.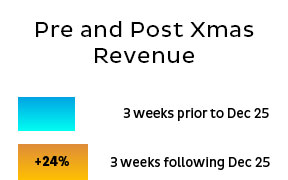 There are many good reasons that post-Holiday campaigns match, if not exceed, the traction of Holiday marketing efforts.
Less competition for customer attention – Fewer retailers send email promotions after Christmas, resulting in less clutter (and more attention) for incoming email campaigns
Consumer behavior – customers may be looking to spend money on themselves after the Holidays
Repeat purchase – A positive customer experience before the Holidays may encourage an additional purchase after the Holidays
Conclusion
Email marketing during the Holidays may seem daunting. There are certainly many factors to consider, and many blunders to avoid. Given the explosive growth of online retail, email marketing has become a necessity rather than a nicety. There is still ample time to begin or improve your email marketing as a viable channel that drives Holiday revenue.
If you would like to learn more about email marketing, please contact sales@exclusiveconcepts.com or sign up for our free webinar, The Secret of Mind-Blowing Email Marketing.
We wish you a successful Holiday season.
Bibliography
1 Roggio, Armando. "U.S. Online Holiday Sales Reach $37 Billion, Set Record | Practical ECommerce." U.S. Online Holiday Sales Reach $37 Billion, Set Record | Practical ECommerce. Practical ECommerce, 06 Jan. 2012. Web. 17 Oct. 2012.
2 Jennings, Jeanne. "B2C Success for the 2011 Holiday Season With Email and Social Media." http://www.clickz.com. Clickz, 31 Oct. 2011. Web. 17 Oct. 2012.
3 "B2C Success for the 2011 Holiday Season With Email and Social Media." Http://www.lyris.com. Lyris, 16 Apr. 2008. Web. 17 Oct. 2012.