We've previously discussed several ways merchants can achieve amazing results with Google Shopping (PLAs), but we haven't delved into the optimal account setup. The truth is that there are many ideas and structures to test in PLA campaigns. When you are running campaigns, it's imperative that you create a hierarchy that showcases your top products, while also garnering additional, relevant clicks. Here are some tips to help you better manage your PLA campaigns profitability.
Create an Easy To Understand Taxonomy
We've created upwards of 50 to 60 individual PLA campaigns for some clients, and as little as two for others. The common thread is that we create campaign and ad group naming conventions that are easy to understand. For example, if we're creating a campaign around the top products, we may utilize the following taxonomy: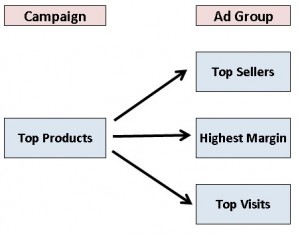 Similarly, you may decide to target your individual product types and create a campaign around this theme. We also generally like to label the ad groups the same name as the auto targets. So if our ad group is titled "Top Sellers," then the auto target (whatever attribute we choose to use) should also be named "Top Sellers." We want to ensure that we're using a systematic naming convention so we can better manage and report on PLA performance.
Bid Higher On Top Products
This tip seems like a no-brainer, but often times less valuable ad groups end up getting higher bids than the more profitable ones. For example, say you have two ad groups, one targeting your top sellers and the other going after a specific product type. Your "Product Type" ad group has a higher bid than your "Top Sellers" ad group.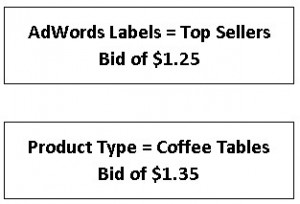 Many products can belong to both of these groups. For example, "Product A" might be a top seller and a coffee table. Google is going to show the PLA with the highest bid. In this case, you could end up paying $0.10 more per click when you don't need to. Multiply by hundreds of extra clicks and your costs add up quickly. Be careful to set ascending bids depending on the products you are targeting. You should bid higher on your top products and custom auto target combinations, while bidding lower on generic categories.
Run an All Products Catch All Campaign
Every PLA account you run should include an "All Products" campaign. This campaign targets all of your products at a much lower bid. The reason for this is that the "All Products" campaign will act as a catch-all for products that don't meet your attributes. For example, say a new product is added to the feed, but doesn't yet have a label. Instead of the product not displaying when someone performs a search, the "All Products" campaign will show this product for relevant queries. Additionally, if your other PLA campaigns run out of budget for the day, the "All Products" campaign will still give you some exposure.
Conclusion
These are simple-yet-important tips that will help you improve PLA performance. These tips aren't hard to implement, but will make a huge difference. What are some PLA tips you use to boost performance?
The Complete Guide to Google Shopping
Early case studies from Google and Exclusive Concepts have not only shown that Google Shopping a highly effective advertising medium, but it can lead to significant, incremental increases in sales and revenue for your business. So we've created an easy to understand guide to Google Shopping we're distributing for free as an ebook.
In this e-Book, you'll learn exactly what Google Shopping is, how you can get started, and how you can employ a multitude of techniques to significantly grow your online sales.
We're breaking this ebook into 4 parts for easy consumption and will be publishing each over the coming weeks:
Chapter 1: Google Shopping 101
An overview of what Google Shopping is, its impacts on shopping behavior, PPC management.
Chapter 2: Getting Started with Google Shopping
How to build the foundation for your Google Shopping advertising
Chapter 3: How to Master Advanced Labeling & Feed Optimization
An overview of how to optimize your product feed to maximize your advertising results
Chapter 4: Advanced Campaign Targeting and Management
How to build highly targeted campaigns and refine them even further through optimization