[Oops – if you're looking for our Amazon Mobile article it's here; wrong link used in our newsletter]
"I spy with my little eye how to target my customers with relevant offers at the right time." Spy Museum Store, the online store featuring all things espionage for the International Spy Museum, knew from their data that shoppers arriving to the store from the museum website were less likely to buy than shoppers coming from other sources (direct, organic or paid). With EXCLUSIVE Offers they found a solution that allowed them to segment their customers and present each segment with the optimal offers. The following three offer types were created:
New shoppers coming from the museum are presented with a 20% off offer after just 1 product view
New shoppers coming from other sources are presented with a 15% off offer after 2 product views
Existing shoppers are not presented with any proactive offers but only with a free shipping over $50 reminder if they abandon their cart
After just one month, the Spy Museum Store started to see an increase in orders and a 12% increase in average order value from new shoppers. Because of EXCLUSIVE Offers' ability to segment and control when to show an offer, they are only giving out discounts they want — and need — to give.
In the screenshot below you can see the non-intrusive offer messaging in the bottom-left corner. An added benefit of EXCLUSIVE Offers is that the shopper does not need to remember any coupon codes. The coupon is automatically applied to the cart.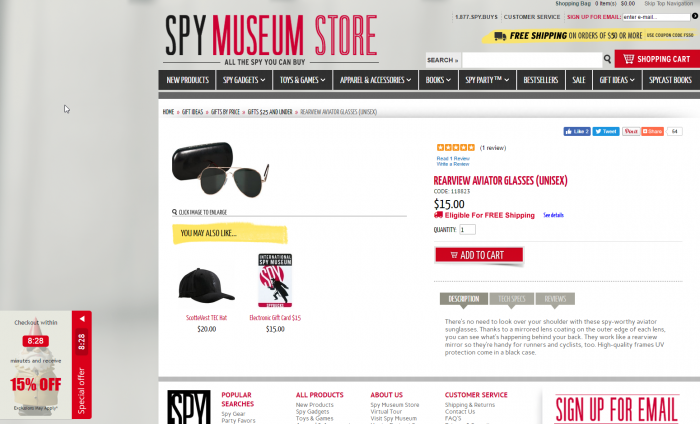 With EXCLUSIVE Offers, we are making it easy and affordable for small and midsize merchants to make the most of their marketing and merchandising campaigns, while enhancing the shopping experience. Contact us at support@exclusiveconcepts.com to learn about EXCLUSIVE Offers and its many valuable features.