Have you ever managed a PPC account that saw great conversion metrics, but revenue failed to meet goals? Conversion rates are up, cost-per-conversions down, total conversions are increasing year-over-year and yet your revenue is decreasing? A possible culprit may be a sinking average-order-value (AOV).
There are a few possible causes for a declining AOV:
Current promotions and sales
A high AOV product goes out of stock
A competitor begins selling your high AOV product at a more competitive price
It is important to explore both internal and external factors to find the root cause of the decline.
Recently a client of ours saw a declining average-order-value which was negatively affecting their overall profit. This decline coincided with a 50% off + an extra 10% off site-wide sale. In addition, summer is a seasonally slower time of year for the client. Combine the low AOV with the low season and something needed to quickly change to keep revenue on pace to exceed the year-over-year profit expectations. We recommended stopping the current promotion and replacing it with a threshold sale. A threshold sale offers a discount or incentive when a visitor completes a purchase over a specified amount. For example:
20% off orders over $150
Free shipping on $50+ purchase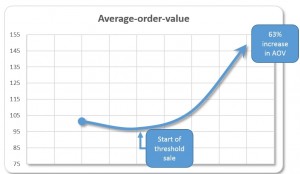 Our client launched their new threshold sale and within four weeks, their average-order-value increased 63%. To put this in perspective, that is more than 50 additional dollars per order — a significant amount. All other metrics remained consistent. Not only did the AOV increase, but this was accomplished without the need to offer discounts on all purchases.
If this is a trend you are seeing in your account, investigate to find the root cause. If you discover that your average-order-value is declining, experiment with a threshold sale. The results could make a huge difference in a relatively short amount of time.
The Complete Guide to Google Shopping
Early case studies from Google and Exclusive Concepts have not only shown that Google Shopping a highly effective advertising medium, but it can lead to significant, incremental increases in sales and revenue for your business. So we've created an easy to understand guide to Google Shopping we're distributing for free as an ebook.
In this e-Book, you'll learn exactly what Google Shopping is, how you can get started, and how you can employ a multitude of techniques to significantly grow your online sales.
We're breaking this ebook into 4 parts for easy consumption and will be publishing each over the coming weeks:
Chapter 1: Google Shopping 101
An overview of what Google Shopping is, its impacts on shopping behavior, PPC management.
Chapter 2: Getting Started with Google Shopping
How to build the foundation for your Google Shopping advertising
Chapter 3: How to Master Advanced Labeling & Feed Optimization
An overview of how to optimize your product feed to maximize your advertising results
Chapter 4: Advanced Campaign Targeting and Management
How to build highly targeted campaigns and refine them even further through optimization