Client: Cyberweld
Service: PPC
Annual Revenue: $10 million
Platform: Yahoo!
Snapshot
Like many other companies, welding products distributor Cyberweld relied on PPC to act as a revenue catalyst. Cyberweld's PPC growth required a well-rounded, multi-faceted approach that accounted for all of the client's idiosyncrasies.
Challenge
Overcome restrictive profit margins with efficient PPC management.
Solution
A dynamic mixture of newly unveiled and proven techniques leads to solution.
Results
During a 24-month period, the client attained a revenue increase of 187 percent, and ad spend costs dropped by 26 percent. Return on ad spend (ROAS) increased 320 percent.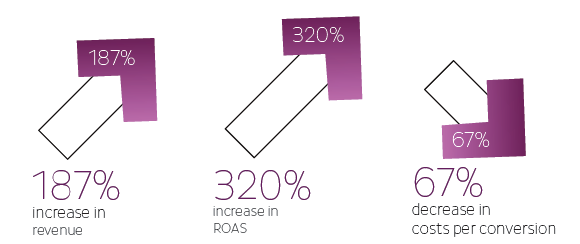 Learn how a $10 million Yahoo! Store achieved a 320% increase in ROAS and a 187% revenue increase from PPC.

Google Shopping Webinar
Our Director of Paid Search Matthew Umbro and Google Shopping Specialist Logan Durant will be sharing the secrets to Profiting from Google Shopping. Join them for this FREE WEBINAR on Wednesday, March 27th at 1:00pm EST. They will be presenting an overview of Google Shopping, it's impact on your online retail business, and covering such topics as:
Effectively optimizing your product feed
Proven PLA strategies to show great results
AdWords management techniques to spark performance
Join this FREE WEBINAR Click here to register (mobile friendly) or use the form below!


Image courtesy RoyPrasad
Image courtesy rich-image.