httpvhd://www.youtube.com/watch?v=gJhSU18XN6w
Sick of under-utilizing your email signature? Make it work with these tips!
Not Your Average Sig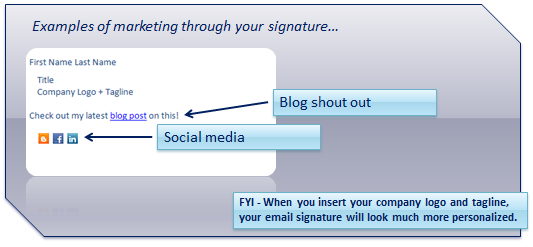 This Email Thursday post is something for marketers and owners of e-commerce stores to pay attention to. When constructing an email for your customers or clients, there is so much focus on other factors – like the subject line, body content and graphics, the email signature is often forgotten. However, it's the last thing that customers usually look at, making it an untapped resource for last-ditch marketing that actually may make a lasting impact.
We've all seen the normal signature with a closing like "Kind Regards" or "Best Wishes" and then a name and position within the company and a link to your company's site, but take a look at the suggestions below and see if there's anything you can add to yours that will add value and present a call to action.
Your latest blog post –If you're a contributor to your blog, hopefully you're writing enthusiastic posts that serve a purpose – whether you're promoting your own online store's blog or the company you work for, this is a great place to direct your email recipient. Including the blog post's title or a "check out my latest blog on x" will let them know what to expect.
About Us page or Corporate Profile page – If you want people to know more about you or if you're trying to convince clients or customers of your qualifications, then a link to your corporate profile page works. And if you're the owner of an e-commerce store, this is an excellent opportunity to give them the full story by leading them to your About Us or Who Are We? page.
Social Media Sites – If you're on Facebook and Twitter (and who isn't these days?), make sure you include a link to these pages and use a cute icon instead of a URL or long anchor text for a cleaner look.
Customer Reviews – This is especially important if you're trying to convince your email recipient of your validity and your excellent customer service, product selection, etc. Add something clever like "See? Other people like us, too!" with a link to a reviews page that supports this statement. You can also vary this by including links to white papers or case studies that support your awesomeness.
Sister Sites – If you have additional sites that you want to promote, do it here!
Again, if you haven't optimized your email signature, you're missing a big opportunity to capitalize on a small, valuable space.