httpvhd://www.youtube.com/watch?v=-oZ6Or3DztU
Using Google Chrome for SEO is a great idea – here's some tools to help.
My name is Scott, a Sr. SEO Specialist at Exclusive Concepts and today I'll be covering the first of a two-part segment on must-have Google chrome extensions for anyone interested in improving their site's on-page and off-page SEO.
META SEO Inspector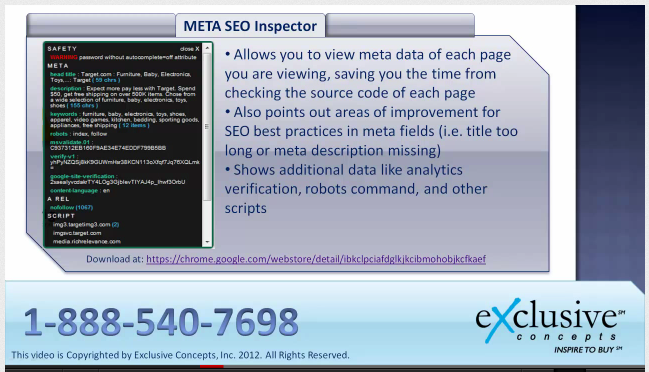 The first SEO extension I'll be covering, META SEO Inspector, is the one I use the most frequently for evaluating client sites and their competitors. This extension is very helpful in viewing the meta data of a page without having to open the source code. Things like the meta description, page title, meta keywords along with other meta fields and scripts can be viewed on the pop up window, as shown on the screen. Another added benefit of this extension is that it will notify you with a warning in red at the top if your fields are empty or over the recommended character limit, like in a meta description or title.
I'll use this extension in chrome when I'm evaluating on-page optimization, making sure certain keywords are in the title, meta description and in some cases the meta keywords, although this field has significantly lost it's value over the past several years. If you're on the homepage of a site, you can also check to see if it has Google site verification and Google analytics. This is an easy way to tell if your site is already set up for analytics and Google Webmaster Tools. Finally, on category pages that have pagination, I'll also use this field to check for a canonical tag or rel=next, rel=prev tag which can indicate if the site is helping prevent duplication in search engines caused by pagination.
Download META SEO Inspector Now
Quick Javascript Switcher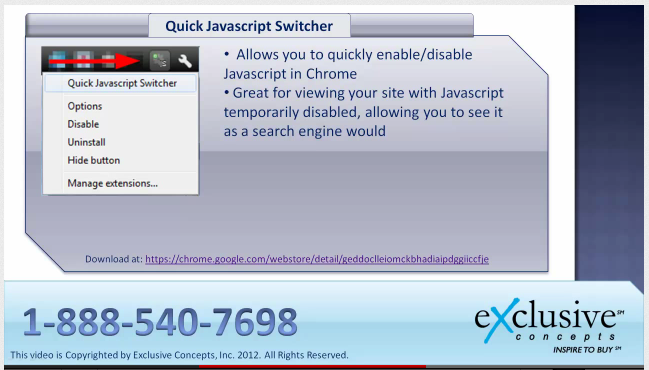 The next SEO extension I'll review is called, Quick Javascript Switcher, which allows you to temporarily disable and enable javascript with one click on the button. This is one of the lesser-known SEO tools on Chrome, but can be extremely useful in evaluating a website as a search engine would with javascript disabled. I use this tool specifically to look at how the navigation works without Javascript. If you find that part of your nav menu isn't flying out or expanding with js disabled, there's a good chance the search engines may not be seeing all of your nav as well!
Download Quick Javascript Switcher Now
Web Developer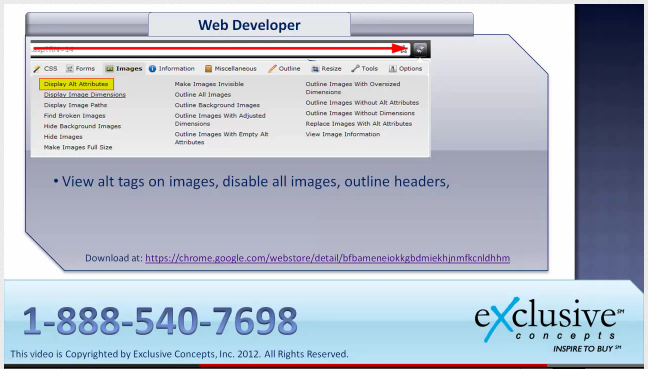 The last extension I'll cover on the first half of this segment is called, Web Developer. This is more of a technical extension, like the javascript one, but can be very helpful in looking at various on-page elements for SEO. For most users, just checking things like headers and alt text should be easy enough to do without having a deep understanding of coding or the more technical aspects of SEO. Disabling images on the page is also useful in looking at what areas on the page that appear to be text might actually be images.
That's all for today's post and I hope you've found it helpful for your site. Please tune in this Monday for the second half of this segment covering Google Chrome SEO extensions!