The new, paid version of Google Shopping is here and there are compelling reasons why you MUST opt in if you're an internet retailer.  To coincide with the update, Exclusive Concepts has created a new service, Profitable Google Shopping.
We have been achieving great results for our clients in the Google Shopping realm for quite some time through Product Listing Ad (PLA) campaigns.  Due to our extensive experience in this space, we've been able to develop key strategies to help you get started with Google Shopping and stay ahead of the competition.  Whether you're a merchant who is new to Google Shopping, or you're still on the fence about joining, read on to find out how you can make Google Shopping work for you and achieve maximum results.
If you're still deciding whether to give Google Shopping a try, consider this: As of October 17th, 2012, the only way for your products to show on Google is to set up PLA campaigns within Google AdWords.  If you have a product feed but don't have campaigns targeting it, your products won't show. In order to maintain (and ultimately increase) your sales through this channel, setting up PLA campaigns within AdWords is a must.  Your competitors have most likely done the same, so don't let them have an advantage over you!

From feed optimization to AdWords management, there are the three primary features of our new Profitable Google Shopping service:
Optimizing Product Feeds Using Our Proprietary Tools
Exclusive Concepts has developed a number of in-house proprietary tools that help our clients grow their revenue and return on ad spend (ROAS). The latest tool allows us to analyze the sales history of your entire inventory.  Using this analysis we project how changes to your product feed will affect the average-order-value, conversion rates, and revenue for your product listing ads. It also allows us to make data driven optimizations based on how your customers shop across all channels. Therefore, our optimization strategies are uniquely tailored to your business and your customers.
Custom Targets
Part of the Profitable Google Shopping service entails the creation of custom targets that allow us to very specifically and deliberately feature segments of your inventory based on your needs, market demand, and competition. For example, perhaps you sell a product like sunglasses. The marketplace for sunglasses is very competitive and each line typically has variations with different prices. One way we can ensure that the sunglasses from your store stand out in Google Shopping is by creating custom targets that feature the lower cost items in each of the lines. Since consumers use Google Shopping to compare prices, optimizing the lower cost products to appear more prominently helps your product stand out against your higher priced competitors.
We can utilize a variety of different custom targeting strategies to highlight your products. Using proprietary tools and processes, we can identify your top revenue producing products, most popular products, top value/visit products and create custom labels to target each of these areas.
We've shown success with custom targets that feature a few of the following:
Best selling products – Featuring your best sellers is a great place to start with custom targets.
Highest margin items – Our goal is to make each item we sell via PPC as profitable as possible.
High inventory items – There are times when clearing inventory is a primary goal – such as when apparel lines have seasonal changes.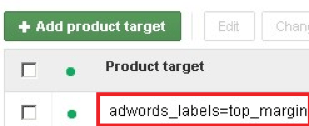 By creating custom targets and utilizing combinations of targets, we've been able to feature very specific sections of clients' inventories which have resulted in increased conversions at a lower cost-per-conversion.
AdWords Management
Optimizing your product feed is imperative, but the next step is showcasing the feed to show you a great return!  Based upon our custom targets, we create highly segmented PLA campaigns within AdWords that give prominence to these designated products.  Just like regular text ad campaigns, we give each campaign appropriate budgets and bids.  The difference for PLA campaigns is that bids are determined at the ad group level, as you do not bid on keywords.  Instead, your ads are triggered by queries that are matched to your custom targets.
As part of the Profitable Google Shopping service, we optimize these PLA campaigns on an ongoing basis.  Optimizations include:
Bid adjustments – We are constantly updating bids to stay in line with your goals.
Negative keywords – Very similarly to text ad campaigns, your PLAs will show for irrelevant queries.  We comb the search query report in order to add negative keywords.
Promotional text – Every PLA ad group is entitled to a 45 character maximum line of promotional text.  When a searcher hovers over the PLA, the text will show.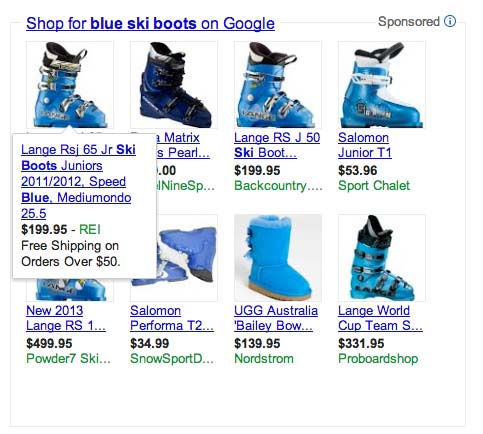 If you still need some convincing, here are two of the many success stories we've been able to create while managing our clients' PLA campaigns over the last year:
Cycling Industry Client:
Situation:  We added PLA campaigns for a client in the cycling industry at the beginning of 2012.  Through a number of targeting techniques and bid management tactics, we were able to optimize these campaigns over time to garner maximum visibility for relevant searches.
Result:  In July of 2012, the client's revenue increased by 80% because of PLA campaigns compared to the same month in 2011. Conversions increased by 100%, with a return on ad spend equaling a whopping 1,065%!  All revenue and conversions were in addition to what the client had achieved with text ads the year before, and was 100% incremental.
Industrial Cooling & Ventilation Client:
Situation:  We started running PLA campaigns for an industrial contractor client over a year ago.  Through PLA segmentation and continual bid management, we were able to allocate higher bids and budget to the client's higher value products, while deemphasizing or removing products with low conversion rates and average order values.
Result:  Return on ad spend for the client increased 41% in September 2012 compared to the same month last year, reaching 918%.  PPC revenue also showed a 48% increase year over year.  What's even more compelling is that when revenue from PLA campaigns are removed, the year over year revenue numbers are nearly identical.  Therefore, we can conclude that the optimization of the PLA campaigns using our methodology was a big factor in the incremental 48% lift in revenue.
The holiday season is here and Google Shopping is more important than ever.  For the last year we've been using advanced optimization and segmentation techniques for our PLA campaigns to achieve amazing results for our clients.  With the advent of Google Shopping, we've been able to take our successes and mold them into a powerful new service that combines our best-in-class targeting and segmentation approaches with proprietary tools to deliver maximum results.  To learn more about our Profitable Google Shopping service contact us today!