I started Exclusive Concepts in the '90s when online retail was in its infancy. I literally walked up and down Broad Street, in Red Bank, N.J., knocking on doors and talking to merchants. My message was simple: "change is coming."
I remember telling a Halloween costume merchant that, someday soon, more people would shop for costumes online than in stores.  He scoffed, saying "people want to try things on!" It turned out that he was right, for a few years. Now, according to an NRF survey, the Internet is winning that battle.
I understood his hesitancy. Here was a young kid, entering his store, telling him that everything he thought he knew about his business would change in 10 years. In fact many such businesses have gone under in the past 10 years precisely because they did not adapt to the shifting retail landscape.
If you're in Chicago, Ill., the first week of June, please consider attending one of two speeches I'll be giving to explain how Exclusive Concepts is preparing to embrace the next looming change in online retail. Here's my schedule:
June 2nd at the Yahoo! Merchant Roadshow
June 4th at IRCE
Also: visit our booth, #1209, to demo our newest product
Why I'll be talking about the next big shift in retail: mobile.
Mobile has been hyped for the past 5 years, before most merchants could — or needed to — do anything about it. But the promised shift is now afoot. The time has come to formulate and begin executing your mobile strategy.
Recently the conversion testing team at Exclusive Concepts analyzed traffic and revenue data from dozens of large merchants we work with. Take a look at their findings: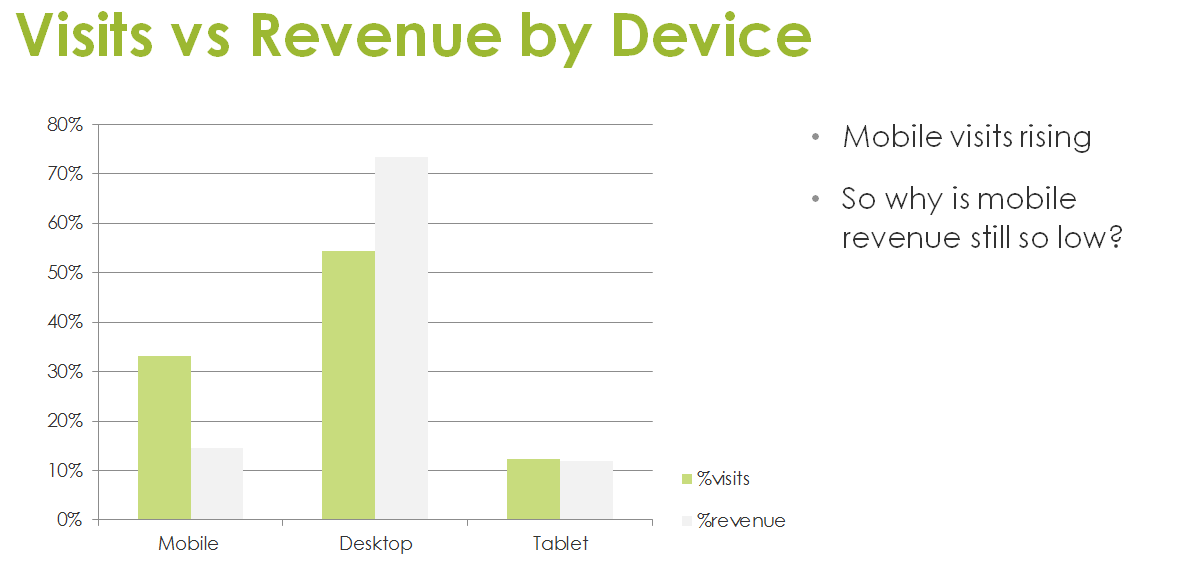 Low mobile conversion rates are a problem
Mobile visits are now responsible for more than 30% of site visits, a major surge compared to the single-digit numbers we've seen over the past few years.
Revenue, however, is still lagging behind.
Mobile shoppers are converting at nearly 1/3 the rate that desktop shoppers are. This is the problem we need to solve.
Don't ignore the mobile conversion rate problem
I've heard many people suggest that mobile conversion rates are low because shoppers simply don't want to buy on mobile. "They can compare prices easier on their desktop computer, and checking out is easier, too."
I believe these are incorrect assumptions, similar to the incorrect assumptions people made when online shopping was just starting in the '90s.
During my presentations I will talk about "bottom-up" analytics, a new way of understanding how shoppers interact with your website. This new data is a critical part of a new Mobile Diagnostic approach we're pioneering to help merchants move the needle on mobile conversion rates.
Simple change caused a surge in mobile conversion rates for one merchant
To validate our claim, we helped an apparel store recognize that, on their desktop site, 63% of transactions involved a shopper clicking the checkout button in their header. On their mobile site, however, only 5% of transactions followed this path.
This data led to focused conversion testing that increased mobile revenue per visit by a whopping 17%, simply by making it easier for shoppers to checkout. We continue to find more such wins that improve the shopping experience while growing mobile revenue.
Embracing the mobile shift
Change is scary because it's hard to predict. At the same time, however, there's great opportunity in change. Merchants that ignore the mobile shift risk declining sales, while merchants who embrace it will find a new opportunity to grow.
Please stop by the Conversions On Demand and Exclusive Concepts booths at IRCE, at booth #1209. Our team looks forward to discussing what we've been working on!
Best,
Scott Smigler