Before I show you how to get to this Google Shopping information, let me explain why you (or your paid search agency) need to be doing this.
Monitoring this information allows us to identify the areas of an AdWords account that we want to further emphasize with higher bids — spending more, in other words — as well as bringing our attention to areas where we should be lowering bids and decreasing spend.
If you're an ecommerce store spending on Google's PLAs (product listing ads) you should be, and really need to be able to answer these questions (and this information will make these answers obvious):
Which individual products have accounted the most spend in your Google Shopping campaigns without converting?

Or converting at an unprofitable rate or return (conv. value/cost)?

Which Item IDs have led to the most conversions?

Or generated the most revenue?

Which brands and/or product types had the highest levels of spend, but unprofitable rates of return?
Which brands have yielded the greatest ad spend in your Google Shopping campaigns?

Have they been profitable?

Which product types account for the most spend?

Have they been profitable?
You can see how this information lets you see which Shopping investments are making you money, and which aren't. If you want your Google Shopping campaigns to be more profitable, this information must be monitored closely.
The "New" Google Shopping campaigns bring new product data
This level of information hasn't always been available. When Google launched the new Shopping campaigns over a year ago, it became much easier to create and segment AdWords campaigns. You're now able to assign targeted product groups specific to different feed attributes. With this, you can easily set specific bids for each of these segments, allowing you to bid as aggressively or conservatively as the profitability of each segment dictates.
But in addition to this more granular bidding, the redesigned Google AdWords interface also gave us much deeper access to reporting data so we could now access cost and conversion data based off of these various product feed attributes. As you can see from the questions above, the three most commonly used in our Google Shopping management are Brand, Product type, and Item ID. Below I will show you how to access these reports and suggest some further ways in which they can be used.
[ Dimensions ] –> [ View: Shopping > ]
All of these Shopping attributes can be found from the AdWords [ Dimensions ] tab and then you can specify which attribute you want to focus on by clicking on the [ View: ___ ] button, scrolling down to [ Shopping   > ] and then selecting the specific attribute.
Below I have numbered the steps to reach the Brand data: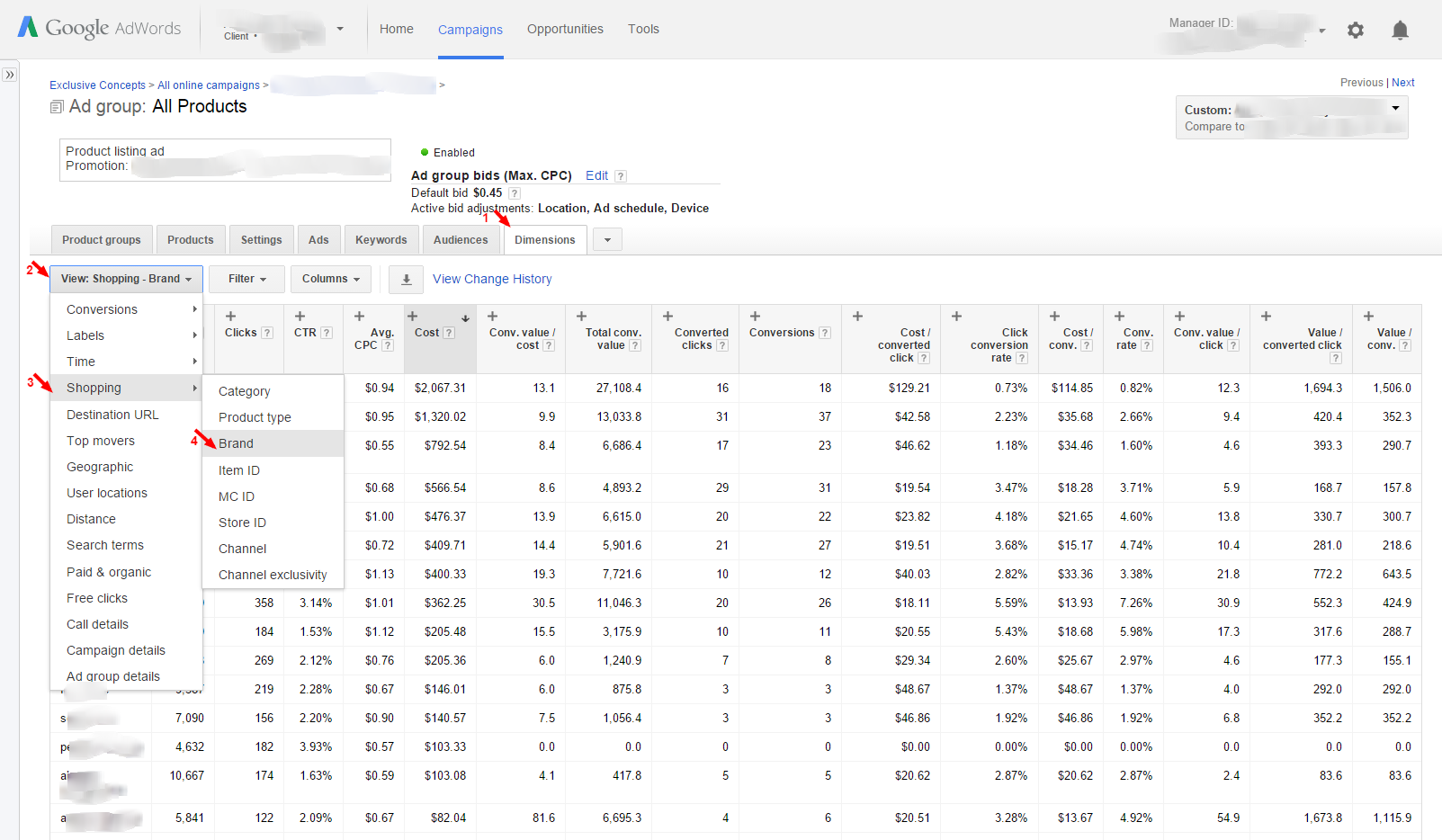 This type of information can be tremendously useful in quickly diagnosing which segments are accounting for most of the ad spend, yielding the greatest amount of revenue, or most efficiently converting visitors. With this information we can look for areas where want to lower or increase bids based on profitability or create additional segmentation or additional campaigns to get a more granular understanding of the return on a specific group of products.
Viewing product-specific performance
The Brand, Product type, and Category reports all will report on an aggregate of product listing ad clicks that meet that attribute as specified in the feed. However, we can go deeper and more specific to see how certain products (or Item IDs) are performing. This will let you see total spend for these products as well as any conversion data for these products. From this item-level understanding it will be very clear which products are helping lift account performance as well as others that are bringing down overall efficiency.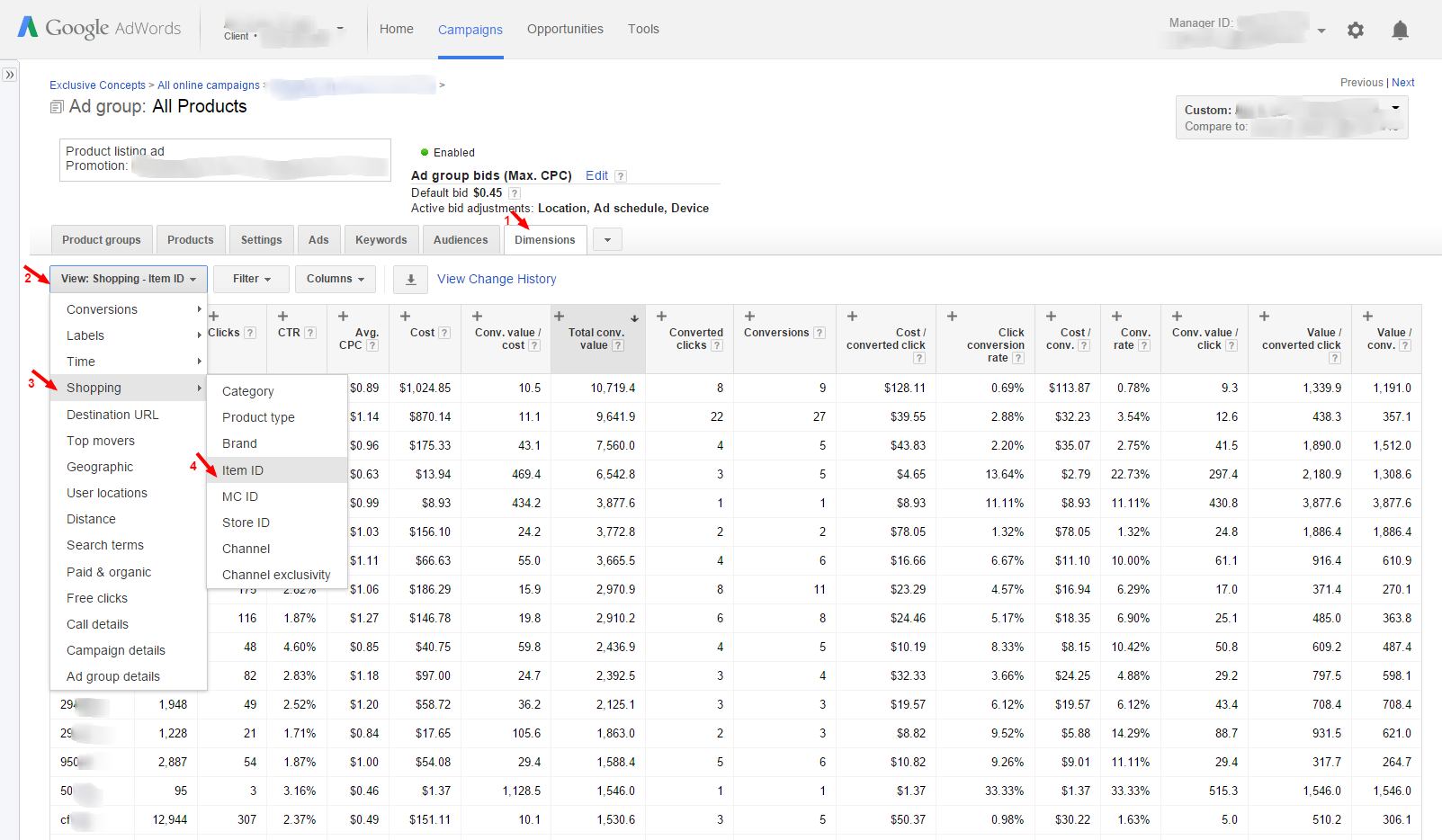 How to Utilize This Google Shopping Product Data
As I indicated above, the main reason we want to view this data is to identify and capitalize on opportunities while minimizing on losses. This data allows us to determine which grouping of products (or individual products themselves) are profitable and which are cutting into profit totals.
Here at Exclusive Concepts, we pride ourselves on managing our client's budgets on an intimate level, as if the money was our own. We look at each product group and product individually as an investment in a portfolio, and we do our best to allocate the ad spend in a way where we aim to return highest net profits to our clients.
If you have any questions about the Google Shopping campaign in your AdWords account, or if you would like us to take a look at your spending within these different segments, we would love to speak with you.