Learn How to Grade Your Site Speed and Make Your Site Faster!
How To Grade Site Speed
So let's get started. How Can You Get a Report Card for your site's overall load-time performance that will also specifically list the grades in 6 major categories related to load-time performance? One of our favorite tools to use for this is "WebPageTest.org". With this site, you can get all of these grades within seconds of going to the site and typing in your site's web address. In the following slides we will walk you through this process.
Step 1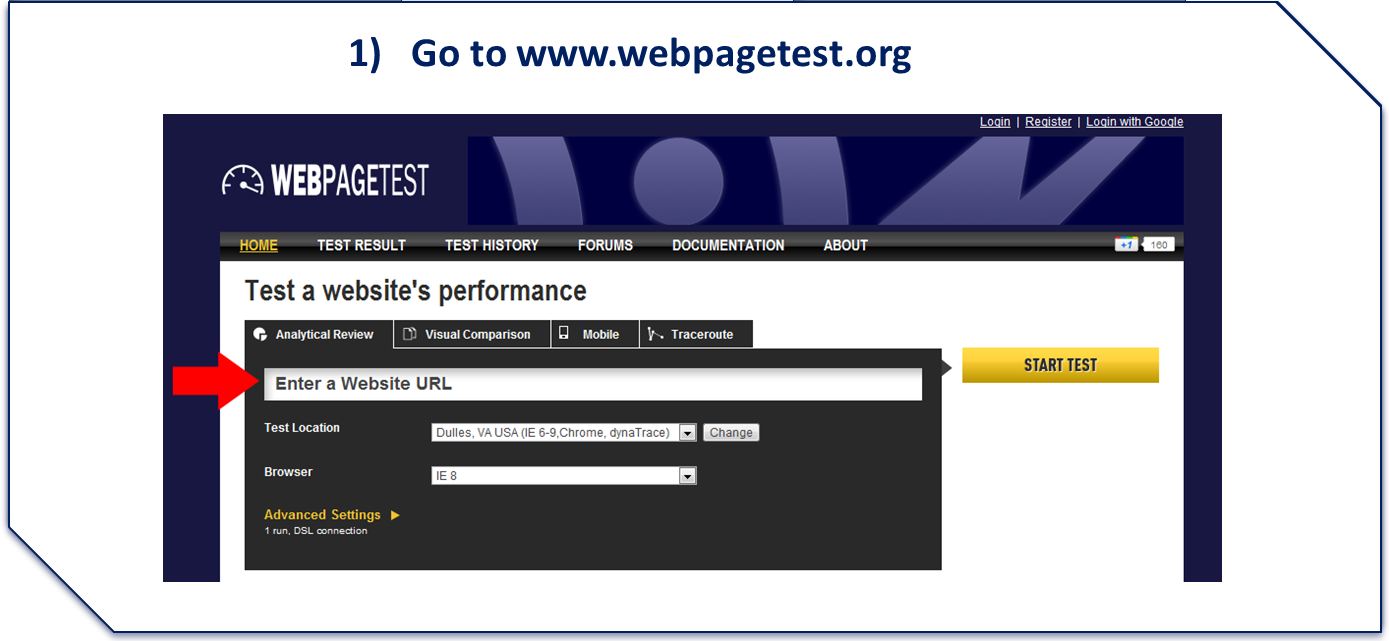 After navigating your web browser to "www.webpagetest.org". The first step is to enter your webpage's URL that you would like to test in the largest input field on the page. You can also change the location of the server that will be running the test with the "test location" field. (Generally you'll want to pick the location closest to you.) And then they also provide an option for changing the browser type that the test will "happen" in and you can change the "internet connection speed" that will be tested if you desire.
Once you have made all of your selections on this page, press the "Start Test" button.
Step 2
After you press the start button you'll see a "Waiting" and then "Testing" screen, which indicates that the software is in the process of "Grading" your webpage's site speed.
Step 3
Last, but certainly not least, you'll see a page stating that your test is partially complete along with some waterfall data and an optimization checklist so that you can see how your site is progressing.
Then once your test is complete you'll see the "Report Card" page populate where it will list all of the grades in 6 major categories.
Those Categories are "Keep-alive-Enabled", "Compress Text", "Compress Images", "Cache Static Content", "Combine JS/CSS Files", and "Use of CDN".
"Keep-alive-Enabled", is basically a score on your webpage's use of persistant connections, which rates how often your webpage reopens the same connections over and over again instead of transferring all of the data from one location in as minimum a number of times as possible.
"Compress Text", is scoring your webpage's "compressed text" or "gzip" usage, and is looking for minimal returns, spaces, and unnecessary text in your webpage's HTML that can slow site speed.
"Compress Images", is a score based on your web-page's use of compressed images over large and cumbersome image files.
"Cache Static Content", is a score based on how much of your site's static content is directed to cache in the user's web browser, so that they can be utilized to make other pages on your site load faster and efficiently.
"Combine JS/CSS Files", is pretty self-explanatory, this score is a rating on your usage of combining and compressing as much of your CSS and Javascript as possible.
And last but not least, is a grade for your "Use of a CDN", this score is a grade on your webpage's ability to host and serve your website's files in as close proximity as possible for each user. This can be solved by using a CDN, or Content Delivery Network, which utilizes servers across the country or even the globe in an attempt to host and serve your website's files closer to everyone that visits your site, cutting out the actual distance your files would normally need to travel.
So How Can You Make Your Site Faster?
Well you can either take steps to optimize your site in the 6 major categories listed above. OR you could take the Site Optimizer challenge! and see how much faster Site Optimizer can make your site! Our "Site Optimizer Service" addresses all of these 6 major categories for you!!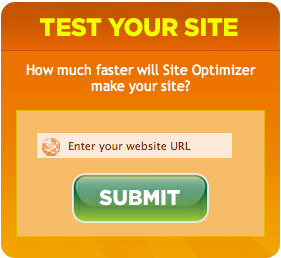 Learn more about our "Site Optimizer" service, by going to our Site Optimizer page. Once there, you can actually test how much faster the Site-Optimizer can make your site and read more about the service and its features.