Want to promote your app to mobile users? Adwords is making it easy!
Why We Love the New App Extensions:
How many times have you done a search on your mobile device for a business, not knowing that this business has an app? Once you click that business's URL, you might see a popup saying something like "Download Our App!" Wouldn't it be nice if you could download the app right away without visiting the site? With the new mobile app extension, you now can!
By turning on the mobile app extension you can promote your app directly within your search ad.
How to Use It: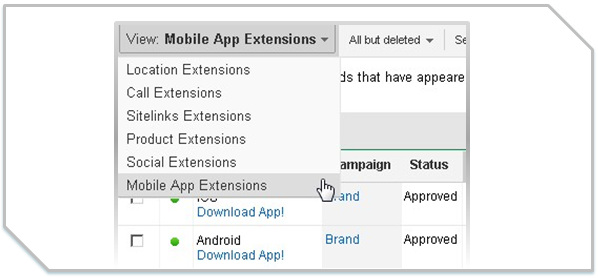 This new extension is found in the same area as the other extensions. You begin by selection your app's mobile operating system, Android or iOS (if your app is built for both platforms you'll create 2 separate extensions). You'll then need to add the package name (for Android) or the App ID (for iOS). AdWords offers a "Look up app" link to make it easy to find the exact name and/or ID of your app. Once you have your app you can add link text that can be up to 25 characters. This text can be something such as "Download App" or "Get Our App." Finally, you'll add the link to your app, whether it be in Google Play or the App Store. You then pick which campaign(s) you want the extension associated with and now a link to your app will show within your mobile ads!
Similar to other extensions, you can view overall extension metrics. You can also view metrics by headline click and extension click, giving you the ability to see exactly how many times the mobile app link is clicked.
What to Expect:
Though this extension is extremely beneficial, I don't believe advertisers will see a huge increase in app downloads. Just like we see with other extensions, the ads' headline click-thru-rate may improve, but the CTR on the actual extension will most likely remain stagnant. That's OK, though, as the extension helps to take up more search real estate (and includes the app's logo). Additionally, the extension works to improve the credibility of the business as searchers can see that this company has an app.
Finally, this new extension continues to showcase the importance of mobile advertising. More and more searches are occurring on mobile devices so it is imperative to have a strong presence.
Thanks for taking the time to read this post. We're excited about the mobile app extension and are looking forward to rolling out to our clients!