httpvhd://www.youtube.com/watch?v=Dr02eK52aMY
You can use PLAs for a lot of things – today, we'll use it to mine keywords.
My name is Matthew and I am a PPC Specialist at Exclusive Concepts. Today, I will be discussing how to find new keywords for your AdWords campaign via your Product Listing Ads.
Product Listing Ads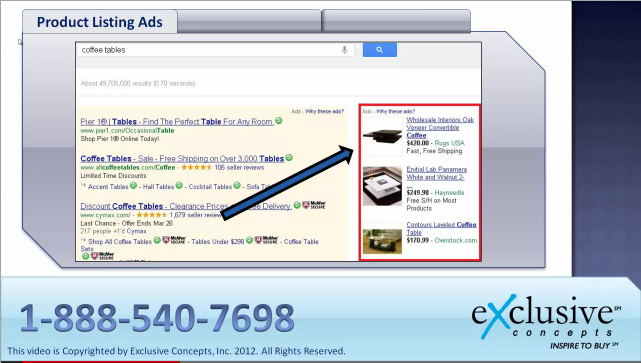 To begin, let's discuss how Product Listing Ads (or PLAs) work. By hooking up your Google Merchant Center Feed to your AdWords account you can leverage the ability to show product images along with price and specific attributes. You don't bid on keywords, but rather Google bases the results off the product feed attributes. In this example I've typed in "coffee tables." The three PLAs that appear are all coffee tables that various stores have for sale. If I were to type in "Superman shirts" I would see PLAs around various Superman shirts. You do have some control over the potential products shown in the ads, but again, PLAs show based off the search queries matching specific product attributes.
Keywords
Now comes the fun part. What search queries triggered your ads and can these queries be added as new keywords to the account? By going to the "Keywords" tab of your Product Listing campaign and clicking "See search terms…All" you can see exactly which queries triggered ads. Depending on your site's inventory you will potentially see 100s of queries, most seeing only a couple of impressions or less. You will also notice that all of these queries are in exact match. Since you aren't bidding on keywords the report shows exactly what searchers typed in. Essentially, the format is the same as what you would see in a search term report.
Depending on the data you might notice some themes. For example, there might be several queries around "espresso coffee tables" such as:

espresso coffee tables with drawers
espresso based coffee tables
espresso coffee table sets
Thus, if you don't already have an ad group(s) around "espresso coffee tables" it might make sense to create one as people are searching for this theme.
Benefits
Not only do you scale up your account but you also have the potential to double serve your ads and take up more search real estate. In this example, a search for "baseball mitts" triggers an Eastbay text ad and an Eastbay product listing ad. With all of the options available to users via both organic and paid the more real estate you can occupy the better.
Similar to how modified broad match has been a great tool for finding new keywords, Product Listing Ads are great for finding new themes of keywords and ad groups that are not currently in your account.