httpvhd://www.youtube.com/watch?v=bk6IeG3SYd0
Want to learn about some very helpful new changes to Google's Keyword Tool?
New Google Keyword Tool
The Google Keyword Tool is obviously an extremely popular and helpful tool for online marketers – and it serves as the source of information for a variety of different types of marketing efforts. Therefore, any change to this tool is certainly worth understanding and exploring in detail. Like a lot of things, the best way to gain a true understanding is to get your hands dirty and try it out first hand. I recommend doing just that, but here I'll give a brief overview of what's changed.
Grouping Keywords by Theme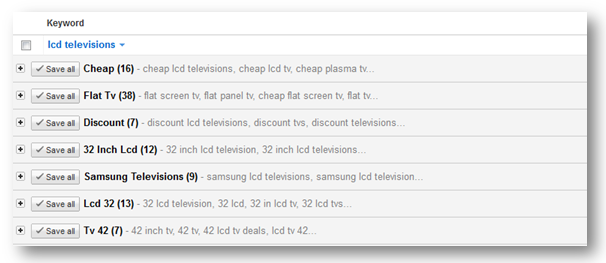 The first big change involves the grouping of keyword ideas by theme. For example, the image on this slide is a screenshot from the new Keyword Tool interface…and it is displaying the keyword idea suggestions for the root keyword "LCD Televisions". You'll notice that the suggestions are indeed grouped by an overall sub theme such as "cheap", "Samsung" and size such as 32 or 42 inches. Each of these sub themes has multiple keyword phrases that expand deeper into each theme. Additionally, the changes to the keyword tool now allow you to add these groups directly into your Adwords account.
Traffic Estimation

The second main change that Google has made to their keyword tool is that the tool is now fully integrated with the Google Traffic Estimator. The standalone Traffic Estimator is being discontinued, so you will now have to log in to utilize it. One cool update is that you can now create "draft" ad groups for Adwords – and when you're satisfied with what you've created….you can add it directly into your account.