This guest post is written by Exclusive Concepts' partner Strangeloop. As the premier technology for reducing site load time, we're thrilled to be able to offer their service to our ecommerce customers.
Faster Sites Equal Greater Revenue
In recent years, website performance has become a key business issue. There's a growing body of research that demonstrates that website performance directly correlates with revenue.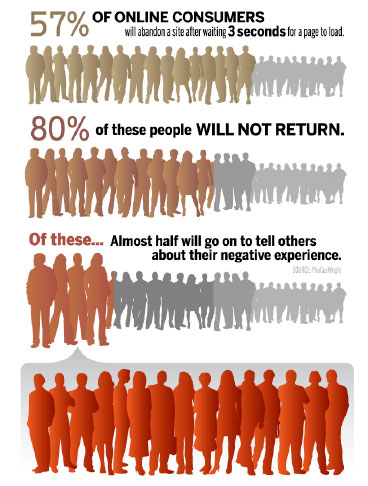 Studies have shown that 57% of online customers will abandon a site after waiting just 3 seconds for a page to load. As websites continue to grow larger and more complex, page speed is moving further away from the ideal sub-3-second load time. This translates to customer dissatisfaction, shopping cart abandonment, and lost revenue.
Customers can be lost in just one second. In 2008, an Aberdeen survey of more than 160 organizations found that on average, a one-second delay in page load time can equal not only a 7% loss in conversions, but also a 16% decrease in customer satisfaction.
There are numerous case studies from mega-retailers like Amazon, Etsy, and Walmart proving the relationship between faster pages, greater conversion rates, and increased revenue. It's understandable, however, that smaller retailers — "mortal companies" — might question how much these results apply to them. The answer is that web performance affects sales at any scale. We've compiled a sampling of case studies to illustrate this.
Case study 1: AutoAnything.com cuts page load in half, increases sales by 13%
 In 2009, AutoAnything was determined to address their performance challenge. Despite already having a CDN, they had a home page load time of up to 10 seconds and a high shopping cart abandonment rate. Knowing they wanted to create a premium shopping experience with an image-rich website and fast-loading pages, AutoAnything implemented Strangeloop's cloud-based Site Optimizer service and cut their page load time in half. This resulted in a 9% increase in conversion rate, an 11% increase in average ticket size, and a 13% increase in sales.
Case study 2: Edmunds.com shaves 7 seconds off load time, sees 17% increase in page views and 3% increase in ad revenue
In 2008, Edmunds set out to redesign one of its web properties, insideline.com. They wanted pages to load in less than 1.5 seconds and to create richer content through the addition of photos, videos, and interactive components. Together, these would contribute to the greater goal of increasing revenue generated by ad impressions. After trial and error, they were able to cut the home page load time from 9 seconds on the old site to 1.6 seconds on the redesigned site. The faster load time reduced impression discrepancies, ultimately increasing ad revenue by 3%. When these same principles were applied to their home page redesign, Edmunds enjoyed a 17% increase in page views per visit.
Case study 3: Smartfurniture.com accelerates pages, enjoys 20% increase in organic search traffic plus more sales
In 2010, Google announced that site speed would affect search ranking. For many site owners, this announcement solidified the notion of speed as a critical business issue. Smartfurniture.com's decision to speed up their site improved their search engine rankings by an average of two positions, and launched one search term from below 50th place up to third place. These SEO improvements resulted in a 20% increase in organic traffic, a 14% increase in page views, and most importantly, a significant sales bump. In addition to growing revenue, the improved page speed also led to greater customer satisfaction and increased average time on site.
Site owners are learning that better performance consistently equals more time on site, more items in the shopping cart, and as a result, an increase in revenue. Faster websites are no longer just nice-to-have — they're need-to-have.
Questions about your website's speed?
Exclusive Concepts offers an advanced website speed optimization service capable of cutting load time by up to 73%, while increasing conversion by 17-28%.
Talk with one of our Performance Experts to learn how Exclusive Concepts can help accelerate your revenue.
https://www.exclusiveconcepts.com/contact.php