The following is a guest blog article written by an expert contributor for Exclusive Concepts. The views within it belong to the writer, not the publisher.
Today, 89 percent of consumers use a search engine to help with purchase decisions — be it for movie tickets, comparing cars or searching for new shoes. Bing Ads is seeing that one in three online searches happen on a mobile device, a figure that has more than doubled from the prior year. These trends are global and eMarketer expects that, by 2017, one-third of the world's population will be operating a smartphone. That's two and a half billion people! According to Gartner, it is estimated that global mobile advertising spend is to hit $42 billion by 2017, up from the estimated $13.1 billion in 2013.
Contrary to perception, mobile plays a key role throughout the consumer decision journey — not just for showrooming or last-minute, low-consideration items. Microsoft Research and global market research firm Ipsos conducted an in-depth study of mobile consumers around the world to understand how the broad adoption of smartphones and other mobile devices is influencing the consumer's path to purchase. What they found was that consumers rely on their mobile devices throughout the journey — from the initial stages all the way through the shopping, purchasing and sharing processes.
A study conducted by Nielsen for xAd & Telmetrics reported that 40 percent of smartphone users and 44 percent of tablet users relied exclusively on their respective mobile device when conducting online research across a range of purchase categories.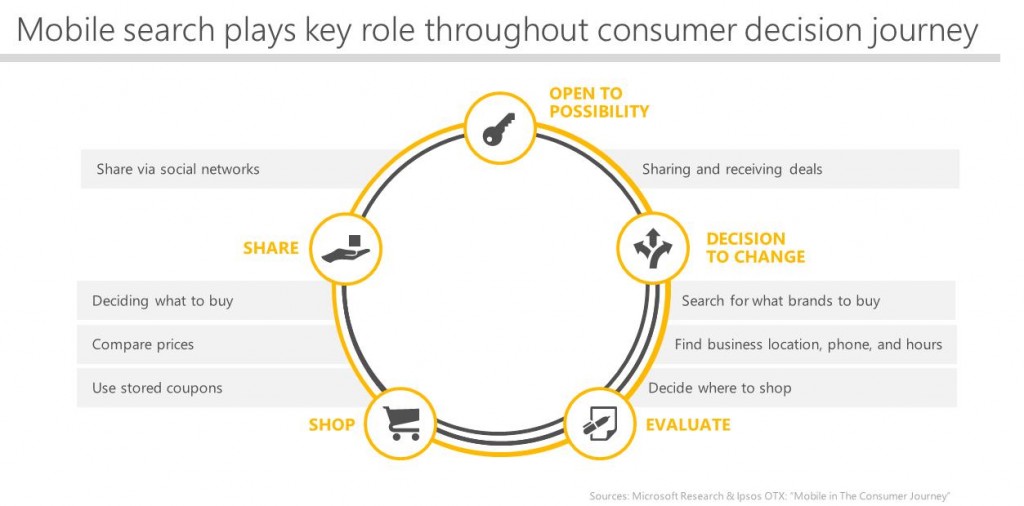 An additional key takeaway: mobile searches have the power to influence a user's decision during their "mobile moment" (when they are close to the point of purchase).  We see that 70 percent of conversions happen within five hours of a mobile search, versus seven days for desktop searches. This shortened conversion cycle reflects the heightened urgency of mobile queries; mobile users are often in transit or in a public setting like a retail location when they are searching, and thus require  information in a hurry.
Bing Ads Platform and the Yahoo Bing Network
Trends are similar on the Bing Ads platform as well. Mobile search volume as a percentage of all queries has more than doubled year-over-year across the Yahoo Bing Network over the last year.
Savvy advertisers are taking advantage of the Yahoo Bing Network's growing mobile search volume and the Bing Ads platform, which is consistently evolving and improving to get the best return on mobile advertising investments.
The Yahoo Bing Network's search and click volumes from smartphone users have more than doubled year-over-year. Click volume has generally outpaced search volume growth, demonstrating a high degree of consumer engagement and relevance for mobile ads on the Yahoo Bing Network.

Taking a deeper look at year-over-year click growth in key verticals such as retail, technology and telecommunications, financial services, and automotive, the Yahoo Bing Network delivered big year-over-year gains in Q3 2014. Tech and telecomm was the big winner, with nearly 300 percent year-over-year growth, while retail, automotive and financial services all doubled (or more!) in click volume.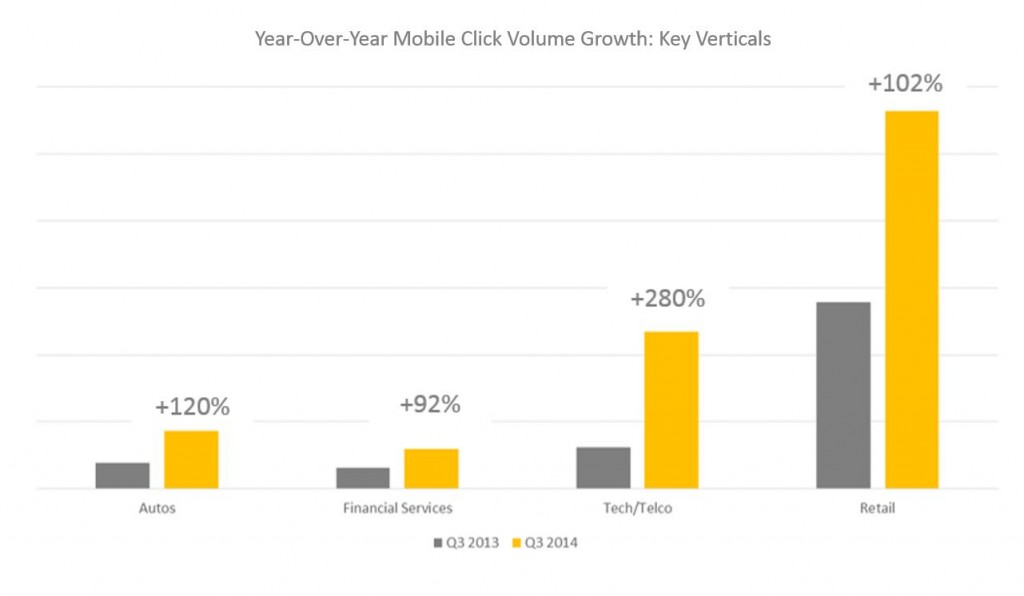 Bing Ads' lineup of mobile products is designed to help move consumers through their path to purchase while delivering conversions for advertisers.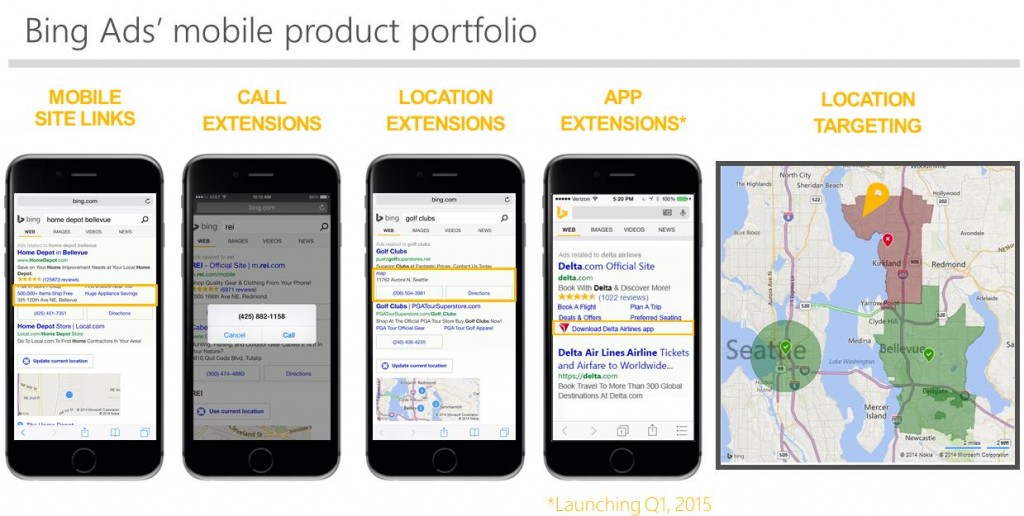 The Yahoo Bing Network is continually working hard for advertisers to increase mobile advertising ROI and query-share across all devices. Advertisers can expect to see more value for their businesses as the Yahoo Bing Network continues to invest in increasing share. Here's how:
Site Link Extensions: Guide consumers onto your ideal conversion path to drive deeper mobile site engagement while delivering a 10–15 percent improvement in click-through rate.
Call Extensions: Click-to-call drives conversions while delivering a 15–25 percent lift in click-through rate for campaigns. Consumers expect to be able to find a phone number in search results and 47 percent of mobile search users said they would "explore other brands" if they didn't quickly find phone numbers.
Location Extensions: Drive foot traffic, not just web traffic, and our data shows a 15 percent click-through rate lift for campaigns with Location Extensions. One of the top reasons that consumers use mobile search when they are on the go is to find locations and directions — leading directly to in-store purchases.
App Extensions: New app extensions, which are now being piloted for a planned Q1 2015 launch, will make it easy for searchers to discover and download your app to Android, iOS or Windows Phone devices. These extensions will automatically be targeted to a specific user's OS and device combination.
Targeting Improvements: Even more precise targeting options, including zip code, radius and geo location targeting have recently been added, with more improvements on the way.
Mobile advertising has never been easier or more effective on the Yahoo Bing Network. And Bing Ads is ready to help you optimize for this fast-growing platform, with enhancements and support to ensure your success all year long.
If you have any comments or questions, please send them via Twitter @dtyagi or email dalipt@microsoft.com.
————————
Dalip Tyagi leads the SMB Agency Strategy and Marketing for Bing Ads. In this role, Dalip is responsible for driving recruitment and engagement with digital marketing agencies and individual professionals. Dalip has been with Microsoft for more than nine years in different roles revolving around partners and developers. Prior to his current role, Dalip led the WebsiteSpark program targeted at Web professionals to promote Cloud technologies. Dalip led the program from its early days to an established program with more than 120,000 registered members. Prior to joining Microsoft, Dalip worked for Deloitte Consulting in their Strategy and Operations practice. Dalip holds an MBA from the Ross School of Business, University of Michigan and undergraduate degree in Engineering from Delhi College of Engineering in India.