Every single AdWords campaign in every unique AdWords account needs to be upgraded to Enhanced Campaigns by July 22nd or Google will make the migration for you. Over the past few months, we've been upgrading our clients' accounts to Enhanced while working to maintain the results and features of legacy campaigns. Google recently launched a Campaign Upgrade center which claims to make the migrations much more efficient. Though the tool is helpful and does save time, it also discounts certain areas that are important for a successful migration.
Campaign Upgrade Center
You will be able to find the Campaign Upgrade center by clicking within the left hand navigation.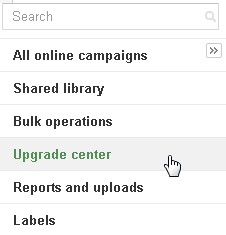 Once you click this link you'll see a quick overview of the tool's features and you can begin. Immediately, you will see the status of your upgrades.

You have three options that you can choose from:
Upgrade your campaigns – Campaigns that you can upgrade by setting a mobile bid adjustment
Merge your campaigns – Separate device campaigns that you can merge together
Advanced mode – A complete view of all campaigns to which you can upgrade or merge
Making Your Upgrades and Merges
Choosing to upgrade your campaigns instead of merging is the simpler process, but is not as detailed. When using this option you are presented with all non-migrated campaigns and can see the budget, campaign type, and devices. For example, you may see that Campaign A has a budget of $50, is only opted into the Search Network, and is just targeting computers. By checking as many campaigns as you want and clicking the "Choose upgrade settings" button, you can upgrade in one fell swoop.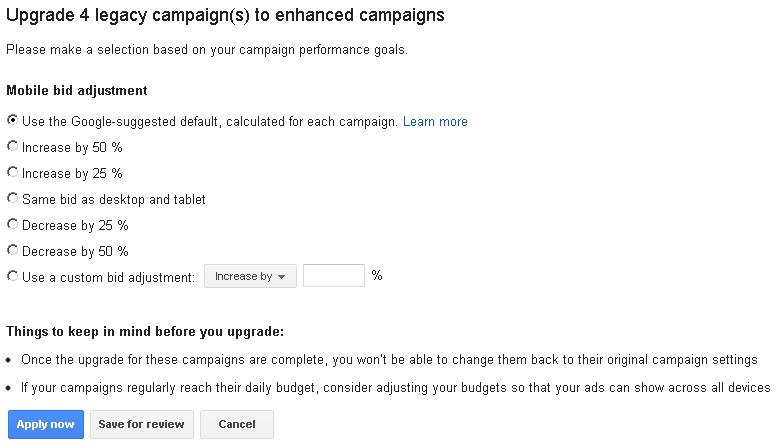 This type of upgrade is ideal if you want to use Google's mobile bid adjustment recommendation for each campaign or if you want to set your mobile bid multiplier to -100% (so your ads won't show on mobile devices). If you want to set your own mobile bid adjustment for each campaign then upgrade one at a time. This type of upgrade is simple but does not take into account the more meticulous tasks of migrating to Enhanced Campaigns.
The merge option is much more in depth, taking into account campaign settings, ad group duplication, and ad extensions. Google identifies which campaigns can be merged based upon the naming conventions. For example, "Campaign A – Mobile" and "Campaign A – Computers" would be a candidate for a merger. The options available to advertisers within mergers take into account the complete picture of each campaign.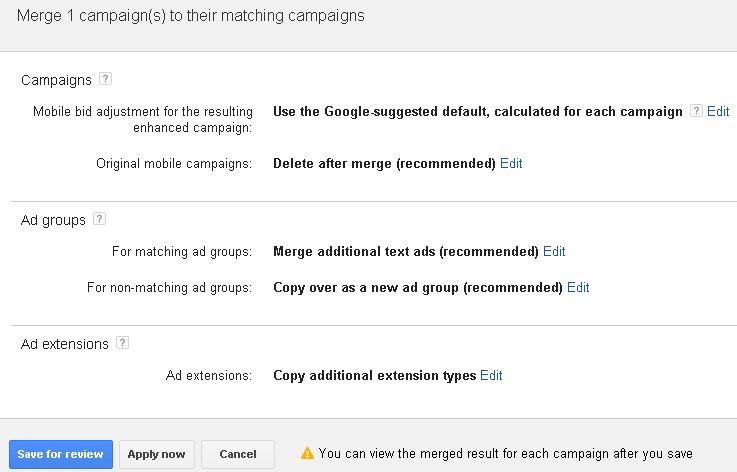 You can even preview what the merge will look like.

The merge option is better for advertisers who have broken out campaigns by device and want to combine settings in a streamlined format. Having said this, there are a couple of caveats. It does appear that you still need to upgrade your ad extensions, including ad group level sitelinks. Additionally, though mobile specific ads are created, they are duplicates of the computer ads. You'll want to review and write ads geared toward your mobile audience.
Final Thoughts
For accounts that don't want to target mobile devices, the upgrade center tool is convenient. You'll still have to update your ad extensions, but the migration can be completed fairly quickly. For accounts that do want to target mobile the merge option helps save time, however, you'll still want to review each campaign in detail. The Campaign Upgrade center is a nice addition from Google to help with Enhanced Campaign migrations, but manual work is still necessary to maintain desired settings.
The Complete Guide to Google Shopping
Early case studies from Google and Exclusive Concepts have not only shown that Google Shopping a highly effective advertising medium, but it can lead to significant, incremental increases in sales and revenue for your business. So we've created an easy to understand guide to Google Shopping we're distributing for free as an ebook.
In this e-Book, you'll learn exactly what Google Shopping is, how you can get started, and how you can employ a multitude of techniques to significantly grow your online sales.
We're breaking this ebook into 4 parts for easy consumption and will be publishing each over the coming weeks:
Chapter 1: Google Shopping 101
An overview of what Google Shopping is, its impacts on shopping behavior, PPC management.
Chapter 2: Getting Started with Google Shopping
How to build the foundation for your Google Shopping advertising
Chapter 3: How to Master Advanced Labeling & Feed Optimization
An overview of how to optimize your product feed to maximize your advertising results
Chapter 4: Advanced Campaign Targeting and Management
How to build highly targeted campaigns and refine them even further through optimization