Learn about one of Google's newest Adwords Features: Auction Insights!!
Developing A Search Strategy
One of the biggest challenges we as PPC Managers face is developing a search strategy in order to understand and capture the demand of what other advertisers are doing, using this knowledge to come up with approaches to create optimal top performing campaigns that will convert online shoppers into online buyers.
Auction Insights Tools
In an attempt to further enable advertisers to make more informed decision and better optimization decisions, Google this week launched an Auction Insights report, which is enabled when you see a trending chart next to a keyword.
Much different than the Columbo's days of doing investigative research, the way it works is that in your keyword list within a given AdGroup, the report tells you on a aggregate scale how you are doing in relation to performance against others in the space competing for visibility in searches for this term.
While this report lists the landing page domain for those competitors, the information provided Google has stressed is no different than what a user or competitor would gain by doing a search for that term, in this case wholesale candy in exact on Google.com.
In other words this report will not give the keywords, quality score or settings of those competitors listed. The one thing to note based off this is that it is not guaranteed that the ad of your competitor will be triggered by the keyword in the match type setting. For all we know competitors probably are not actively bidding on this term, perhaps it came up in a term utilizing broad match or eva modified broad match type.
Better Visualization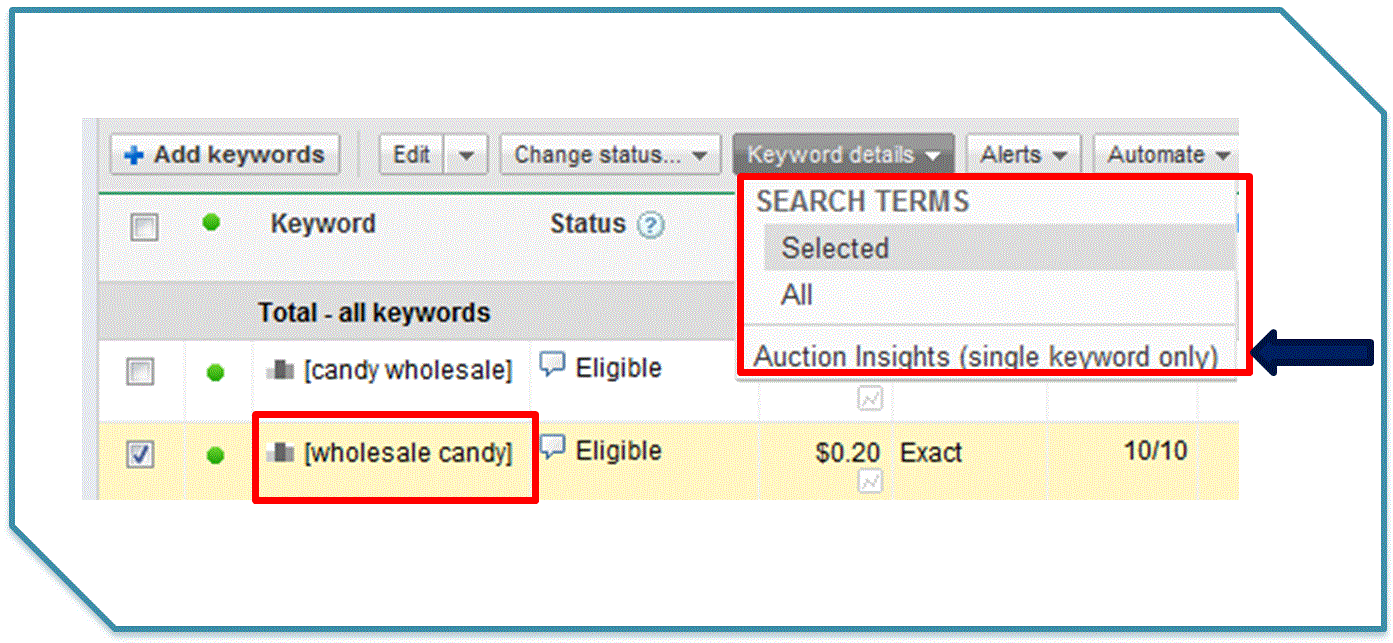 Looking up the auction insights is as easy as clicking on the desired keyword and going over to the keyword details tab and selecting the Auction Insights option.
Now unlike with the Search Query Report, the Auction Insights report can only be generated for one keyword at a time. And much like the SQR the data for this term using this feature is dependent on the keyword meeting a minimum threshold of activity for the time period you are looking at, in which we here at Exclusive Concepts like to look at the past 30 days of activity.
As long as you see the graph icon next to the left of the term, you'll know that the Auction Insights option is enabled for this keyword.
Auction Insights Results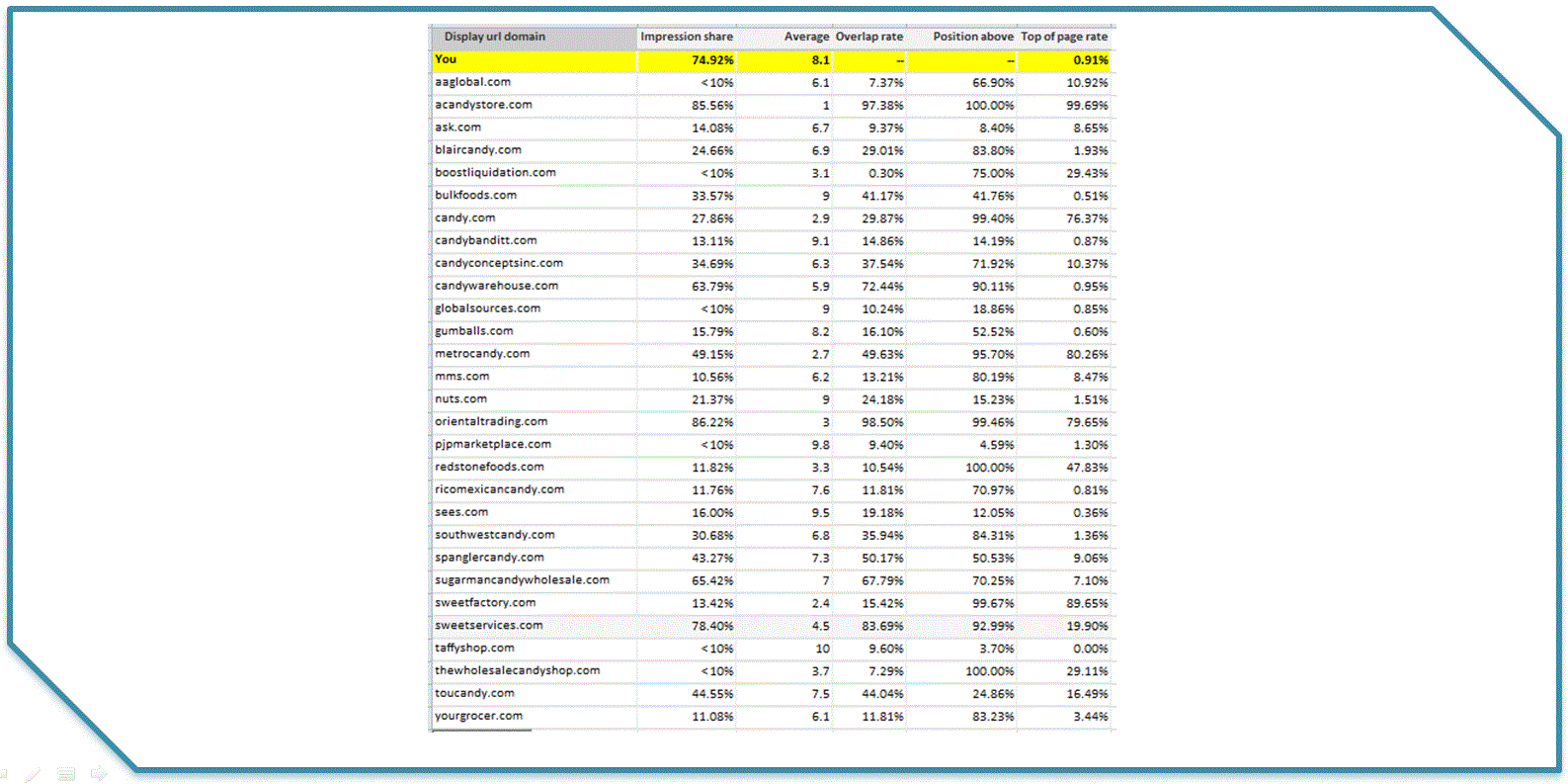 A little more information on the five different statistical areas that are offered:
Impression share: The % of total impressions that these ads get based on current settings.
Average position: The average rank of your ad, compared to other domains appearing for the auction.
Overlap rate: How often your ad shows up and overlaps with those of another site domain.
Position above rate: How often your ads rank above other sites.
Top of page percent: How often your ads appear in the ad block on the top of the page.
Auction Insights Results
Now as was previously mentioned this information is already available by performing queries through Google. The difference with this report is more ease of use in terms of accessing, understanding and creating a going-forward strategy based on this data. This is a featured that is being rolled out at no additional cost, so having more information without having to make a bigger investment than what is already made is huge.
As long as the minimum threshold of activity is met for a term enabling the use of this feature, anyone can use and put to benefit this information in cracking the case of user's search intent and buying behavior.