httpvhd://www.youtube.com/watch?v=KCs9aPnU-kk
Do you own a Yahoo! Store? Time to learn about the 301 Redirect Manager!
Whether you're changing URL structure or just redirecting a deleted product page, setting up a redirect is quick and easy thanks to Yahoo's page redirect manager.
Log On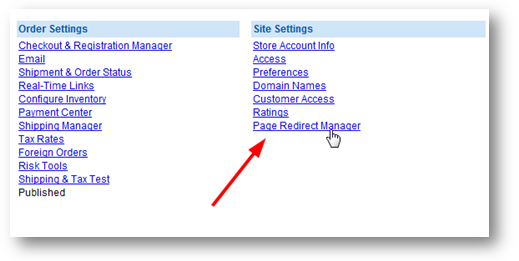 First, log in to your Yahoo Store Manager. On the right hand side of the page, you will find a link called "Page Redirect Manager", as shown on the screen shot.
Redirect Manager

Clicking this link will bring you to the redirect manager. Once in the redirect manager, you can select "Create New Redirect" from the left hand side of the page and then enter the old and new URL to redirect to.
Once completed, click publish on the right hand side and the new changes should be live on your site within 24 hours at most.
If you have hundreds of URLs you want to redirect, I suggest uploading a CSV of the old and new URLs – Click the "Download" button on the far right for a sample CSV file for you to use.