Google is officially pulling the plug from their legacy Product Listing Ad campaigns in late August 2014. Here's what you can do to help ensure a smooth transition away from PLA campaigns to the new Google Shopping campaign type.
It's happening. There's no way around it. Google is pulling the plug on legacy PLA campaigns in favor of its new Google Shopping campaign type. This means that you'll need to completely rebuild your PLA campaigns using the new Shopping campaigns, and you'll need to finish by August 2014. Unless, that is, you're fine with Google automatically making the switch for you (a shudder-inducing prospect). The due date for this transition is approaching like a speeding locomotive, but you can tackle it like Superman by following a few best practices.
My team at Exclusive Concepts has already transitioned hundreds of old PLA campaigns to new Shopping campaigns since their beta release in October 2013. We've been able to identify a set of best practices, common pitfalls, and advanced techniques to make the transition as smooth as possible. In the interest of time, we've distilled the three most important factors you'll need to take into consideration when making the switch in your AdWords account. These are all factors that can make or break your campaigns, and almost always need to be implemented in order to achieve success.
But first, let's talk about a few things you'll need to consider about the new Shopping campaigns that could affect the infrastructure you end up choosing.
Product-Level Data – New Shopping campaigns offer product level data in the dimensions tab of each campaign. Therefore, it isn't nearly as important to target individual SKUs within your campaigns as it used to be (you should still have a Top Sellers campaign, but that can be the extent of your SKU-level targeting).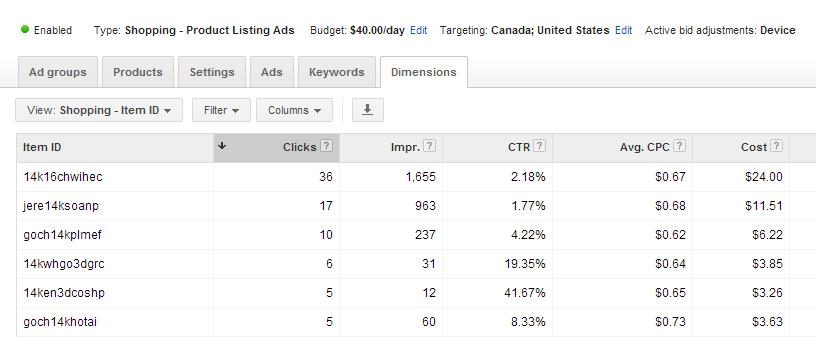 Less Overlap – Targeting methods in the new campaigns are much more intuitive and follow a sort of drill-down technique that ensures you can target the products you want in each product group. They also show you the exact products you're targeting. Hallelujah! That means the days of playing guessing games are over.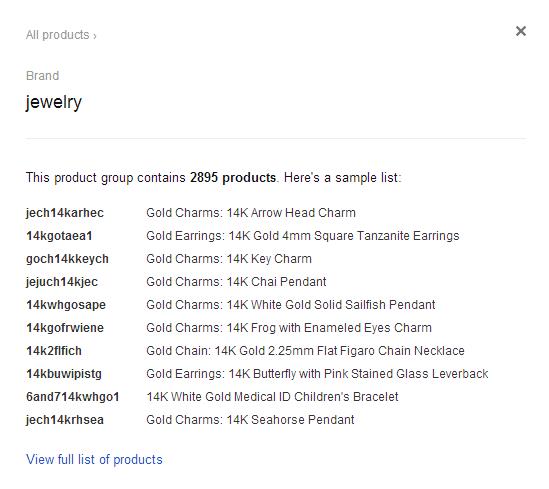 AdWords Labels Going Extinct – Remember all the time you spent painstakingly organizing your products by margin, importance, price tier, and category using AdWords Labels and Groupings? Well, Google is pulling the plug on these old attributes. Unbelievable, right? The good news is that they've added 5 additional fields to the product feed called Custom Labels. These actually act as a more organized labeling system that you can leverage for an even more sophisticated targeting approach. The catch? You'll need to migrate your AdWords Labels and Groupings into these Custom Label fields sooner rather than later, especially if your current campaigns are heavily dependent on them.
Without further ado, here are three tips you should absolutely follow to help ensure your transition to the new Google Shopping campaigns goes off without a hitch:
Be NegativeGoogle Shopping's algorithm is based on pairing the most appropriate set of products to every search query with purchase intent. Sometimes, Google isn't very good at this, and we need to tell them not to show ads for a certain search term. The huge list of negative keywords you've cultivated over the years is most likely the number one contributing factor to your Google Shopping success. Therefore, it's absolutely vital to carry this list over to your new Shopping campaigns.
Be Device-iveRemember Google's switch to Enhanced Campaigns back in 2013? One of the most important changes to PPC campaigns was the addition of a mobile bid multiplier allowing you to globally bid more or less on mobile traffic. You took the time to painstakingly calculate a sensible mobile bid multiplier and optimize it over time based on performance. Don't forget to carry this multiplier over to your new Shopping campaigns, or you'll be scratching your head as to why your cost per conversion has gone through the roof.
Get Your Priorities StraightNo, not your life priorities, but the advanced priority setting within the new Shopping campaigns. Google has created 3 different priority settings in these campaigns: Low, Medium, and High. These settings are meant to make bidding easier when you have multiple campaigns containing an overlap of products. Google's explanation is: Use the priority levels to determine which campaign (and its associated bid) will be used when ads for these products show.
This feature is extremely valuable when setting bids in campaigns. If you have a group of products that isn't performing well (shoes, for example), you can bid them down in order to improve performance. Before priority levels, if shoes were also being targeted in another campaign, then whichever campaign had the higher bid would take priority. Now, you can use priority levels to funnel all traffic to the campaign of your choice, regardless of overlap and bid level. The end result is you can bid that group of shoes as low as you want without worrying about an overlapping set of products with a higher bid taking the traffic. Still confused? Bottom line: priority settings are Google's answer to product overlap within campaigns and make bidding much more effective.
When you're in the midst of your Shopping campaign transitions this summer, be sure to implement the three strategies above to set the table for success. After your transition is complete, closely monitor your new campaigns to make sure they're achieving the same results as the old ones (similar conversion rate, cost per conversion, etc.). We generally see the new campaigns perform better than the legacy PLA campaigns, so keep this in mind if you're hesitant to flick the switch. If you're like most of the internet retailers we work with, your PLA campaigns represent a huge revenue stream within your paid search advertising. Therefore, it's imperative to approach the change methodically to make sure you get everything right.